Black Friday is here and I and the wider team of experts at What Hi-Fi? have already been inundated with requests from friends, family, passing acquaintances, and, of course, our lovely readers for advice on which TV to get.
And while I've already penned a "which TVs to watch this Black Friday" guide, detailing the main models the team are keeping an eye on, I've added this feature to deal with a follow-up question I've since had thrown at me. Specifically, "why are you recommending deals on four-star products?"
The answer is pretty simple. Whenever we review TVs, one of the biggest metrics outside of picture quality, sound, app selection, and the ilk we judge by is value for money. The term we most often use is "performance-per-pound/dollar".
This is important as money doesn't grow on trees and there's a pretty big cost of living crisis going on at the moment. So whenever we rate a product we want to factor in performance-per-pound so you can get the best home cinema experience possible for your budget.
And that's why you'll often see a product that performs amazingly well in nearly every test we do in our labs getting 'only' four stars.
The Samsung S95C is a great example of this. When we reviewed it the QD-OLED TV proved to be a very good performer that will delight most people when it comes to picture quality.
So, why didn't it get five stars like the rival LG G3 or Sony A95L? TV and AV Editor Tom Parsons' said it all in his Samsung S95C review, where he concluded:
"In theory, this is Samsung properly delivering on the promise of QD-OLED technology, and it's fair to say that it's one of the most technically capable TVs we have ever tested. It's not, though, the best TV you can currently buy, particularly on a performance-per-pound basis."
However, that's since changed thanks to Black Friday. Specifically, when Amazon knocked a whopping £1100 off the TV's original £3599 price, which lets you grab the Samsung S95C for £1999 – its lowest price ever.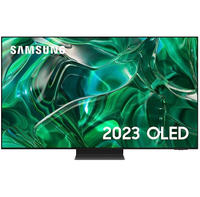 The LG C3 is another great example. If you followed us over Prime Day you'll know we recommended the LG C2 over the newer C3 because it offered better performance per pound value at the time. This was the result of the 65-inch LG C3 in particular, being a very modest upgrade on its predecessor that launched with a higher RRP.
However, with it now having had its price slashed across the board, that advice has similarly shifted. Jump over to our best LG C3 Black Friday deals guide and you'll see you can now grab the 48-inch LG C3 for as little as £900 – which is fantastic value for money.
And that's why we're currently recommending deals across the board on some, though not all, of the products we'd originally given four rather than five stars when we reviewed them.
MORE:
These are the best Black Friday TV deals we recommend
These are our curated picks of the best OLED TVs
Don't forget about audio. These are the best Black Friday soundbar deals