Best OLED TVs Buying Guide: Welcome to What Hi-Fi?'s round-up of the best OLED TVs you can buy in 2021.
The best OLED TVs offer some of the most impressive picture quality around at the moment. When they first hit the market, only those with exceptionally deep pockets could really entertain the thought of an OLED. Thankfully, prices have slowly come down and you'll find some excellent OLED (Organic Light-Emitting Diode) TVs below that don't cost the earth.
So what is OLED? It's basically the next step on from LCD. Unlike LCD TVs, OLED flatscreen TVs don't need a backlight. This means they can be ultra-thin, and because each pixel can be isolated and switched off individually, they tend to deliver some of the best black levels in the TV business.
OLED is also a more efficient and eco-friendly technology than LCD. They are expensive to produce, though. Previously, this meant you didn't see OLED TVs under 55 inches, but 2020 saw a 48in set from LG hit the market and Sony also followed with its own 48in model.
The very best OLED televisions combine 4K and HDR technology to devastating effect, so you'll find support for HDR10+ and/or Dolby Vision plus HDR10 and HLG as standard. We've rounded up the best OLED TVs out of all the ones we've tested below, including cheap OLED TVs from 2019 more recent models from 2020. We'll be adding 2021 OLED TVs to this page as and when they pass through the What Hi-Fi? test rooms.
Time was that getting an OLED TV under 55in was impossible, but then LG launched the world's first commercially available 48in OLED set. And now Sony has one of its own. It's a petite-looking OLED TV with tiny bezels and low pedestal stand. The enclosure bolted onto the back houses the speakers, processing hardware and connections.
Disappointingly, it lacks some next-gen HDMI features like 4K@120Hz (HFR), VRR (Variable Refresh Rate) and Auto Low Latency Mode (ALLM – basically automatic switching to the TV's game mode when appropriate). Which is bad news for gamers looking to hook up a PS5 or Xbox Series X.
But that's really the only fault we can find with this TV. Sony's X1 Ultimate processor produxes stunning images, there's plenty of dark detail on show, and you have access to virtually every streaming app you could hope for. Motion control sensational, and in terms of sharpness and detail, you won't find a better TV at this size. If you can stump up the funds, you will not be disappointed.
Read the full Sony XBR-48A9S review
If you're prepared to sacrifice a few high-tech features, you'll struggle to find a 4K OLED TV that offers better value than this Philips set.
It produces captivatingly crisp and detailed pictures no matter your source, delivers an audio performance better than most rivals, includes Philips' awesome Ambilight (which extends the onscreen action onto the wall around the TV in the form of coloured light), and has a lower price tag than its LG, Sony, Panasonic and Samsung equivalents.
Gamers might prefer more next-gen HDMI features such as VRR (eARC is also absent), but for everyone else, the 55OLED805 represents an excellent purchase.
Read the full Philips 55OLED805 review
You'll be blown away by the Panasonic TX-55HZ1000B. It's a fantastic performer that delivers a beautifully balanced picture. It's punchy yet composed, sharp but not over-exaggerated, vibrant but subtle with it. This OLED TV makes the most of 4K HDR content but it also handles lower resolution, SDR content with aplomb. Its motion handling is excellent, too.
It's a shame that none of the Dolby Vision presets feels quite right, and we would have liked to have seen some more advanced HDMI features such as VRR. The supplied remote really isn't befitting a TV of this quality, either.
Those are fairly minor flaws, though. A slightly bigger one is that the HZ1000 is currently more expensive than all of its obvious rivals, and those TVs are all excellent, too.
Still, this is undeniably one of the very best TVs you can currently buy. If you're in the market for a premium OLED, you really have to check it out.
Read the full Panasonic TX-55HZ1000B review
It might have taken a while, but you can finally buy a 4K OLED TV that's smaller than 55in. You guessed it, the OLED48CX is a 48in TV, and brings flagship OLED picture quality to this screen size for the first time.
Picture quality is superb. The perfect blacks and near-perfect viewing angles combine with bright, punchy whites and vibrant but natural colours. LG's motion processing was a big step up in 2020 and its upscaling of 1080p and standard-def content is among the best in the business.
On top of all that you get certified HDMI 2.1 sockets that support next-gen features such as eARC (Enhanced Audio Return Channel), HFR (High Frame Rate), ALLM (Auto Low Latency Mode), and all current formats of VRR (Variable Refresh Rate). All of these are useful if you're looking to upgrade to the PS5 or Xbox Series X this Christmas.
It's just a shame that some UK catch-up apps (not BBC iPlayer) are still missing from LG's 2020 smart platform.
Read the full LG OLED48CX review
Read the full LG OLED55CX review
LG consistently delivers some of the best OLED TVs on the market and this GX model pics up from where the company left off in 2019. It manages to improve picture quality in a few key areas, with dark detail, colour richness and motion handling all getting a boost. The net effect is a beautifully realistic HDR and SDR picture, packed with detail. Sound from the downfiring speakers is surprisingly good too, its built-in Dolby Atmos decoding delivering a wide and expansive soundstage by TV standards.
The GX is an attractive set and one of the best OLED TVs for wall-mounting - there's no stand in the box, but there is a slim mount on which you can hang it. Inputs, which include four HDMI (2.1) sockets and a trio of USBs are all recessed on the back of the TV, so there's no external connection box. WebOS is LG's go-to operating system and the TV is a doddle to use. Streaming apps such as Netflix, Amazon Prime Video and Disney+ are all onboard although, at the time of writing, all the key UK TV catch-up apps, including BBC iPlayer are missing. Hopefully, they'll be included at a later date.
Read the full review: LG OLED65GX
The Sony A8 is a real OLED all-rounder that combines a brilliant, natural picture with excellent audio.
HDR content (HDR10, HLG and Dolby Vision are supported) is bright, punchy and vibrant, and very realistic. Blacks are deep and packed with detail. It's even a great upscaler with faced with Full HD and standard-definition video.
Sound quality is similarly impressive. The Sony uses two actuators, which actually (and imperceptibly) vibrate the whole screen, essentially turning the whole panel into a big, flat driver. It's clever and does a great job of tying audio and video together. It's a dynamic and punchy performer by OLED TV standards.
The HDMIs are lacking next-gen features such as VRR (Variable Refresh Rate) and ALLM (Auto Low Latency Mode), which might be of concern to gamers, particularly those planning to upgrade to a PS5 or Xbox Series X, but for everyone else the A8 is an excellent all-rounder that demands consideration.
Read the full Sony KD-55A8 review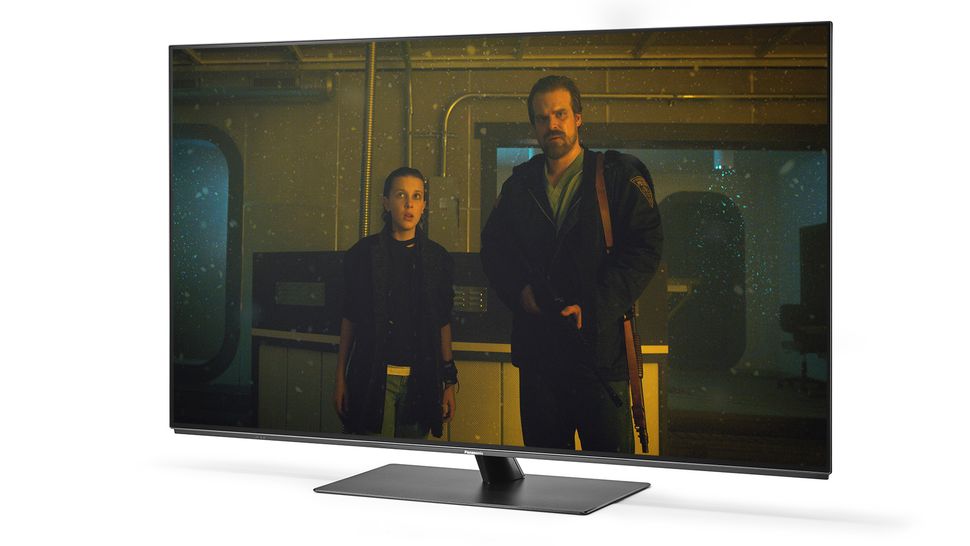 This Panasonic set might not be the most glamorous TV, but it's one of the best OLED TVs, in terms of value, from 2019. Here, the picture does the talking, with its natural balance and tonal subtlety giving the image a fantastic sense of realism. Blacks are inky deep, but there's detail in those darker areas too. The above LG and Sony models might offer a more polished picture, but the Panasonic more than holds its own.
One big plus is that the Panasonic supports all the major HDR formats (including Dolby Vision and HDR10+), so there's no need to worry about the type of 4K content you want to watch. Oh, and its built-in speaker system sounds impressively weighty and dynamic too.
Read the full review: Panasonic TX-55GZ950B
The 55in and 65in GZ2000 might be 2019 OLED TVs, but they're still up there with the best we've seen in the last couple of years. The picture served up is nothing short of sensational. There's a crispness and three-dimensionality that other sets can't touch, while black levels and detail are a cut above the competition too. The icing on the cake is the brilliant sound quality. There's a soundbar built into the front which works with upward-firing speakers on the rear of the set to produce a wide, spacious sound with a good sense of scale. If money is no object, this OLED TV deserves to be on your list.
Read the full review: Panasonic TX-55GZ2000B
Read the full review: Panasonic TX-65GZ2000B
This 65in TV from LG's 2019 C9 range looks the part before you even turn it on, with such slim bezels you could mistake it for a floating set (especially when wall mounted). The picture doesn't disappoint - black levels are suitably inky, while the image goes brilliantly bright, creating a stunning level of contrast. And while the speakers are pretty well hidden, they create great sound. A fantastic option for any film or OLED TV fan looking for a set bigger than 55in and another 2019 What Hi-Fi? Award-winner. Be quick, though, it won't be around much longer.
Read the full review: LG OLED65C9PLA
This affordable OLED TV is getting on a bit, but it's still a great set for the money, especially while there's still some stock out there. It produces a natural, colourful picture with great contrast whether you're watching both 4K or HD content. The C9 range is still our pick if your budget can stretch, but you won't be let down by this excellent OLED TV.
Read the full review: LG OLED65B9PLA
The KD-65AG9 is an impressive OLED TV and one of the best in class. Picture and sound quality are both excellent, as is the TV's motion handling. It also boasts a fabulous upscaler for Full HD content. Where it falls down slightly, is with native 4K HDR pictures. In our opinion, rivals such as the LG C9 and Samsung Q90 QLED boast superior processing and HDR handling. The Sony is also significantly more expensive than its close rivals, but if your budget can stretch...
Read the full review: Sony KD-65AG9
Read the full review: Sony KD-55AG9
The Philips 65OLED935 offers brilliant OLED picture quality, plus the added convenience of a built-in Dolby Atmos soundbar from Bowers & Wilkins. On paper, it's a solid combination and in practice, there's a lot to like about the pairing.
There's support for all major flavours of HDR and the Philips produces a suitably punchy picture, packed full of detail and boasting lusciously deep blacks. The soundbar spits out soundtracks with precision, depth and height although it could sound a bit more dynamic and dialogue a tad more expressive.
HDMI sockets total four in number, although HDMI features are thin on the ground, though: there's no support for 4K@120Hz (also known as HFR), VRR (Variable Refresh Rate) or eARC (Enhanced Audio Return Channel), although standard ARC and ALLM (Auto Low Latency Mode) do feature.
The soundbar houses no fewer than ten separate drivers including up-firing height speakers to help you get that full Dolby Atmos effect. It even showcases B&W's tweeter-on-top design.
Philips uses Android OS to drive this set and it works well enough - there's a solid app offering too, which includes Disney+, Netflix and Amazon Prime Video.
All-in-all, the 65OLED935 is an elegant soution for those looking for convenience and who don't mind paying a premium for it.
Read the full review: Philips 65OLED935
MORE:
Looking for a bargain? Here are the best cheap TVs 2021
Only the ultimate flatscreens make the best 4K TVs 2021 list