The best OLED TVs offer pretty much the best picture quality around at the moment. And while they were once the preserve of those prepared to spend some serious cash, cheap OLED TVs are slowly becoming available.
It's basically the next step on from LCD. Because they don't require a backlight, OLED, or Organic Light-Emitting Diode, televisions can be ultra-thin, and because each pixel can be switched off individually (creating a 'true' black), they have unbelievable black levels.
OLED is also a more efficient and eco-friendly technology than LCD. They are expensive to produce, however, which is why you don't often see OLED TVs under 55 inches.
The best OLED televisions combine 4K and HDR technology to devastating effect. We've rounded up the cream of the OLED crop below, from surprisingly affordable budget OLED TVs to the very best OLED screens money can buy.
LG has more invested in OLED than any other company, but if this 2019 OLED TV is anything to go by, it's onto a safe bet. It's lovely to look at before you even turn it on, with such slim bezels you could mistake it for a floating set (especially when wall mounted). The picture doesn't disappoint - black levels are suitably inky, while the image goes brilliantly bright, creating a stunning level of contrast in the image. And while the speakers are pretty well hidden, they create great sound. A fantastic option for any film or TV fan.
Read the full review: LG OLED65C9PLA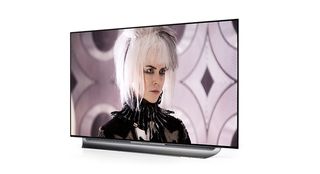 This was only a small improvement on its predecessor when it launched last year, but then LG was already at the front of the OLED pack. So it's a bit like criticising Lewis Hamilton for "only" finishing four seconds ahead of second place. We love the pedestal stand - as well as looking cool, that ridged mouth funnels sound towards the viewer from the downward-firing speaker. And the picture? It's excellent, providing you select the right mode. A great TV in its own right, and a deserved winner of its 2018 What Hi-Fi? Award. And now available at a bargain price.
Read the full review: LG OLED55C8PLA
The Philips 55POS9002 is a real surprise. It's been a long time since the brand properly floored us with a TV, but this OLED has done just that. HDR content on this TV is simply spectacular – even better than on the Sony A1, and that's really saying something. It can go toe-to-toe with most rivals with Full HD, too. And then, of course, there's that lovely Ambilight, which only enhances the visual excitement. In short, this is a superb TV, and yet another enhancement of LG's OLED tech. If HDR on an OLED is your prime concern (and it should be) this should be right at the top of your new telly shortlist.
Read the full review: Philips 55POS9002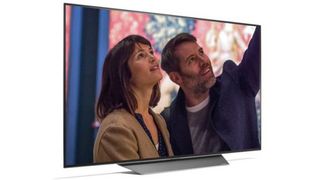 It might lack the more modern processor of its more expensive stablemates, but this LG still delivers quality in spades, and is a darn sight cheaper because of the lack of a bleeding edge chipset. It's a natural with colour tones, and is more than adept at handling shading - its colour reproduction is as grounded as the B8's feet are to its stand. If you want a decent OLED set but can't afford to spring for LG's latest and greatest, this 2018 LG OLED is a fantastic option.
Read the full review: LG OLED55B8PLA
LG isn't the only game in town where OLED is concerned as these great Philips sets testify. This is a fantastically elegant set, complete with the Ambilight feature that makes coloured lights behind the TV pulse in time with what's on screen. There's a level of detail which will put many more expensive sets to shame, while contrast is superb, with the image popping from the screen. Even the sound manages to be deep and rich - impressive from such a slim TV.
Read the full review: Philips 55OLED803
A big and beautiful TV with a vibrant picture rich in detail, this is another LG OLED we'd be proud to own. You couldn't really ask for more from the 65in LG C8. It does everything the 55in model does well, but in a larger package. That's why it is another 2018 What Hi-Fi? Award winner.
Read the full review: LG OLED65C8PLA
Thanks to the built-in soundbar tuned by the Panasonic-owned Technics, this is one of the best-sounding TVs around. But the picture isn't half bad either - colours are superb, blending vibrancy with realism, with skin tones a particular highlight. Motion processing is another strength, with plenty of sharpening and smoothing and non of that dreaded soap opera effect in sight. A worthy rival to LG's equivalently-priced sets.
Read the full review: Panasonic TX-55FZ952B
This Philips OLED has a B&W-made soundbar attached to the bottom, meaning not only does it provide excellent picture quality but superior sound too. Colours pop without looking garish or out of control, and there's a ton of detail to enjoy. While the audio served up is the perfect complement - voices are fuller and more rounded, and louder sounds land with the desired effect. If you're looking for an all-in-one OLED TV where you don't need to worry about adding speakers, this should go to the top of your list.
Read the full review: Philips 55OLED903
Another inviting Philips OLED. Ambilight is the star of the show here. The coloured lights correspond to what's happening on screen, making for a more immersive viewing experience. And if you have Philips Hue smart lights in your home, they can join in the action too. The TV's picture is punchy, and combined with super-sharp edges, you get a real sense of three-dimensionality. A 65-incher worthy of any lounge or home cinema room.
Read the full review: Philips 65OLED803
This TV uses the same screen and Alpha 9 processor as LG's C8, E8, G8 and W8 OLED ranges, so straightaway you know you're onto a winner. The main difference? This one has a built-in soundbar, giving you home cinema sound, which is great news if you don't want to shop around for one yourself. It's quite a looker too, thanks to the stand that makes it look like the TV is floating. The picture quality is predictably excellent, while sound goes loud without losing its balance. You can buy a better soundbar than the bundled one, but this scores extra points for convenience.
Read the full review: LG OLED55E8PLA
If you want to get the most from this Sony OLED TV, you'll have to spend some time tinkering with the settings. But it's time well spent, as the results are glorious. There's an exceptional level of detail in both the darkest and lightest parts of the picture, and it's more than adept at handling the punchy, vibrant images of a comic book adaptation. Oh, and the motion processing is the best around, making transitions run smooth as butter. Well worth a few thousand of anyone's money.
Read the full review: Sony KD-65AF9
MORE: