If your heart's set on the best 4K OLED TV you can get for your money, this is the place to look. With the deepest blacks and excellent contrast, OLED will bring you the one of the best movie viewing experiences possible.
Under £1500
This set is a real return to form for Philips and one of the finest TVs currently available, particularly for HDR. Adding Ambilight to OLED is a brilliant idea, but this Philips has much more to offer.
The Philips 55POS9002 is a real surprise. It's been a long time since the brand properly floored us with a TV, but this OLED has done just that. HDR content on this TV is simply spectacular – even better than on the Sony A1, and that's really saying something. It can go toe-to-toe with most rivals with Full HD, too. And then, of course, there's that lovely Ambilight, which only enhances the visual excitement.
In short, this is a superb TV, and yet another enhancement of LG's OLED tech. If HDR is your prime concern (and it should be) this should be right at the top of your new telly shortlist.
Under £2000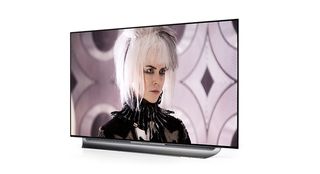 Individually small but collectively significant improvements over last year's model make the C8 a superb all-rounder of a TV.
The upshot is an image that's brighter, punchier and more detailed, while maintaining the black depth and naturalism we love. It's an exceptional performer, one that gives the Sony KD-55A1 a serious run for its money.
We had concerns about the £3000 price when we first tested it, but now that you can buy one for well under £2000 it's an excellent choice.
Under £3000
A big and beautiful TV with a vibrant picture rich in detail, this is another LG OLED we'd be proud to own.
You couldn't really ask for more from the LG OLED65C8PLA. It does everything the 55in model does well, but in a larger package. That's why it's a 2018 What Hi-Fi? Award winner.
MORE:
Best 4K, HDR and OLED TV deals