Black Friday and Cyber Monday are just days away, with the biggest shopping event of the year once again promising serious savings on thousands of products.
The Black Friday deals extravaganza shows no sign of slowing down, with online and high street retailers promising big discounts on a huge range of products - and this year the Black Friday sales are starting earlier than ever.
The Amazon Black Friday deals are under way already, and other retailers will no doubt follow suit soon enough with pre-Black Friday sales.
So, what's Black Friday all about anyway? When is the actual Black Friday date? And where can you find the best Black Friday deals? Read on for all the information.
When is Black Friday 2018?
Black Friday 2018 takes place on the Friday after Thanksgiving, which means this year it will fall on Friday 23rd November.
Black Friday's partner in crime, Cyber Monday, will therefore be on Monday 26th November.
We can of course expect plenty of deals to run across the weekend to keep everyone interested, not to mention the early Black Friday deals that begin in the days before the actual date - and have now already started.
What is Black Friday?
Black Friday began in the US but has now very much spread to the UK and around the world.
Why is it called Black Friday? The date was traditionally the start of the Christmas shopping season, when retailers hoped to move out of the "red" (loss) and in to the "black" (profit), hence Black Friday.
In the last few years Black Friday has truly become a world shopping phenomenon, with consumer electronics one of the most popular product categories.
Are the Black Friday deals any good?
After the initial few years of excitement around Black Friday in the UK, we naturally moved to the apathy stage, as people began to question whether the offers were genuinely good deals. And it remains up for debate.
For example, it's not unusual to see discounted products rise in price in the summer months ahead of a "price cut" come Black Friday; naturally this means you're essentially just getting the original discounted price from earlier in the year. That said, there are always genuine deals to be had, it's just finding them amongst the onslaught of offers.
Last year we saw a £140 saving on the Sony MDR-1000X headphones, up to 50% off some Samsung TVs, £150 off the Naim Mu-so Qb, £1500 off an Award-winning LG OLED, and savings across the Sonos range.
So it's definitely worth keeping an eye out over the Black Friday weekend. And good news - we'll be doing our best to do just that, sorting through all the deals to find the ones that are really worth your money.
Where to get the best Black Friday deals?
4K TVs and smart speakers are sure to be on offer in some form or another pretty much everywhere, while we expect it to be a good time to buy an Amazon Alexa device or Echo speaker.
The high street big names always go big on games console bundles ahead of Christmas, and with OLED such a buzzword this year, we wouldn't be surprised to see some cheap OLED TV deals.
We're similarly confident the specialist AV retailers such as Richer Sounds, Sevenoaks and Superfi will deliver some hi-fi and home cinema bargains - last year's What Hi-Fi? Award-winners are a good place to start when it comes to finding a price reduction.
Which products should you buy on Black Friday 2018?
The best Black Friday 2017 deals included savings on Sonos, LG and Sony OLED TVs, the Amazon Echo Plus, Google Chromecast, a Naim Mu-so wireless speaker and a Q Acoustics soundbar.
For Black Friday 2018 we expect to see similar products on sale, with 4K TVs and especially OLED TVs, wireless Bluetooth headphones and speakers, and the likes of Amazon and Google reducing their wireless products.
We've already had a heads up from Hisense that it will be offering a handful of affordable 4K TV deals.
PS4 and Xbox bundles are likely to be on offer too, and you're sure to be able to find deals on phones and tablets, including the latest Samsung Galaxy and Apple iPhone models.
We only have a few days to wait to find out this year's details...
MORE:
Should you buy a Hisense TV on Black Friday?
Should you buy a Toshiba TV on Black Friday?
The best deals available right now
Can't wait for Black Friday and Cyber Monday? We don't blame you. We've rounded-up the very best early Black Friday deals around in each product category, featuring 4K TVs, headphones, speakers, turntables, soundbars and more. If you want more choice, just click through to our dedicated deals page for each product category.
Best TV deal
Philips 50PUS6703
What Hi-Fi? Awards 2018 winner
50 inch LED with Ambilight
4K, HDR
Android TV
The 50PUS6703 is a superb OLED TV with an incredibly low price tag. For £600, you get a 50in 4K HDR panel, with Philips' excellent Ambilight technology into the bargain. And it looks great too. If this gets further reduced on Black Friday, it deserves to sell by the bucketload.
Best headphone deal
AKG Y50 BT
Wireless
Impressive clarity, detail and dynamics
Comfortable
These wireless on-ears are superb - especially considering they're now almost half price. The sound is easily good enough to pass for a good wired performance, a full charge gets you an impressive 20 hours of battery life, and the favourable ratio of aluminium to plastic to gives a luxurious look.
Best speaker deal
KEF Q350
Refined sound
Accurate and transparent
Elegant finish and build quality
Sounding more like speakers close to the £1000 mark, few rivals can match these for the money. Great sound and a stunning design and now they're available for under £500.
Best wireless speaker deal
Ultimate Ears Megablast
Alexa voice control
Enthusiastic sound and goes loud
Battery life: 16 hours
Ultimate Ears adds another feather in its funky, portable speaker cap with the Alexa-powered Megablast. The first portable speaker to feature voice control, you can shout commands at it to play music, turn on your lights or tell you jokes, but the speaker itself has been spruced up to sound louder than before. Its energetic performance certainly fills a room without distorting or sounding harsh, and there's a rugged design and good battery life, too.
Best turntable deal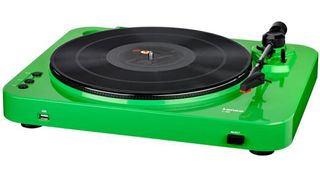 Lenco L-85
Easy set-up
USB recording
Built-in phono stage
The Lenco L-85 is a great budget turntable for getting into vinyl. There's a built-in phono stage so you can connect to any amplifier or powered speakers, while the USB output allows you to rip a digital copy of your records. Unless you're prepared to spend over £200, we can't think of a better record player that combines features and user-friendliness to such a good degree.
Best soundbar deal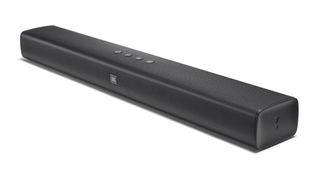 JBL Bar Studio
Solid and punchy sound
Wireless Bluetooth
HDMI and optical connections
The JBL Bar Studio is proof there's some amazing value to be had in the soundbar market. Originally tested at £150 and now available for less then £100, it's a fine budget option with a punchy and rich sound. At just under 6cm in height, it will slot under most suitably sized TVs without looking out of place. HDMI (ARC) and optical sockets cover the rear and Bluetooth is also onboard for simplified streaming. At this kind of money you can't go wrong.
Best 4K Blu-ray player deal
Sony UBP-X700
What Hi-Fi? Awards 2018 winner
Dolby Vision support
Affordable price
The Sony X700 was the first budget 4K Blu-ray player that really impressed us. This Sony supports Dolby Vision and HDR10, as well as the full suite of streaming video apps. On the connections side, you get twin HDMI outputs – handy if you want to separate the video and audio feeds in your home cinema set up – a coaxial digital output, and a USB port for playing content stored on media drives or USB sticks. The X700 is a fantastic player that makes watching 4K discs an affordable reality.
Best accessories deal
Flexson Sonos stands
There are a host of Flexson Sonos accessories on offer in the early Amazon Black Friday deals. So if you want floor stands or wall brackets for your Sonos speakers, now's the time to get a bargain - you can save up to 44% off the retail prices.
Flexson wall mount bracket for a Play:1, now £19.01, down from £24.20
2 x Flexson wall mount brackets for a Play:1, now £33.00, down from £44.08
Premium Flexson floor stand for the Play:1, now £74.66, down from £122.46
Flexson floor stand for the Play:1, now £38 (in white) and £37.01 (in black)
2 x Flexson wall mount brackets, now £75.01, down from £102
Adjustable floor stand, now £60.52 (down from £79.99)
2 x adjustable floor stand, £90.05 (down from £117.03)
Flexson stand for the Sonos Playbar, now £69.25, down from £100
Best Apple deal
iPhone XS deal
With a low upfront cost, we think this is the best value EE deal we've seen so far for the 64GB iPhone XS. It includes a whopping 50GB of data to use on the UK's fastest 4G network. The monthly bills are down to less than £70, and you'll only have to pay £38 upfront. Total cost over 24 months is £1,670.
Get this low upfront fee iPhone XS deal at Mobile Phones direct