I've been reviewing TVs for, ooh, 16 years or so at this point, so it's pretty common that a friend, family member or bloke in the pub asks me what TV they should buy. For the last nine months or so, that answer has been easy: buy an LG C2.
Of course, if someone's budget won't stretch to OLED TV money, I'll suggest a cheaper TV, but on a performance-per-pound basis, you just can't beat the LG C2. Its OLED picture performance is stunning, it requires next to no tweaking of settings to look its best, its webOS operating system grants access to every streaming app you're ever likely to need, and its gaming specs are simply unbeatable.
So, would I actually buy an LG C2? I already have – a 42-inch C2 currently resides in my home office / gaming den – and now I want another one from the other end of the size spectrum. That's right, I want the Award-winning 77-inch C2 for my living room, and the fact that it's available in the Amazon Prime Day sale for £2768 at Amazon is making it more tempting than ever.
Yes, £2768 is still a heck of a lot of money to spend on a TV, but it's a discount of nearly £1000 on the original price of £3699. I don't think that price will be beaten in the future, either, as the TV has been discontinued so isn't likely to be available at all for much longer.
(For what it's worth, its replacement, the C3, isn't much of an upgrade and is currently £3599 at Amazon, so the C2 is a much better buy)
Besides, while you can't beat size when it comes to home cinema, I'm not prepared to sacrifice quality or features in order to go huge. That's why it's got to be the C2 for me...
... unless I got for the even-better 77-inch G2, which is also discounted and now only a bit more expensive at £2999 from Richer Sounds.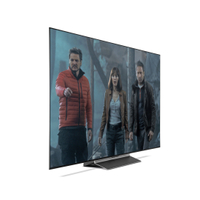 LG OLED77C2 2022 OLED TV £3699 £2768 at Amazon (save £931)
If you want the best performance-per-pound LG OLED of 2022 in a truly cinematic size, this 77-inch version of the C2 is what you're after. It's got all of the top-notch features of the smaller models but with an extra dose of epicness. Read our full LG C2 review.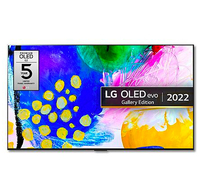 LG OLED77G2 2022 OLED TV £4499 £2999 at Richer Sounds (save £1500)
The 77-inch version of LG's top 4K OLED TV is every bit the dazzling proposition you imagine it to be. If you've got the space and the money, this is a superb option. You need to be Richer Sounds VIP member in order to get this deal, but joining is instant and free. Read our full LG G2 review.
Just how good is the LG C2? The 65-inch model won our coveted Best TV Award. And it wasn't a one-off – the 42-inch version and 77-inch version also won the Best TV gongs in their respective size categories, and the 42-incher was crowned as Best Gaming TV, too!
The C2 remains our favourite TV despite LGs newer C3 having come out recently. That's because, through our extensive testing, we found that the C3 is only a slight upgrade over the C2. Seeing that it also currently costs a lot more, it's still the C2 that we recommend to most people.
The picture quality is brilliant and brilliantly consistent, with amazing contrast, vibrant but balanced colours, good motion handling, and superb detail and sharpness.
There's no better TV for gaming, either. All four HDMI ports are certified 2.1 with 48Gbps. That means they all support the gaming features of 4K 120Hz, ALLM and VRR found on the latest premium PC graphics cards, the PS5 and the Xbox Series X. So you won't have to faff around making sure your console is plugged into the 'correct' HDMI port. HGiG also comes as standard and, uniquely, Dolby Vision gaming is supported right up to 4K/120Hz.
LG's webOS platform is also on board. This is super easy to use and supports all of the major streaming apps like Netflix, Amazon Prime Video, Disney+ and Apple TV+.
Take all of that, make it absolutely huge and give it a near-four-figure discount, and you've got one of the most tempting TV deals there's ever been.
But then there's the G2 to consider as well. It does everything that the C2 does, but its picture performance is even better, thanks to a brighter OLED panel. This has benefits across the board, delivering not only brighter, punchier highlights, but also giving the whole image a lift. It's glorious.
The G2 also differs from the C2 in that it has a 'Gallery' design, which means it's the same 2.4cm thickness all over and is designed to be wall-mounted. In fact, it comes with a wall mount rather than a stand, so you'll need to budget for the latter if you're not intending to mount the TV on the wall. Amazon sells plenty of affordable third-party pedestal TV stands if you don't want to fork out for the expensive official stand from LG.
Considering the price difference is only around £200 now, the G2 is probably worth stretching to if you can. Can I? That depends how this conversation with my long-suffering wife goes...
MORE:
Read the full LG C2 review
And here's the full LG G2 review
These are all of the best TV deals available right now