Best gaming TVs Buying Guide: Welcome to What Hi-Fi?'s round-up of the best gaming TVs you can buy in 2021.
If you want to amp up your favourite video game, it's worth splashing out on a bigger, brighter telly, and one with deeper blacks that will immerse you in the action.
Before we get into our full list of the best gaming TVs, it's worth going over what makes a great gaming TV and explaining what the acronyms you'll see in the spec lists actually mean. That said, if you already know all of that stuff (or simply don't care) click here to get straight to the best gaming TVs you can buy.
How to choose the best gaming TV
Important gaming TV features to look out for
Broadly speaking, a TV that's great for TV and movies should also be great for games but, if you're looking for the very best TV for gaming, there are a few gaming-specific features to look out for, particularly if you've got or are planning to get a PS5 or Xbox Series X.
The big one is input lag, which tells you how long your gamepad button presses will take to appear as onscreen actions. Lower is better, but anything below 40ms will be imperceptible to almost all gamers, and 20ms or less is lightning-fast.
A few next-gen gaming features are starting to appear, too – Variable Refresh Rate (VRR), Auto Low Latency Mode (ALLM) and 4K@120Hz (aka HFR or 'High Frame Rate') are all part of the HDMI 2.1 spec, but are now available via plenty of TVs with HDMIs that are certified as 2.0.
VRR matches the TV's refresh rate to the frame rate being output by the console in real-time, resulting in a smoother, faster gaming experience. The Xbox Series X, Series S, One X and One S (and certain PCs) can all output VRR.
ALLM is simpler: it just means that your TV will automatically switch to its 'game mode' to reduce input lag when it senses a game signal from your games console. It's also intelligent enough to switch game mode off again if you play a movie or TV show via your console, using the Netflix app, for example.
4K@120Hz has suddenly become a big deal, too, as both the PS5 and Xbox Series X support it. Put simply, this allows a TV to handle 4K games at frame rates of up to 120fps. There aren't that many TVs around that can do this (most are limited to 60Hz), particularly below 55 inches, but there are some and you can expect the number to grow significantly in 2021.
It's also now worth looking out for HGiG. Rather than a fixed standard or certification, HGiG (which stands for HDR Gaming Interest Group) is a consortium of companies that have come together in order to create guidelines and best practices for the implementation of HDR in gaming. Console-makers Microsoft and Sony instigated the creation of HGiG, and members include TV manufacturers such as LG, Samsung and Panasonic, and game developers and publishers such as Activision, EA, Rockstar and Ubisoft.
Put simply, the aim of HGiG is that each game is tailored to the specific capabilities of your TV without the need for endless calibration screens. Samsung and LG have already added HGiG settings to their top 2020 and 2021 sets, and they result in a more accurate picture with deeper blacks and more detailed highlights.
General qualities that translate well for gaming
Those specific gaming features are all well and good, but focusing on specs alone really isn't wise: your new TV also needs a broad range of core skills. For example, it needs to have the punch and vibrancy to do justice to brighter, flashier games such as Fall Guys, but also a natural balance that doesn't oversaturate tonally subtler blockbusters such as The Last of Us Part II.
Black depth is important for delivering drama, too, but you want to be able to see plenty of detail in shadows, so avoid a TV with a reputation for crushing dark detail and be sure to tweak the brightness/gamma setting for your game – most titles have a specific option for this.
HDR is a must, of course, as the PS4, PS5, Xbox One X, One S, Series S and Series X all output HDR, and it would be a mistake not to get a 4K screen, even if you don't yet have a 4K console. The good news is that it's now pretty hard to buy a TV that doesn't have 4K and HDR.
8K vs 4K@120Hz
But what about 8K? Both the PS5 and Xbox Series X can handle 8K in theory, but neither has the feature enabled at launch.
It seems that the focus is on higher frame rates in the short term, with higher resolutions potentially coming later. Even then, native 8K gaming seems unlikely. It's widely believed that neither console has the processing power to run blockbuster games at that resolution. We might, though, see games appear that dynamically scale at resolutions above 4K before being output as an 8K signal, much as the current PS4 Pro and Xbox One X handle 4K on many games (truly native 4K games are still fairly rare).
In other words, while 8K should perhaps be at the back of your mind, we don't think it's essential that you buy an 8K TV right now. Such sets will likely be much, much more affordable by the time 8K gaming becomes a serious concern.
Right, that's the broad strokes. Now it's time for our list of the very best TVs for gaming. You'll notice that most models here are from LG and Samsung, and there's a simple reason for that – they currently offer the most complete gaming feature sets and the best gaming performance.
The best gaming TVs you can buy
This year looks very much like the year of Mini LED, and Samsung is going bigger on this new backlighting technology than anyone else.
The company has developed its own Mini LEDs, which are just one-fortieth the size of traditional backlight LEDs, and combined them with its existing Quantum Dot tech to create a range of premium TVs that it calls Neo QLEDs. The QE65QN95A is the first Neo QLED we've tested and Samsung's flagship 4K set for 2021.
In real-world performance terms, Mini LED might not quite be the revolution that Samsung is pitching it as, but it is still a substantial upgrade to an already excellent range of TVs. The overall contrast offered is staggering, and the QN95A combines near-OLED black levels with awesomely crisp white highlights and fabulously vibrant colours, all while retaining an effortless sense of naturalism.
On the gaming front, all four of the QN95A's HDMIs support ALLM, 4K@120Hz and VRR (Variable Refresh Rate). And VRR is supported in all three of the formats currently available: standard HDMI VRR, Nvidia G-Sync and AMD FreeSync (this is the first TV to be FreeSync Premium Pro-certified, in fact).
Samsung's also created the 'Game Bar' – a pop-up menu that gives you quick access to various game-related features and delivers live information on the signal being received, including the VRR format and frame rate. Input lag, meanwhile, has been reduced to under 10ms, which is entirely imperceptible. If you don't mind sacrificing a little of that speed, you can enable some gaming-specific motion smoothing, although we don't find that necessary during testing.
Finally, on the gaming front, the HGiG (HDR Gaming Interest Group) setting that was added to Samsung's 2020 QLEDs via a software update late last year is also present on the QN95A. This is well worth using in conjunction with your console's HDR calibration settings as it results in a more accurate picture with deeper blacks and more detailed highlights.
All told, games absolutely pop when played on the QN95A, and performance is lightning-fast and super-slick. Throw in the best, most app-packed operating system in the business and this is (a lack of Dolby Vision support aside) as complete a package as can be imagined.
Read the full Samsung QE65QN95A review
LG's new C1 isn't a huge improvement on the CX it replaces, but it didn't really need to be. The picture performance and feature set were already exemplary, and LG has slightly improved the former with its new Cinematic Movement motion processing and enhanced de-contouring feature (which reduces banding), and slightly improved the latter with a better menu system and a more complete app selection (all UK catch-up apps are present).
As before, the C1 boasts four 40gbps HDMI 2.1 sockets with support for eARC, 4K@120hz, ALLM (Auto Low Latency Mode) and VRR (Variable Refresh Rate). VRR is supported in all three current formats, the most important HDMI VRR format, Nvidia G-Sync and AMD Freesync Premium. There's an HGIG option in the menus, too, which delivers more accurate contrast with HDR games.
LG also now has a dedicated Game Optimiser menu that gives you quick access to all of those game-related settings as well as features that adjust gaming picture performance, either based on the genre of the game you're playing or through manual tweaking of the detail in the brightest and darkest parts of the picture.
All told, this is a brilliant TV, particularly if you're a gamer. Do also check out the G1 below, though, as it boasts a new, brighter OLED panel.
Read the full LG OLED65C1 review
Samsung's 8-series has traditionally been positioned just below the company's glamorous range-topping QLEDs. In the past, it has proven to be the sweet spot where picture quality and price intersect to maximum effect. And so it proves once more.
The UE55TU8000 (known as the UN55TU8000 in the US) is astonishingly good value. For comparatively very little money you're getting a 55-inch TV that performs brilliantly, particularly with HDR content, and boasts the best, most app-laden operating system available at any price.
It is missing support for VRR and 4K@120Hz, but ALLM is on board and input lag is vastly lower than that of many sets costing four times as much. If you're a gamer on a tight budget, we've not found a better option.
Read the full Samsung UE55TU8000 review
For the last few years, the C-class model has been the sensible choice of each new LG OLED range. Until now, it has been the most affordable model with the latest panel and picture processing tech: go further up the range and you might get better sound and a fancier design, but you won't get a better visual performance.
For 2021, though, LG has introduced a new 'OLED Evo' panel that promises increased brightness and sharpness, and to get the Evo panel you have to step up to the G1. That's slightly disappointing because you also end up paying extra for a rather niche design (the G1 is designed to be wall-mounted, to the extent that there's no stand or feet in the box) that you may not want.
Still, if the design works for you and you don't mind forking out the extra £500, the G1 is undoubtedly the best OLED that LG has ever produced. It takes the picture performance of last year's GX and CX and improves upon it in almost every way, particularly in terms of brightness, sharpness and detail. That makes it a seriously stunning picture performer.
It's also got all of the gaming features we've come to expect from LG OLEDs: four 40gbps HDMI 2.1 sockets with support for 4K@120Hz, VRR and ALLM (plus eARC); an HGIG mode for more accurate contrast with HDR games; a sub-13ms input lag; and a new Game Optimiser that allows for more game-related fine-tuning and puts all options at your fingertips.
Sound is less strong, but if you were always planning to combine your new TV with a separate sound system and the design works for you (and you've got deep pockets), the G1 should be seriously considered.
Read the full LG OLED65G1 review
We'd been waiting for this moment for a long time. After years of waiting, LG finally launched the first 48-inch OLED TV in 2020, bringing true flagship OLED TV performance to under 55 inches fir the first time.
And it really is a fabulous performance. This isn't a downgraded flagship TV – it's a downsized flagship TV. It offers the same performance and features as its bigger brothers in the CX range (which, let's remember, also match the more expensive GX, RX and WX in terms of picture quality and processing), but in a smaller, more lounge-friendly package.
The performance is superb. The perfect blacks and near-perfect viewing angles we're used to from OLED, combine with bright, punchy whites and vibrant but natural colours. LG's motion processing in 2021 is the best it's ever been, too, and its OLEDs continue to impress in terms of upscaling 1080p and standard-def content.
On top of all that you get certified HDMI 2.1 sockets that support next-gen features such as eARC (Enhanced Audio Return Channel), 4K@120Hz (High Frame Rate), ALLM (Auto Low Latency Mode), and all current formats of VRR (Variable Refresh Rate). It's the perfect feature-set for PS5 and Xbox Series X.
One fairly big downside for UK buyers is that some of the UK's terrestrial catch-up apps are missing from LG's 2020 smart platform (although BBC iPlayer has now been added). You can obviously add these fairly easily and inexpensively by adding a streamer such as the Amazon Fire TV Stick 4K, but you really shouldn't have to.
Read the full LG OLED48CX review
Not only is the LG CX a superb all-round performer for everything you watch, it's got all of the gaming credentials you could possibly need.
All three current formats of VRR are supported, as are ALLM and 4K@120Hz. Input lag is an almost impossibly fast 13ms, too. There's simply no better specified TV when it comes to gaming.
Of course, it's got the usual perfect black depth that you get from OLED TVs, but there's greater shadow detail than LG's 2019 models could manage, ensuring you're less likely to be caught out by an enemy camping in the gloom. And while the set isn't as ultimately bright as a Samsung QLED, it produces surprisingly punchy highlights in otherwise dark scenes, which makes for some brilliantly exciting imagery.
The set's one drawback isn't gaming related: it's still lacking some of the UK's core catch-up apps (although BBC iPlayer is now on board. If you don't see that as an issue and you're a big gamer, this is the best TV you can buy.
If a 55-inch TV is a bit too big for your room, you can now buy a 48in version of the CX (the OLED48CX, top). There are also 65-inch and 77-inch versions if you're looking to go bigger – you'll find a link to the review of the 65-inch version below.
Read the full LG OLED55CX review
Read the full LG OLED65CX review
The Samsung Q90T is a slightly tricky proposition. It's the top 4K TV in Samsung's 2020 TV range (along with the Q95T), but as a result of the company's increased focus on 8K models, it's also less of a flagship set than last year's Q90R thanks to a reduction in backlight dimming zones.
Whether you consider the Q90T to be the true successor to the Q90R or not, it is a better TV overall. It has a more natural balance, significantly better motion and a much-improved sound system. It's true that it doesn't go quite as bright or quite as black but, in fairness to Samsung, the Q90T is also more aggressively priced.
Besides, the Q90T is second to none when it comes to gaming specs. VRR, ALLM and 4K@120Hz (albeit via only one of the HDMI sockets) make it perfectly equipped for this console generation and the next, and input lag of just 11ms means it's never going to hold you back.
It's also worth remembering that while the Q90T doesn't go quite as bright as its predecessor, it's still vastly more punchy than any OLED, and there's an addtional vibrancy to colours that lends itself well to games.
If you've got the budget for a premium gaming TV, you should definitely check the Q90T out before handing any money over for the LG CX – both are brilliant and just have different characteristics.
Read the full Samsung QE55Q90T review
The 65XH9005 was less "Ready for PS5" at launch than the marketing suggested, but it does now have 4K@120Hz support and is still due to get VRR and ALLM (neither of which is currently output by the PS5 but both of which are built into the new Xboxes) via a future firmware update.
With or without these console gaming features, this is an awesome TV. There are plenty of connections for hooking up partner kit, and you won't be wanting for onboard tech: this is a full-array LED-backlit TV with local dimming, and supports the HDR10, HLG and Dolby Vision HDR standards, and Dolby Atmos for sound. It's also Netflix Calibrated and IMAX Enhanced.
And the picture quality? Excellent. Sony's X-Motion Clarity motion processing technology is reliably superb, making fast-moving pictures like games, sports and action films as smooth as butter. There are plenty of options to fiddle with, but just leave it on auto and you'll still be treated to a great experience visually. It's got good sound, too. A little lightweight compared to some, but it's clear, precise and well projected. An ideal option for both gamers and non-gamers alike.
Read the full Sony KD-65XH9005 review
This Samsung QLED set a formidable benchmark for mid-range TVs in 2020, offering a high-end performance at a very reasonable price.
The Q80T looks much like any other Samsung QLED, although it is a little bit chunkier than the Q90T above. Like the Q90T, one of the Q80T's HDMI inputs supports the key features of HDMI 2.1, including as eARC, ALLM, VRR and 4K@120Hz.
4K HDR streaming is available via the likes of Netflix, Amazon Prime Video, Disney+, Apple TV+. In fact, the app support is superb, with pretty much every video and music streaming site you can think of on offer here. The only feature gap of real significance is the lack of Dolby Vision.
A simple TV to set-up when it comes to getting the best possible picture, the Q80T ultimately delivers a brilliantly dynamic image with deep black levels, excellent contrast and neutral but vibrant colours. While there are rare occasions when watching HDR that a skin tone seems slightly overcooked, the colour balance is a great strength overall, while motion is handled confidently and smoothly throughout our testing. And while we'd recommend a soundbar or some speakers, Samsung's Object Tracking Sound technology provides open, engaging audio.
The Q90T is the better TV in terms of contrast and colours, but it's a not a huge step up, so if your budget falls just short of a full flagship model, the Q80T is a superb choice.
Read the full Samsung QE55Q80T review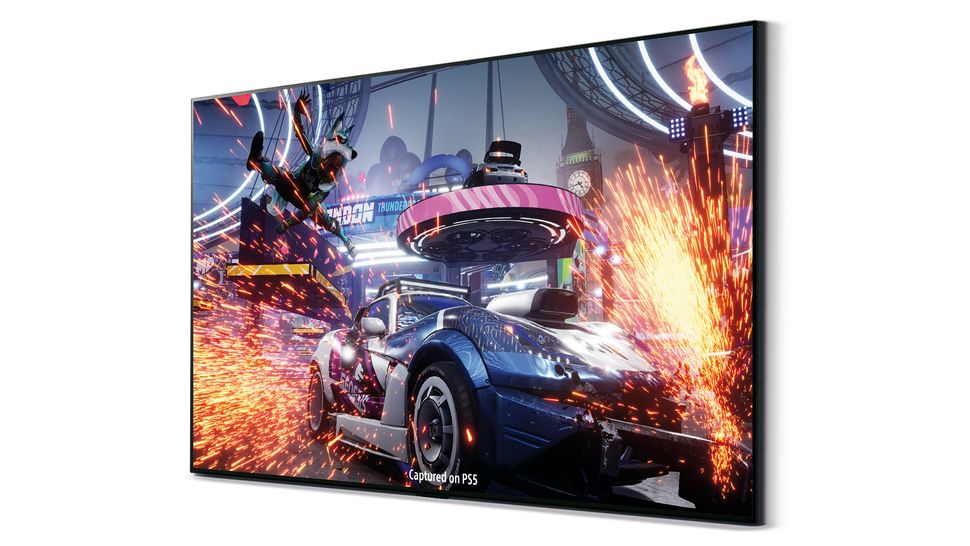 While most people will be more than satisfied with one of LG's C-class models, which are the most affordable sets with all of the company's best picture processing, this GX takes that same picture and feature set (including VRR, ALLM and 4K@120Hz), and adds more powerful sound and a beautiful design.
This is LG's 'Gallery' model, and as such is entirely intended for wall-mounting. You don't even get a stand in the box (although feet can be bought separately), with a low-profile mount provided instead. The set is a uniform 2cm deep, which is exceptionally slim. The CX, by comparison, is 4.7cm deep at its thickest point.
Picture-wise, LG has taken the exemplary performance of its 2019 OLEDs and improved it in a few key areas, with dark detail, colour richness and motion handling all getting a worthwhile boost. The set sounds decent, too, particularly for one with essentially invisible speakers.
The only issue for UK buyers is the current lack of catch-up apps such as All 4. That won't impact your gaming sessions, but if you use your TV for more than just gaming – and at this level we hope you do – it's a factor worth considering.
Read the full LG OLED65GX review
If you love the sound of the Q90T above but like the idea of connecting all of your kit via an external unit that can be easily hidden away, then the Q95T is for you. A more stylish remote and Samsung's unique One Connect system are the only upgrades you get for spending the extra on the Q95T, but for some they'll be worth the money.
The One Connect system really is awesome. Instead of your consoles and other sources being plugged directly into the back of the TV, they go into an external box that's then connected to the screen via a very long and almost impossibly thin cable. This cable even carries the power, so the display itself doesn't need to be connected directly to a wall socket.
It's genius and it makes for an incredibly neat setup if you're wall-mounting, so if you want all of the Q90T's excellent gaming credentials with an extra helping of wow factor, this is the TV to get.
Read the full Samsung QE65Q95T review
There's a lot of pressure on the 49-inch KD-49XH9505 (XBR-49X950H in the States), as all three of its predecessors have taken home What Hi-Fi? Awards.
The company has basically reused the shell of last year's KD-49XG9005, which is a bit of a shame as it's fairly thick and has awkward-looking feet that give the set an overly wide footprint. But the set looks fairly smart in its own right. You do also get a better remote that's neatly laid out and doesn't require line of sight in order to send commands to the TV.
Most importantly, last year's shell has been stuffed with upgraded kit, including Sony's flagship processor, the X1 Ultimate, which brings with it lots of picture improvements. All told, this is a punchier and more richly coloured performer than its predecessor, with more dark detail and the excellent motion processing for which Sony is renowned. It sounds impressively weighty and solid, too.
Unfortunately, Sony hasn't seen fit to add support for VRR or ALLM, but the low input lag and all-round impressive picture performance still make it a decent choice for gamers looking for a 49-inch TV that's more premium than most.
Read the full Sony KD-XH9505 review