A decent pair of headphones can revitalise the music stored on your smartphone or music player - and they can also team up with more traditional hi-fi system without any hassle.
Here's our round-up of the best headphones on the market right now. We've covered a range of styles and price points so you've got the best chance of finding the right pair for you.
In-ear
You don't have to spend hundreds of pounds to better those freebie headphones that come with your smartphone. Take the Beyerdynamic Byrons. The black-and-metal look gives them a sleek, modern appearance. The earbuds are petite and you'll barely feel them in your ears. And, for the money, the amount of authority, rhythmic precision and subtlety they deliver is superb. Add a three-button remote and mic, and Android/Apple compatibility into the mix and you've got a serious bargain.
MORE: Best in-ear headphones
On-ear
Winners of multiple What Hi-Fi? Awards, the AKG Y50s hardly put a foot wrong with their impressive sound. They're balanced and insightful, uncover loads of detail and convey dynamics effortlessly. A neat design mechanism allows allows them to collapse and fold flat for easy storage. The leather earpads sit firmly on the ears and do a good job of blocking our external noise. If you want a pair of on-ear headphones that are portable, stylish and affordable, then look no further than these AKGs.
MORE: Best on-ear headphones
Over-ear
Another What Hi-Fi? Award winner, the Sennheiser Momentum 2.0 over-ears are portable, desirable and blessed with brilliant sound. They're dynamic, entertaining performers that get the balance between attack and finesse just right. Build quality is excellent too - the earpads are seriously comfy and isolate noise better than many rivals at the money. The 2.0s also come in two flavours, the AEi for iPhone users and the AEG for the rest, so you don't need to worry about compatibility.
MORE: Best over-ear headphones
Noise-cancelling
The Sony WH-1000XM3s have cemented the brand's position as king of noise-cancelling headphones, beating rivals like the Bose QuietComfort 35 IIs and Bowers & Wilkins PXs to top spot. For starters, they're a snug and comfortable fit and packed with useful features including an Atmospheric Pressure Optimiser, which maximises noise-cancelling performance at high altitude. But it's the sound quality that really stands out. The Sony's use analogue amplification to great effect with an immense sense of spaciousness, loads of detail and enhanced dynamics.
MORE: Best noise-cancelling headphones
Wireless
The Beyerdynamic Byron BTs have dropped in price over the past 12 months from £90 to £60, making them a bit of a steal. The earpieces are aluminium and feel like they could take some rough treatment. There are also magnets on the back of each, making them stick together around your neck when not in use. Bass is tightly controlled, while upper mids and highs sound defined and really make their presence felt. For the money, it's difficult to fault them.
MORE: Best wireless headphones
Sports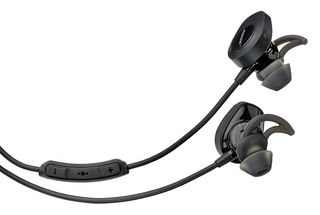 The Bose SoundSport Wirelesses are more traditional wireless in-ear headphones, with a neckband cable incorporating a remote housing part-way down. The soft silicone rubber hooks trace the basic lines of the ear, making the fit secure and comfortable enough for running or the gym. They're also sweat resistant and IPX4 rated. The sound quality is perfect for this kind of earphone too – plenty of detail, smooth highs and powerful, punchy bass that might get you running that bit faster.
MORE: Best wireless headphones
Budget
The Koss Porta Pros are a cheap pair of headphones and a lot of fun, and at £25 they're tough to beat. Given the design first appeared in 1984, the Pros have an obvious retro look but the design also keeps them lightweight. You can toggle between a light or firm fit. The only downside is they're pretty much open-backed and quite leaky when you're out in public. If you can live with that, you'll be impressed by their upbeat, rhythmic sound.
MORE: Best budget headphones
iPhone
These Award-winning in-ears look and feel as if they should be more expensive. They're also a snug fit and extremely comfortable. And then there's the sound quality. Timing and organisation are excellent great sense of refinement. Lows are accurate and balanced, while highs sound sharp and precise. Put simply, these amazing in-ears deliver on all fronts. If you want to spend a bit less or fancy flashing the cash, there'a always our list of the best in-ear headphones.
MORE: Best iPhone headphones
Money-no-object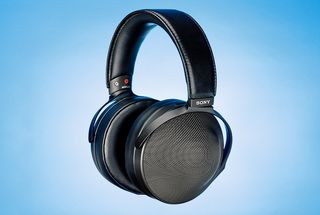 These £1700 Sony's might look understated, but there's obsessive attention to detail. From the use of high-grade materials to the impressively engineered grilles and driver enclosures, every element of the Z1Rs has been painstakingly designed. This means you'll need to partner them with a suitable high-end electronics to really make them sing, but you'll be left amazed by their sense of composure and their ability to extract detail and subtlety from a track. At the money, we don't think we've tested a better alternative.