The right DAC will make your system sing, but something sub-optimal might prevent you getting the most from your set-up. If you're after a USB DAC, some high-end pyrotechnics or something in between, you're sure to find something in our list that fits the bill.
Under £100
The majority of DACs and headphone amplifiers fitted to smartphones or laptops are cheap and not very good. Adding a dedicated DAC, no matter how small, can make all the difference. At one end of the soundKey there's a 3.5mm socket for plugging in headphones (or connecting to a system). At the other there's a micro-USB socket. There's no need (nor any room) for anything else. In the box Cyrus provides a cable terminated with a micro-USB at both ends (for use with appropriate Android devices) and a micro-USB/full-size USB cable (for use with laptop or desktop computers). Apple user? You'll need to buy a dedicated cable. Sonically it affords your music space, detail, dynamics and transparency. And that's great for the size and money.
Under £200
When the original DragonFly flew into our testing rooms back in 2012, it was a breath of fresh air. A DAC and headphone amp disguised as a USB stick – and with great sound to boot. Now it's a crowded market (see above). But AudioQuest has continued to upgrade its products and the latest DragonFly Red is a great performer. Ahead of the cheaper DragonFly Black, this USB has a more advanced DAC and headphone amp, plus a higher voltage output for driving demanding headphones. Using this DAC instead of your headphone output or even a cheaper DAC and you'll notice improved weight and texture to your tunes, combined with a natural and subtle sound. All told, it's a supremely compact and convenient device that can be taken anywhere for an immediate musical boost.
Under £500
Does anyone need a DAC with an upper sampling rate limit of 768kHz? We seriously doubt it. But get past that headline grabbing spec and it's obvious that the Mojo could be the perfect solution for those who crave Chord's £1400 Hugo but have stuttered at the hefty price. The name is short for 'Mobile Joy'. And it delivers. It can convey power and scale when the music requires but has the finesse to make the most of the subtler passages too. That sense of organisation is clear here, as is the Mojo's composure when the piece becomes demanding. There's never any sense of stress, every note is given the space and attention it deserves. Chord has produced yet another winner here.
Under £1000
The original M-DAC was among our favourite pound-for-pound DACs for half a decade - and in 2016 Audiolab finally gave it the update treatment. The M-DAC+ was well worth the wait. Not just a bigger box, the specs got the plus treatment too, with support up to 24-bit/192kHz hi-res music, and a host of new connections. Sonically, you won't be disappointed. There's a wide, believable soundstage, impressive detail levels, and good timing. It's not the last word in attack and drive but if you can handle that, there's not much else to quibble with here.
Under £1500
Chord claims this is "the world's most advanced" DAC. No pressure, then. It uses the same DAC architecture, software coding and frequency-shaping filters as the Hugo 2, but ditches the headphone amplifier and rechargeable Li-on batteries that make Hugo 2 portable. The Qutest's sole purpose is to be the digital-to-analogue bridge between your digital source and amplifier. A soundstage full of crisp, clean, concise – not to mention explicitly detailed – instrumentation fills the space between our speakers, with the singer's lush, down-tempo jazz arrangement having equal parts sinew and sparkle thanks to the Chord DAC's familiarly neutral tonal balance. Overall, we're very satisfied with the updates with the Qutest occupying the gap in the pecking order between the Mojo and Hugo 2 as the DAC which lesser rivals look up to at this price mark.
Under £2000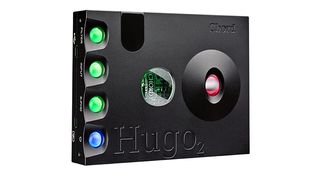 There wasn't much wrong with the original Hugo, but Chord is a restless company, and Hugo is no more. Instead, please welcome to the stage Hugo 2. A little smaller, a little sharper around the edges, and significantly more expensive than the original. And, unlikely though it seems, slightly quirkier than before. Hugo 2 features all the inputs and outputs you could realistically require. Its digital optical input is good for digital audio up to 24bit/192kHz, while the digital coaxial functions up to 24bit/384kHz. The final physical input is a mini-USB able to deal with information up to 32bit/768kHz and DSD512. Music can also be fed to Hugo 2 via aptX Bluetooth. There are 3.5mm and 6.3mm headphone socket outputs, and a pair of stereo RCAs for connection to an amplifier. Sonically, from one extreme of the frequency range to the other, the Chord is a smoothly neutral listen – it doesn't overstate, it doesn't underplay. It simply arranges the pieces into a convincing whole where bass is balanced against treble in the most unforced and crystal-clear manner. There isn't another DAC around at anywhere near this sort of price able to communicate so torrentially, so unambiguously or so effortlessly. We like it a lot.
Money no object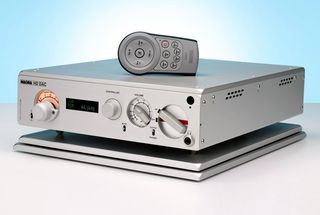 What's the best DAC in the world? The best we've heard so far are the Chord DAVE and dCS Rossini DAC/Master Clock combination. To that rather short and hugely talented list you can confidently add Nagra's HD DAC. To top it all, it's arguably the most desirable of the lot. The styling may not be for everyone but there's no denying the build is immaculate. You'll find a full array of analogue and digital connections and a thoroughly high-end set of internal components. The Nagra's power supply, for example, has some 25 separate internal supplies fed by two outboard units – one dedicated to the analogue section and the other for the digital. This is what you pay for. To get the best from this DAC you need to add premium partners but the second we add it to our reference system, we are treated to a wonderfully organic, natural and detailed sound. While there's plenty of refinement and a total lack of unwanted hardness, there remains a healthy dose of dynamic punch when required. Whether enjoying aggressive or subtle selections, the Nagra is capable of staggering levels of detail presented in an effortlessly musical style. If you're in the market for the ultimate DAC, then you need to hear this.