A stereo amplifier is the beating heart of any hi-fi separates system; the necessary middleman between a source (such as a CD player or turntable) and pair of passive loudspeakers. Without one, you simply don't get a sound! And which one you choose will have a huge impact on the sonic quality and character of your whole system.
If you've chosen to go down the simpler, most convenient and space-saving option of an integrated amplifier as opposed to a pre/power pairing (where preamp and power amp duties are housed in separate boxes), you've come to the right place.
Below, we have rounded up the market's best stereo amps, which offer a vast selection of features across a range of prices but all have something in common: class-leading performance at their respective price points. We're confident there are options here to suit all budgets and requirements, to get your music system singing whether it comprises a modestly priced turntable and entry-level speakers or indeed higher-end kit. And what better place to start than with the current What Hi-Fi? Award winners...
How to choose the best stereo amplifier for you
Why you can trust What Hi-Fi? Our expert team reviews products in dedicated test rooms, to help you make the best choice for your budget. Find out more about how we test.
Stereo amplifiers aren't as simple and stripped back as they used to be; the days of equipping them with just analogue inputs and outputs and a pair of speaker terminals are now no longer the norm.
With laptops, phones and music streaming services becoming ever-more popular music sources, the integrated amplifier has indeed moved with the times. Many now contain built-in digital-to-analogue converters (DACs) that feed digital inputs for connecting laptops, hard drives and digital-savvy hi-fi sources, while the vinyl revival has seen many integrate phono stages for turntables. Some even feature network streaming, making them a fully-fledged, just-add-speakers system (and for the best of those, you'll want to head on over to our best hi-fi systems page). So what you require will depend on your needs and the connectivity of any existing equipment you have.
You should also consider your amp's partnership with your speakers. The speaker/amp relationship not only comes down to an amp's power output but also the speaker's impedance characteristics and sensitivity. So if you need clarification on system matching, you should head over to our thorough how to choose and set up a stereo amplifier advice page.
The Marantz PM6007 takes the winning formula of the Marantz PM6006 UK Edition, a former What Hi-Fi? Award winner, and manages to squeeze even more performance out of it. The result: another What Hi-Fi? Award winner!
Let's get the negatives out of the way first, though. There's no USB input or Bluetooth connectivity, which some users might demand, but that aside the PM6007 is pretty much faultless.
The PM6007 boasts trademark Marantz styling and is a solidly built, nicely-finished integrated amplifier with traditional hi-fi appeal.
Improvements include a new DAC and new filters, which can be switched between when you're using the amp's digital inputs, plus new components in the power amp and phono stages. The latter also gets upgraded circuitry.
And the results speak for themselves. The sound is smooth, full-bodied and balanced, with a pleasing spaciousness. Another quality hi-fi amplifier from Marantz.
Read our full Marantz PM6007 review
Despite some minor cosmetic tweaks, the CXA81 might look a lot like its predecessor, the CXA80, but all the improvements are where it counts: on the inside.
Cambridge Audio's engineers have upgraded the signal path, as well as the capacitors in both the preamp and power amp sections. Also on board is a new DAC and an improved USB input that supports hi-res audio.
What does this all mean? It means there's a world of difference when it comes to performance. It's as punchy as anything, with a bold, powerful sound. Yet detail is never sacrificed, and it's lean and agile enough to handle anything you can throw at it.
Add in the addition of aptX Bluetooth for wireless playback, and you've got the best stereo amplifier around at this price and a very worthy What Hi-Fi? Award winner. It sets a new standard for hi-fi amplifiers in this price bracket – one we can't see being surpassed any time soon.
Read our full Cambridge Audio CXA81 review
This excellent budget integrated amp borrows the power amp and moving magnet phono stage from its elder sibling, the five-star Rega Brio, which you'll find further down this list. And it's quite obvious when you power up the io that it's a descendant of this excellent amp. It showcases a fantastic sense of rhythm, impressive dynamics, detail. In short, it's a whole lot of fun to listen to.
One slight drawback is that in order to reach this level of audio quality, Rega has made the decision to stick purely with analogue inputs (as it has traditionally done with its higher-ranging models too, though its approach is now changing). The lack of any digital connectivity might be a hindrance to some, but it's not unheard of at this price point, and it doesn't dampen our enthusiasm for what is one of the best-sounding stereo amplifiers we've heard at this modest price point.
Read our full Rega io review
This is the third-generation instalment of a model first introduced in 2008. The XS 3 adds a moving magnet phono stage and better responsiveness, and that's about it. If that sounds negative, it shouldn't – the XS 3 is a killer stereo amp, having earned a well-deserved five stars and multiple What Hi-Fi? Awards for its trouble.
Why? Attention. To. Detail. Open it up and you'll see what we mean – there's immaculately assembled audio circuitry, with fantastic care shown in reducing the degrading effect of outside interference and unwanted interactions between components.
And it shows. The sound is much crisper and more agile than its forebears, thanks in no small part to this exacting eye for detail (it even goes as far as the shape of the connecting wiring and the exact number and placement of tie clips holding it in place). It might not be enough of a difference to justify upgrading from its predecessor, but it still makes for an awesome amp nonetheless.
So not a massive change, as we say. But if it ain't broke...
Read our full Naim Nait XS 3 review
The successor to our multiple-Award winning Rega Elex-R, one of our favourite amplifiers of the last decade, is thankfully far from a disappointing sequel.
Revealing and faithful, it's capable in ways far beyond our expectations at this mid-tier price point. The elegant, confident way it delivers music is something that's very rare at this level. The addition of digital inputs (at last!) and a headphone port is a great step in the right direction too, giving customers more flexibility in how they listen to this terrific amp.
If you take the time to partner it carefully (we'd avoid any bright or forward-sounding kit as a rule; pairing it with speakers with more richness to the tone – like the KEF LS50 Meta or Wharfedale Linton – will give the sound more body and weight), this stereo amplifier will work wonders.
Read our full Rega Elex Mk4 review
The CXA61 is the lower-specced stablemate to the CXA81 further up this list, and successor to the CXA60, a winner of multiple What Hi-Fi? Awards. So it's in good company.
Thankfully, it doesn't let the side down: it has the same digital inputs and Bluetooth capabilities as the CXA81, but only outputs at 60W per channel instead of 80W, giving you less power. But for most listening scenarios, that won't be a deal breaker.
What's more important is the sound quality. And we're happy to report it's a real step on from the CXA60, being more transparent and fun, but always staying composed even when the music gets frantic. It's a presentation style that works well across a wide range of musical genres and speakers, and should please all but the most demanding of listeners. If that's you, you'll have to spend a little more to satisfy your audio taste buds.
Read our full Cambridge Audio CXA61 review
The Rega Aethos delivers a fantastic combination of insight, dynamics and rhythmic precision to produce a class-leading sound. It's not the most highly-specced stereo amp we've seen, though. There are no digital inputs (something Rega is now starting to add in its new releases, including the Rega above and Elicit below), nor is there a phono stage for a turntable, which is surprising at this level. You do get five line-level inputs and a 6.3mm headphone socket, though.
If you can live with that, the Rega will reward you with a captivating sound, that majors in clarity and dynamic fluidity. Its sense of timing is second to none at that level, which is part of the reason it is a current What Hi-Fi? Awards winner.
Read our full Rega Aethos review
The new Elicit MK5 is one step down from the award-winning Aethos above and marks a surprising change of direction for the company's amplifier designs.
Rega products tend to be pretty purist affairs that prioritise performance and solid engineering above all else. They rarely excel on the features front, but that seems to have changed with the Elicit MK5, since it now includes digital optical and coaxial (though sadly not USB) inputs alongside the usual analogue connections. Rega has also added digital sockets to the new Elex Mk4 too.
Just over 30 years on from the original, the Elicit integrated remains an excellent choice for those that prioritise sonic performance - one that's taut, punchy, clear and simply one of the most musical at this level. Recommended? You bet.
Read the full Rega Elicit MK5 review
Chord Electronics has proven to have quite some talent in finding new market niches. And the diminutive Anni desktop integrated amplifier is a perfect example of that.
Make no mistake, this really is a proper Chord amplifier in miniature, using as it does the Ultima dual feed-forward circuitry seen in the latest generation of the brand's high-end power amplification. However, this little box is only the size of the Chord Qutest digital-to-analogue converter – for the uninitiated, think smaller than a pair of coasters laid end-on – and it's intended to be an ideal partner for that DAC and the company's Huei phono stage. The important thing to note is that it's designed for desktop use with either headphones or suitable speakers.
This is one of the most capable headphone amplifiers we've heard. It sounds clean, clear and articulate yet captures the manic energy of Nick Cave & The Bad Seed's Babe, I'm On Fire superbly.
Use it as a desktop amplifier as intended and it shines. Sure, there are operational quirks – something that's proving to be a Chord trait – but when the Anni sounds this good we can forgive a lot.
Read the full Chord Anni review
If it's heritage you want, the Rega Brio has it in abundance. The original Brio launched in 1991, when Bryan Adams was topping the charts with (Everything I Do) I Do It For You. And it wears its heritage on its sleeve, with a redesign that harks back to those earlier models.
It's now in its sixth generation, and we had to wait six long years for this model to touch down. Thankfully, it was worth it. This is the kind of amplifier we want to leave on and play our entire music collection through. Again and again.
Yes, your main inputs are limited to standard RCA sockets and a moving magnet phono stage, but we're willing to overlook the lack of digital sockets, given the amp's amazing sense of musicality and its modest price point. It sounds terrifically fluid with precision and scale in spades. In fact, almost anything you play on it will sound amazing. Even Bryan Adams.
Read our full Rega Brio review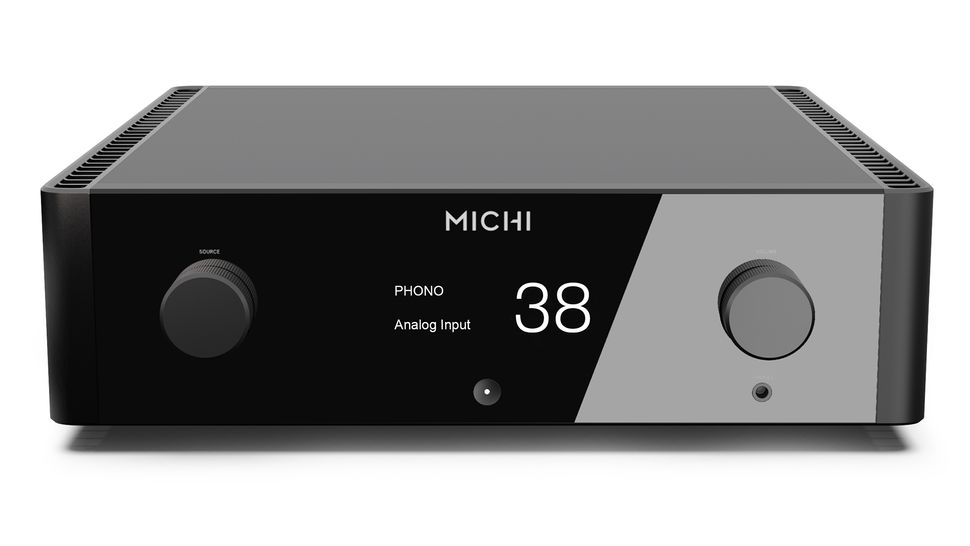 Accuse a person of lacking character and it's a harsh assessment. For a piece of hi-fi though, it's hugely positive. This Michi is a firmly 'hands-off' performer. It doesn't imprint a strong sonic signature on anything it plays, leaving the character of the sound to come from the recording or some other part of the system. Tonally, it sounds even-handed to us, delivering all parts of the frequency range with equal importance.
Detail levels are high, as is the quality of stereo imaging. And one of the highlights is undoubtedly the Michi's bass delivery, which makes most of the competition at this price point sound a little soft and blurred in this region. The Cambridge Edge A (below) is perhaps the closest in terms of build and ability, but while it has a more fluid and engaging presentation, the X3 still has the advantage when it comes to clarity, sonic precision and price.
Ultimately, this Rotel is a formidable performer that's ready to mix it with the best at the price. Add the exceptional build and comprehensive specifications to the hugely capable sonic performance and it's a must-have on your shortlist.
Read our full Rotel Michi X3 review
As far as flagship stereo amplifiers go, the Edge A is a stunning piece of kit. The casework looks slick thanks to its curved corners, while the knurled input selector ring works with wonderful precision. It even comes with a classy remote handset. Features include an array of digital and analogue inputs including balanced XLRs and USB (type A), plus Bluetooth aptX HD, and even an HDMI ARC socket to help your TV sound better.
And the Cambridge sounds like a truly complete amplifier for the money. It generates a huge sense of authority and scale, with amazing dynamic reach. The amp also has a fantastic grasp of low-level details, thanks to a display of clarity and control you'll struggle to beat at the price.
If you're looking for a fit-and-forget hi-fi amplifier, we can't think of anything better at this level.
Read our full Cambridge Audio Edge A review
This is another integrated amp with some serious pedigree. This third-gen model doesn't break any moulds, but then it doesn't have to. A slight improvement on its predecessor would be enough to make it one of the best around in its category.
And that's exactly what we have here. Changes over the previous version are limited to the addition of a (good quality) moving magnet phono stage and a tweak in the power amplifier section. It makes the Supernait a little more useful and a little bit better. But such was the quality of its predecessor that that's enough to keep the Supernait at the cutting edge at this level.
Some may baulk at the lack of digital inputs, but these can harshen the analogue performance. And they never sound as good as a dedicated outboard unit like a Chord Mojo 2. So we support Naim's decision to keep it strictly analogue.
It certainly shows when it comes to sound quality. In fact, we can't think of a more talented alternative when it comes to punch, dynamics and rhythmic drive.
Read our full Naim Supernait 3 review
Let's be honest, the world of budget stereo amplifiers isn't exactly brimming with superstar products. Yes, you have the Marantz OM6007 and Rega io further up this list that are brilliant for their modest price, but if your budget is slightly lower, we wouldn't hesitate to point you to the talented Cambridge AXA35.
This is a well-built, cleanly styled product that packs all the essentials. True, we'd like to see Bluetooth as well as a couple of physical digital inputs, but we're willing to overlook such things when the amplifier is as sonically capable as this. And if you have a budget turntable, you can take advantage of its built-in moving magnet phono stage.
The AXA35 delivers a bold and composed sound that practically overflows with detail. It's an even-handed performer that's as happy playing a large-scale Mahler symphony as it is Jay-Z's latest, along with everything in between. And when it comes to rhythmic drive and dynamic expression, few alternatives do better.
At this price, you really can't ask for more.
Read our full Cambridge AXA35 review
If you want an interesting alternative to the budget Marantz, Cambridge and Regas above, then we suggest the NAD D 3020 V2. It has a smaller design, and the fact it can stand upright means it's more versatile with positioning.
The NAD is also packed with useful features. There's Bluetooth for offline streaming and a moving magnet phono stage for connecting a turntable – which give you far more options when it comes to audio sources. Plus you get optical, coaxial and RCA connections, along with a subwoofer out for adding lashings of bass.
And if this wasn't enough, it's an enjoyable listen too. Dynamics and timing are up there with the best, while detail levels are impressive for this class. Even if the Marantz does pip it for all-round sound quality, this NAD more than makes up for it in terms of features and ease of use. Definitely one for your shortlist.
Read our full NAD D 3020 V2 review
Arguably, this is the only stereo amplifier at this price capable of troubling the Rega Brio (at no.10). So needless to say the Audiolab 6000A is a very accomplished performer.
It's well-equipped on the connections front - four digital inputs, three analogue inputs, and a pair of moving magnet phono inputs. Add Bluetooth and a headphone output to the equation and you've got a list of options the Rega simply can't match.
So how does it sound? Very good indeed. Though considering it uses technology derived from the top-of-the-range 8300A series, and the same DAC chip as the Award-winning Audiolab M-DAC, its prestige audio quality comes as no surprise.
The 6000A's open and airy presentation gives music plenty of room to breathe and there are bags of refinement on offer too. It's clean and articulate, with a gorgeous sense of clarity and an absolute tonne of detail to get your teeth into. Take it from us, the 6000A doesn't disappoint.
Read our full Audiolab 6000A review
The Lavardin ITx is one of the most uncluttered and self-effacing amplifiers we've ever heard. Its presentation isn't warm or rich in the manner of some valve designs, but it is incredibly sweet sounding, in all the best ways. This is also a fast and fluid performance, one that's immensely precise without sounding clinical in any way.
This is not a product that encourages analysis of the hi-fi system or the recording being played. It is more than transparent enough to perform that role but prefers to put the spotlight firmly on the music. That's the way we like it. Does the ITx live up to our fond memory of the original from the late 90s? Yes, it absolutely does.
Just be aware that this is nothing other than an integrated amplifier for purists. The ITx's connectivity is limited but adequate for most stereo setups. There are four single-ended line-level inputs, a lone tape output and a pair of modest-looking speaker terminals. So if you play records or use headphones, make sure to budget for extra boxes to do the job.
Read our full Lavardin ITx review
Copland doesn't introduce new products all that regularly, so the CSA 100 is a welcome addition to its line-up and a welcome addition to our list of the best stereo amplifiers you can buy.
The CSA 100 boasts a clutter-free and elegant design, with digital module, headphone output and a phono stage all to be found inside that well-constructed chassis. At its core is a hybrid electronic design that produces a solid 100W per channel (8ohm).
Connectivity includes a phono (moving magnet/moving coil) plus single-ended (three) and balanced XLR (one) line-level inputs. As for digital, there's the usual trio of USB, coaxial and two optical sockets. The Copland's ESS Sabre ES9018 Reference DAC is compatible with up to 32-bit/384kHz PCM files and DSD128.
Sonically, the amp produces a nicely layered image with instruments sharply focused – its sonic precision and a sense of fluidity are hugely appealing. It's an impressively detailed performer that allows you to just sit back and enjoy your music collection.
Read our full Copland CSA 100 review
This might be an integrated amplifier, but it really is more like a separate pre- and power amplifier in a single box rather than a compromised electrical design. Build quality is excellent. Thanks to its impressive power amp circuitry, this is an amplifier that will have no trouble driving difficult speakers to high volume levels. In other words, it's right up our alley.
It might take a while to fully appreciate its understated presentation. But give it time, and come to appreciate it you will. This is a neutral, balanced delivery, served up with a stunning sense of purity and transparency. And we're particularly impressed with the way this amplifier can deliver deep bass with such texture, agility and power. Those difficult speakers we mentioned? They'll shake the room when pushed to high volumes.
If you're looking for a one-stop amplification solution for a high-end stereo system, this Luxman is an excellent place to start.
Read our full Luxman L-509X review
Dan D'Agostino Master Audio Systems (to use the company's full name) only plays at the top table. Despite its hefty price tag, the Progression Integrated amplifier is the starting point for the brand's range, but that doesn't make it a diluted facsimile of products further up the chain. It's more like everything the brand knows in a condensed package.
At its most basic, this is a line-level analogue integrated amplifier, but add the optional digital module for an extra £5600 ($5000, AU$8995) and you get a good range of digital inputs alongside network streaming capabilities, making it a fully fledged just-add-speakers streaming system. Regardless of whether you're after a straight high-end integrated or something more fully featured, the Progression Integrated is something that must be heard.
Our time with the D'Agostino had us trawling through our music collection, impatient to hear what all those familiar tracks sound like through it. It's rare to find such a powerful amplifier sounding so transparent and responsive.
Ultimately, it delivers a superb all-round performance. And its modular nature means it offers far greater flexibility than most rivals, too.
Read the full Dan D'Agostino Progression Integrated review
How we test stereo amplifiers
We have state-of-the-art testing facilities in London, Reading and Bath, where our team of experienced, in-house reviewers test every bit of hi-fi and AV kit that passes through our door. Every stereo amplifier we test takes up residency in one of our two reference hi-fi rooms in Reading for the duration of its review.
What Hi-Fi? is all about comparative testing, so we listen to every stereo amplifier we test against the current leader – often a What Hi-Fi? Award winner – in its class to gauge how it compares to the competition. We keep Award-winning products in our stockrooms so we can always pit new products against ones we know and love. We do our best to review as many new models in as many markets as possible, too, ensuring our contextual knowledge is the best it can be. And we encounter even more during our What Hi-Fi? Awards judging in autumn, where we listen to every amplifier manufacturers submit.
We are always impartial in our testing and ensure we hear every stereo amplifier at its optimum. So we'll use different partnering products – those in our high-end reference system as well as more price-comparable ones – and ensure we listen through an amp's multiple connections to test both its analogue and (if applicable) digital output stages. We also try plenty of different types of music and naturally give them plenty of listening time (and time to run in) too.
All review verdicts are agreed upon by the team as a whole rather than an individual reviewer to eliminate any personal preference and to make sure we're being as thorough as possible. There's no input from PR companies or our sales team when it comes to the verdict, with What Hi-Fi? proud of having delivered honest, unbiased reviews for decades.
You can read more about how we test and review products on What Hi-Fi? here.
MORE: