Under £500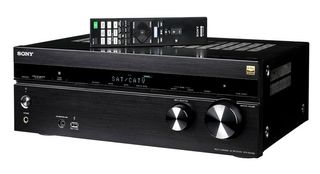 The fact that this has been our Product of the Year for two years in a row tells you all you need to know. This hugely talented home cinema amplifier was best in class when we originally tested it at around £500, but now that it has dropped to £430 it is sensational value for money.
And as for the sound it makes... well, let's just say you'll have to spend an awful lot more cash to get better performance. The feature-packed Sony STR-DN1080 sounds fantastic, reaching deep into its reserves to deliver a performance packed with punch, dynamism and authority in a way we haven't heard at this sort of price.
Under £1000
The Denon AVR-X3500H takes a step forward from its already class-leading predecessor (above) and will bring notable benefits if you're happy to pay the extra.
It is comfortable driving our reference PMC Twenty5 package through the rumbles and thumps of a high-action thriller, with the added solidity felt across the board as voices and soundtracks benefit from its authority and stability.
With the addition of Alexa Voice Control and Apple AirPlay2 this latest model has everything you could need. It makes a great upgrade from a budget amp.
Under £2500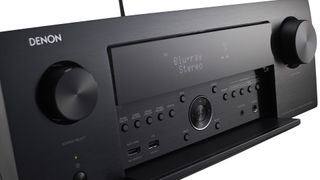 Despite the tweak to the model name, this is essentially a refreshing of last year's Award-winning AVR-X6400H.
We could simply have reposted our AVR-X6400H review and headed it with a note saying 'imagine this, but better'. That wouldn't of course have taken into account the addition of Alexa Voice Control and Apple AirPlay2 to Denon's features arsenal, but would still be a decent summation of the AVC-X6500H's sonic capabilities.
It's proof again - as if it were needed - that Denon refuses to rest on its laurels when it comes to leading the market in home cinema amplification.