Best surround sound systems: quick menu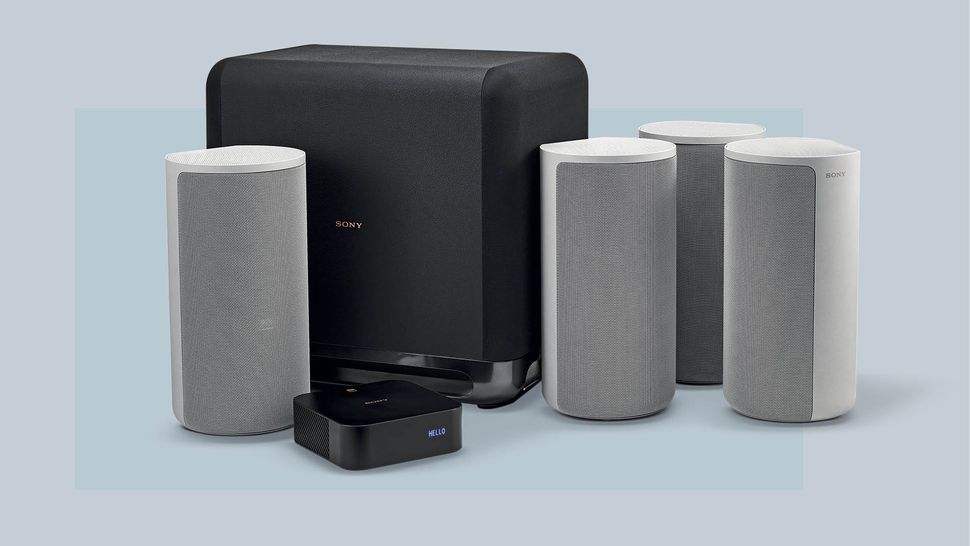 1. The list in brief
2. Best speaker package
3. Best soundbar
4. Best affordable speaker package
5. Beat wireless speaker system
6. Best cheap soundbar
7. Best compact speaker package
8. How to choose
Here at What Hi-Fi?, it's fair to say we're big fans of movies and home theatre. And, given you've landed on this page, we think you probably are too. After all, who doesn't love immersing themselves in a movie for a couple of hours, whether it's a dialogue-heavy rom-com or a scintillating sci-fi flick bursting at the seams with special effects.
The route to a surround sound system, though, can be a tricky one. And, the notion of filling your lounge or home cinema room with four or more speakers may seem daunting at first, but with more comprehensive all-in-one solutions such as wireless multi-speaker setups and soundbars, it's never been easier to upgrade your sound system for movies.
Once you've set up your new surround sound system, be sure to check out our best film scenes to test surround sound page for some suggestions to test drive your new rig.
The quick list
The best speaker package
It is an indisputable fact that the best way to achieve the most convincing surround-sound experience is by placing individual speakers all around your room. Usually that would consist of a ready-made home cinema pack (HCP) put together by the manufacturer, but there's nothing to stop you creating your own as long as you include all the necessary components.
B&W doesn't sell this particular setup as a bundle but multiple retailers do. It consists of a pair of 606 S3 speakers for the left and right channels, a couple of 607 S3 speakers for the surrounds, an HTM6 S3 for the centre channel, and a ASW610 subwoofer, but don't forget you'll also need stands for the front and surround speakers.
Why this exact combination? Because all of the components are compact and well crafted, and collectively they deliver a spectacular performance. The sound is brilliantly dynamic and energetic, but also detailed and insightful, with excellent warmth and richness to the vocals. It can't match the sonic scale of physically larger packages, but it's still full-bodied and engaging.
It shouldn't really come as a surprise that combining these five-star speakers would be so successful, but it's still impressive just how well this DIY surround-sound package works.
Read the full review: Bowers & Wilkins 606 & 607 S3 speaker package
The best soundbar
Sony has excellent form with soundbars, and the flagship HT-A7000 is no different. A 7.1.2 slab of sound, this Dolby Atmos soundbar packs two up-firing speakers, two beam tweeters, five front-facing drivers and a built-in dual subwoofer into a single chassis. Using a combination of driver placement and psychoacoustic techniques, the Sony HT-A700 delivers a broad and high soundstage, whether you're watching immersive content or not, while retaining musicality, presence and detail.
In terms of height and precision, the performance is similar to that of the Sonos Arc, but the width of the soundstage and its forward projection is more convincing. It's not the same as having direct audio from the speaker above or the side, but it's effective and dramatically enticing, enriching the viewing experience. The integrated sub is also particularly impressive with a taut, controlled and powerful performance.
In terms of supported audio formats, the A7000 excels itself and includes Dolby Atmos (in both the Digital+ and TrueHD formats), DTS:X, LPCM, hi-res wireless audio and Sony 360 Reality Audio.
Sony insists that the HT-A7000 doesn't require any additional speakers to deliver immersive soundscapes. However, if you have the money and space there's a choice of two optional subwoofers, the 300W SA-SW5 priced at £699 / $700 / AU$899, and the 200W SA-SW3 costing £449 / $400 / AU$599. A pair of surround SA-RS3S speakers costs £449 / $350 / AU$649 and, slightly disappointingly at this price, they only have front-facing drivers.
However, the Sony HT-A7000 is an outstanding, future-proofed, all-in-one performer with excellent integration if you have a newer Sony Bravia TV.
Read the full review: Sony HT-A7000
The best affordable speaker package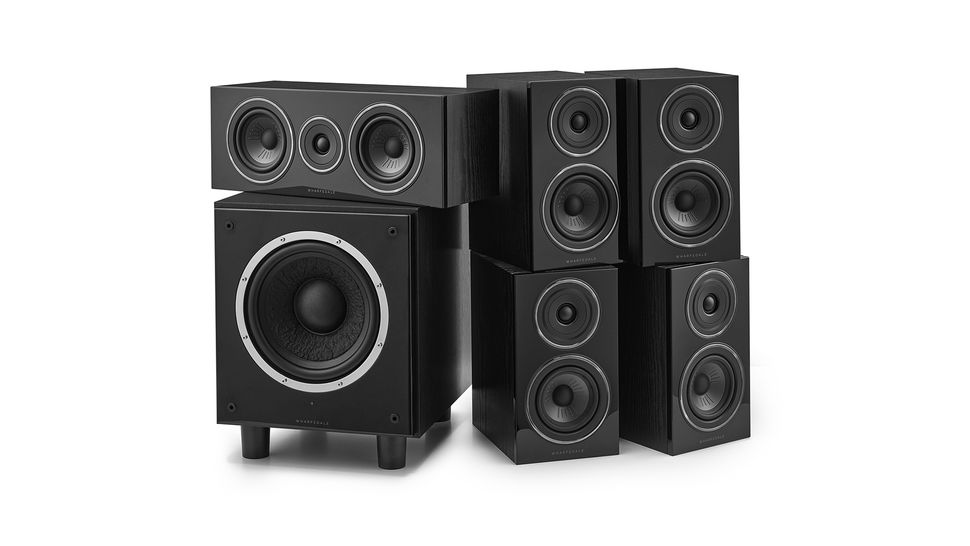 With poise, effortlessness, cut-glass diction and charisma, the Wharfedale Diamond 12.1 HCP is essentially the Audrey Hepburn of home theatre speaker packages. It offers rich bass without sacrificing or overpowering the mid and treble, presenting a mature sound that's rich in impact, agility, detail and sensitivity.
The package is made up of a quartet of the excellent, mid-sized Diamond 12.1 bookshelf speakers for fronts and surrounds with the 12.C in the middle and the SW10 powered subwoofer supplying the bass.
The tautness and dexterity of the SW-10 is remarkable. It's an incredibly musical sub blending seamlessly with the smaller speakers, which themselves have an impressively well-integrated low end. The result is a rich and lively sound.
Large enough to provide cinematic scale with a wide soundfield, but discreet and affordable enough to be accessible to a variety of audiences, the Diamond 12.1 system proves to be an excellent choice for both music and film.
For an appropriate AVR, we'd suggest trying the Denon AVR-X2700H. If we had to use one word to describe the sound of this receiver, it would be 'confident'. The AVR-X2700H doesn't try too hard to impress, as a nervously underpowered budget amp might.
It's an easy and effective listen. No matter how hectic the action becomes, this Denon never misses a beat. It passes the laser blasts from speaker to speaker in a wonderfully coherent manner and, no matter the scene, creates a genuine sense of place.
Read the full review: Wharfedale Diamond 12.1 HCP
The best wireless speaker system
Sony's HT-A9 Wireless Home Theatre System encourages users to position its speakers arbitrarily, promising an even, uniform and immersive soundfield regardless of the symmetry of your set-up.
How does it achieve this wizardry? The HT-A9 supports Sony's 360 Spatial Sound Mapping which calibrates your room's height size and combines it with speaker distance and relative location. The aim is to create an Atmos-like dome of sound from 12 'phantom' speakers notionally placed around that audio bubble.
While we reserve a healthy dose of scepticism regarding phantom channels and sound bubbles, the wide dispersion of the HT-A9's speakers is instantly striking and undeniably effective. It makes for a refined precision and texture that is more immersive than any soundbar package we've tried. No matter how haphazard our speaker positions, the sound design never feels off-kilter or detracts from the action on-screen and that makes the HT-A9 an excellent choice for people not prepared to sacrifice their furniture arrangement at the altar of surround sound.
If you want more punch you can add a choice of two optional subwoofers, the 300W SA-SW5 priced at £699 / $700 / AU$899, and the 200W SA-SW3 costing £449 / $400 / AU$599.
It might not have the same fidelity and transparency we would expect from a traditional speaker package but it's an excellent compromise between performance and practicality. This is a system that we expect to appeal to many.
Read the full review: Sony HT-A9
The best cheap soundbar
Delivering Dolby Atmos from a small chassis is no mean feat yet the Sonos Beam Gen 2 achieves a convincing, immersive performance without so much as a vertical speaker in sight. Instead, when watching Atmos content, two of the soundbar's five front-facing arrays are dedicated to reproducing overhead and surround sounds. With its hefty processing power, the Sonos Beam Gen 2 uses psychoacoustic HRTF (head-related transfer function) technology to give the impression of height without needing to get vertical.
While genuine overhead sounds are perhaps a stretch too far for this petite performer, its virtual delivery of the Atmos format outstrips any similarly priced soundbar and even a few that are more expensive. The Beam Gen 2 offers an enveloping, spatial soundscape with rich, detailed audio as well as tangible motion and depth.
Want an even more impressive soundstage? You can add two One SL rear speakers (£358 / $358 / AU$538) and a Sub (£699 / $699 / AU$999) for a more traditional surround set-up.
Not that many soundbars at this price point come with networking capabilities, but this being a Sonos product, the Beam Gen 2's ability to integrate into a wireless multiroom system is fundamental to its design. This means you can stream to the Beam Gen 2 from a handheld device using Apple AirPlay 2, and Spotify Connect is built-in too. It also supports Amazon Music Ultra HD audio, which gives you access to lossless 24-bit/48kHz tracks as well as Dolby Atmos Music.
Despite the lack of upward drivers, if space and budget are limited there isn't a better Dolby Atmos soundbar that we'd recommend.
Read the full review: Sonos Beam Gen 2
The best compact speaker package
If you're in the market for something more substantial than a soundbar but don't have space to scatter speakers the size of wheelie bins around the place, Wharfedale's DX-3 home cinema pack is right up your street.
The successor to the What Hi-Fi Award-winning DX-2, this pint-sized package is perfect for smaller rooms, with the two-way closed box design of the surround speakers meaning they can be placed close to a wall, while the centre channel will sit comfortably under the TV. The 70W subwoofer is relatively petite, too.
The diminutive dimensions of each component might suggest you're going to get a small-scale sound from the DX-3, but it's pleasingly cinematic, with punchy dynamics and plenty of detail. It doesn't sound quite as rich or warm as its predecessor, but with the right amplifier that can probably be rectified.
It might not look or feel quite as premium as the DX-2 package did, and the RRP is £50 more expensive, but this is still a very affordable and hugely practical way to graduate from a soundbar setup.
Read the full review: Wharfedale DX-3
How to choose the best surround sound system for you
The first big question is whether to go for a speaker package or a soundbar. It really depends on how much space you have for a system, what your budget is, and what other devices you want to plug into it.
A speaker package will give you true surround sound, as the speakers will be placed all around you in a 360-degree arrangement. But a full surround sound system will cost more than a soundbar and requires more boxes in your room, including an AV receiver.
For most homes, a soundbar is the best option. It's a simpler, more elegant solution, as it combines speakers and amplification into a more discreet package. A lot of soundbars come with Dolby Atmos, which does a very good job of replicating surround sound and can be upgraded with the addition of extra speakers into a true multi-channel system. Or there are soundbar packages that already come with wireless surrounds and a sub, which are smaller and easier to position than full-size speakers, but will still need to be placed near a power outlet.
Many soundbars have similar benefits to an AVR and can enhance your system with streaming options such as Airplay 2 and Chromecast, as well as supplementing your physical inputs with extra HDMI passthrough ports.
Similar to these soundbar packages, wireless-powered speaker systems do away with a central soundbar and instead offer a miniature version of a full-size 5.1 system without the need to run speaker cables around your room.
Whichever surround sound system you're considering, do your research and make sure it will fit your space and accommodate your games console, 4K Blu-ray player, set-top box, and whatever else you're planning on hooking up. And that you can afford it, of course. Happy listening!
MORE:
22 of the best film scenes to test Dolby Atmos
Our pick of the best soundbars you can currently buy
Don't buy a TV, sound is the most important upgrade you can make