Let's be honest, if picture and sound really matter to you, then physical media is what you need.
4K Blu-rays absolutely blows streaming services such as Netflix and Disney out of the water when it comes to picture quality and sound, you don't need an internet connection in order to watch them, and they can't suddenly be removed from your library at a moment's notice.
What's more, there's still something special about collecting physical copies of your favourite movies.
Of course, if you actually want to watch the movies you've collected, you'll need a player with which to do so... Well, look no further, for we have rounded up some of the best Blu-ray players out there into a handy guide.
Lewis Empson is a Staff Writer on What Hi-Fi?. He was previously Gaming and Digital editor for Cardiff University's 'Quench Magazine', Lewis graduated in 2021 and has since worked on a selection of lifestyle magazines and regional newspapers. Outside of work, he enjoys gaming, gigs and regular cinema trips.
The quick list
Here's a quick breakdown of our picks for the best Blu-ray players with a short summary and some of the key features that they individually offer. If you're after more details, click the image of the streaming service to drop down to the in-depth entry.
The best music streaming services we recommend in 2023
Why you can trust What Hi-Fi? Our expert team reviews products in dedicated test rooms, to help you make the best choice for your budget. Find out more about how we test.
Best overall
With the DP-UB820EB, Panasonic has taken the video processing tech out of the flagship DP-UB9000 – which features further down this list – and placed it in a more affordable package. And the results are sensational. The player serves up a wonderfully inviting and immersive picture, bursting with colour and detail. It also produces a meaty and exciting sound, which complements the picture perfectly.
All the main flavours of HDR are supported, including HDR10, HDR10+ and Dolby Vision, which means you can extract the most from 4K content. It's a very good upscaler too, so normal Blu-rays should look the part on your shiny new 4K TV. For the money, you'll struggle to find a better all-round machine, which is why we've placed this What Hi-Fi? Award-winner at the top of our list of the best Blu-ray players.
Read the full review: Panasonic DP-UB820EB
Swipe to scroll horizontally
Panasonic DP-UB820EB scores in depth

| | | |
| --- | --- | --- |
| Picture | Vibrant, immersive HDR picture | ★★★★★ |
| Sound | Powerful and weighty sound | ★★★★★ |
| Features | No surprises, but ticks main boxes | ★★★★☆ |
Best cheap
This Panasonic 4K player represents great value for money. Feature-wise, it's a little sparse – the main one missing is Dolby Vision support, which could put some buyers off. But it's the performance that matters, and on that front it delivers. It can provide 7.1 surround sound (using a supported system), and the audio is nicely detailed, with an impressive sense of scale. There's a lot to admire when it comes to picture quality too - dark details are easily strong enough, while it handles 4K upscaling with aplomb. A great buy for those working on a tight budget.
Read the full review: Panasonic DP-UB150EB
Swipe to scroll horizontally
Panasonic DP-UB150EB scores in depth

| | | |
| --- | --- | --- |
| Pictures | Punchy, vivid picture | ★★★★★ |
| Sound | Big, impactful sound | ★★★★★ |
| Features | Good for the money | ★★★★☆ |
Best affordable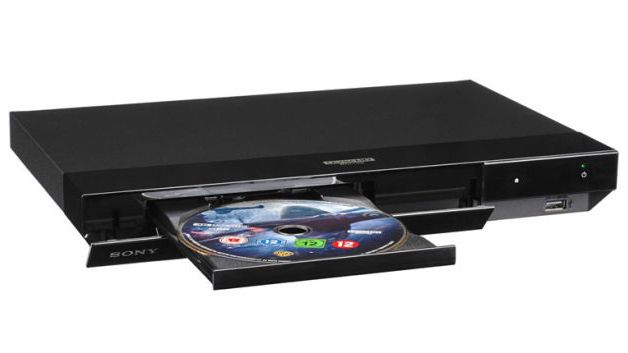 If you want an affordable route into the world of 4K Blu-ray players, the Sony UBP-X700 is a great option. It's one of the most talented 4K players we've seen at this kind of money. It's a fun, involving performance - pictures are stacked with detail. The Sony displays a wonderfully subtle picture that's impeccably judged while being hugely entertaining. Sound quality is equally stirring with its zippy, dynamic character complementing that class-leading picture.
The Sony ticks most of the boxes you'd expect a player to at this price, and includes both Dolby Vision and HDR10 support but no HDR10+.
Despite not flashing the hi-res audio badge, the X700 can also play up to 24bit/192kHz files and supports a number of formats, including WAV, FLAC and DSD. There's also smart functionality and twin HDMI outputs. This Sony machine is good enough to boost all manner of home cinema systems, so you can buy with confidence.
Read the full review: Sony UBP-X700
Swipe to scroll horizontally
Sony UBP-X700 scores in depth

| Attributes | Notes | Rating |
| --- | --- | --- |
| Picture | Crisp, natural-looking picture | ★★★★★ |
| Sound | Sound could be punchier and grander | ★★★★★ |
| Features | Good features and connectivity options | ★★★★★ |
Best non-4k
Making a Blu-ray player for such a low price is no easy feat. Making a good Blu-ray player at this level is more difficult, and a great one harder still. But somehow Panasonic has managed it with the DMP-BDT180EB. If you can live without the 4K Blu-ray playback, the Panasonic is perfect for any entry-level home cinema set-up. Detail levels, colour balance and motion handling are all excellent for the money.
It doesn't hold back when it comes to audio quality either. Its dynamic delivery is exciting to listen to, voices sound clear and the whole presentation is pretty balanced. If you want a solid upgrade on an old DVD spinner, this Panasonic Blu-ray player won't let you down.
Read the full review: Panasonic DMP-BDT180EB
Swipe to scroll horizontally
Panasonic DMP-BDT180EB scores in depth

| Attributes | Notes | Rating |
| --- | --- | --- |
| Picture | Sharp details and vibrant picture | ★★★★★ |
| Sound | Dynamic, full sound | ★★★★★ |
| Features | Small remote and no wi-fi | ★★★★☆ |
Best high end
There are some great budget 4K Blu-ray players in this list, but the Panasonic DP-UB9000 is the one to audition if you're in the market for a premium machine.
Its menu system is a little overcomplicated, but once you've got the Panasonic set up for your particular display, it serves up an entertaining and attention-grabbing image, bursting with colour. There's a great sense of depth and realism to 4K images that makes you sit up and take notice.
Soundtracks are delivered with plenty of weight and power, which is just what you want from a premium player like this. The provision of a 7.1 multi-channel analogue is great news for owners of legacy AV receivers, while the choice of either balanced XLR or unbalanced RCA connections for stereo playback and the provision of support for WAV, FLAC, AIFF and AAC audio formats shows this player means business.
Read the full review: Panasonic DP-UB9000
Swipe to scroll horizontally
Panasonic DP-UB9000 scores in depth.

| Attributes | Notes | Rating |
| --- | --- | --- |
| Picture | Excellent colour balance and sense of realism | ★★★★★ |
| Sound | Solid, powerful sound | ★★★★★ |
| Features | Menu options can be confusing | ★★★★☆ |
How to choose
How to choose the best Blu-ray player for you
As filming technology advances with increasingly impressive stunts, sets, and graphics, filmed at ever-higher resolutions and frame rates, 4K Blu-rays really let you appreciate the artistry of today's filmmakers with sharp details, seamless motion and rich colours.
To make the most of a 4K Blu-ray player you'll need to pair it with a 4K TV or projector and for top-notch visuals look out for which HDR formats are supported such as Dolby Vision and HDR10+.
4K Blu-ray players not only enhance your viewing experience, but they can also support lossless object-based surround formats such as Dolby Atmos and DTS:X. But you'll need to partner it with either a compatible sound system and AVR or a soundbar capable of outputting immersive audio.
4K players are backwards compatible so you can play normal Blu-rays and DVDs without issue, though if this is something you're likely to do frequently pay close attention to a model's upscaling abilities. Some 4K players are also universal decks that can play more niche audio disc formats such as SACD and DVD-Audio.
Almost all players have Ethernet ports for a wired network connection and a large number even have wireless built-in and USB ports that you can use to access an external hard drive. Expect to find HDMI outputs as standard on modern players and, for flexibility, many Blu-ray players have an additional audio-only output.
Our list of the best 4K Blu-ray players only contains models reviewed by our test team in our dedicated test rooms. Each model has been through our rigorous testing process so you can be 100% confident that they all serve up brilliant pictures and sound at their respective price points.
How we test
How we test blu-ray players
Here at What Hi-Fi? we review hundreds of products every year, from TVs to speakers, headphones to hi-fi systems. So how do we come to our review verdicts? And why can you trust them? Allow us to explain.
The What Hi-Fi? team has more than 100 years of experience in reviewing, testing and writing about consumer electronics. We have state-of-the-art testing facilities in London and Bath, where our team of expert reviewers do all our in-house testing. This gives us complete control over the testing process, ensuring consistency.
This includes a dedicated home cinema room where we spend plenty of time with every Blu-ray player that passes through our doors. When testing picture quality we try players with reference TVs and projectors trying a wide range of content, including SDR and HDR.
To assess sound quality, we connect them up to our reference AV receiver and surround sound package so we can hear just what they're capable of. We'll also use the player with a more price-comparable system to see how it works with electronics and speakers that would be a better fit price-wise.
We also compare 4K Blu-ray players with rival products in the same category, and the current class-leaders to see where they sit in the current market and to help us decide where they should feature in this buying guide.
All review verdicts are agreed upon by the team as a whole rather than a single reviewer, helping to ensure consistency and avoid individual subjectivity. That's why our reviews are trusted by retailers and manufacturers as well as consumers.
MORE:
The very best films to showcase Dolby Vision performance
22 of the best film scenes to test Dolby Atmos
Our pick of the best home cinema deals