...and, let's face it, Blu-ray discs provide a whopping improvement picture and sound quality over standard DVDs.
They include the latest sound technologies (Dolby Digital TrueHD or DTS HD Master Audio) and one of the next-gen object-based Dolby Atmos and DTS:X formats.
And, of course, a 4K player will play 4K Blu-ray discs in Ultra HD. There's a decent selection of 4K discs now available, so the time has never been better to upgrade. But don't forget, you'll need a 4K TV to get the full benefit.
MORE: Best home cinema deals
Blu-ray player under £100
Blu-ray player under £150
4K Blu-ray player under £200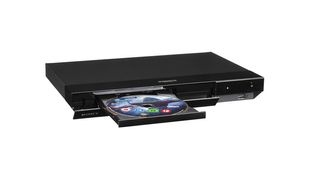 4K Blu-ray player under £400
4K Blu-ray player under £600
Best 4K Blu-ray player under £800
Also consider
Blu-ray player under £100
4K Blu-ray player under £200
4K Blu-ray player under £200
Best 4K Blu-ray player under £800