Let's face it, Blu-ray discs provide a whopping improvement picture and sound quality over standard DVDs.
They include the latest sound technologies (Dolby Digital TrueHD or DTS HD Master Audio) and one of the next-gen object-based Dolby Atmos and DTS:X formats.
And, of course, a 4K player will play 4K Blu-ray discs in Ultra HD. There's a decent selection of 4K discs now available, so the time has never been better to upgrade. Read on for our selection of the best Blu-ray and 4K Blu-ray players on the market.
MORE:
4K Ultra HD Blu-ray: all the discs on sale and coming soon
Blu-ray player under £100
Making a Blu-ray player for under £100 is no easy feat. Making a good Blu-ray player for under £100 is more difficult, and a great one harder still. But somehow Panasonic has managed it with the DMP-BDT180EB. If you can live without the 4K Blu-ray playback, the Panasonic will inject life into any entry-level home cinema set-up. Detail levels, colour balance and motion handling are all excellent for the money.
It doesn't hold back when it comes to audio quality either; the dynamism that comes across in its picture is matched by its sound. Voices are kept clear too, with a pretty balanced sound – so while you probably won't use this as your go-to music player, you can always sling a CD into it with confidence. If you want a solid upgrade on an old DVD spinner, this Panasonic Blu-ray player won't let you down.
4K Blu-ray player under £500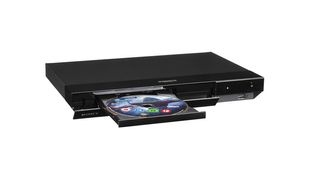 If you want an affordable route into the world of 4K Blu-ray, the Sony UBP-X700 is a great shout. It's one of the most talented 4K players we've seen at this kind of money. It's a fun, involving performance - pictures are stacked with detail. The Sony displays a wonderfully subtle picture that's impeccably judged while being hugely entertaining. Skin-tones are natural, action scenes are handled with smooth and stable motion, and there's a lifelike quality to the X700's picture that just draws you in. Sound quality is equally stirring with its zippy, dynamic character complimenting that class-leading picture.
The Sony ticks all the boxes you'd expect a player to at this price, and includes both Dolby Vision and HDR10 support. Despite not flashing the hi-res audio badge, the X700 can also play up to 24bit/192kHz files in all popular formats, including WAV, FLAC and DSD. There's also smart functionality and twin HDMI outputs. This Sony machine is good enough to boost all manner of home cinema systems, so you can buy with confidence.
4K Blu-ray player under £1000
Some home cinema set-ups demand a player with even more focus than the Sony mentioned above. Where premium build quality and high grade components are par for the course, in an attempt to bring you the best picture and sound possible. The Panasonic DP-UB9000 is such a player. No expense has been spared on its design, with bomb-proof build quality and high-grade components used throughout.
he DP-UB9000 comes equipped with a pair of HDMI outputs, so you can send the audio to your home cinema amplifier while the picture goes directly to your display. The presence of a 7.1 multi-channel analogue output will satisfy owners of legacy AV receivers, while you can take your pick from either balanced XLR or unbalanced RCA connections for stereo playback.
Feed the player a 4K disc and the picture that greets you is breathtaking. It paints a beautifully natural picture, packed with sensational levels of detail. Motion is handled with confidence while the punch of HDR content (both HDR10 and Dolby Vision) is delivered with subtlety. Picture quality is matched by a similarly robust sound. Power, detail and dynamism are all evident whether you're listening in surround sound or stereo.
MORE: Best home cinema deals