Best projectors Buying Guide: Welcome to What Hi-Fi?'s round-up of the best projectors – Full HD, 4K, portable and short throw – that you can buy in 2023.
Who doesn't love a trip to the theatre? The big screen experience in a dark room brings blockbusters to life, it's truly an unmatched way to experience your favourite movies. That being said, we're in an age where movies hit streaming movies sooner than ever before, and sometimes you want to get that theatre experience with older movies.
This is where a home cinema projector comes in, with picture sizes often up to 300-inches, the best projectors are the only way to get that genuine big-screen feeling. These projectors don't quite reach that screen size, but instead closer to 150-inches if you have the space, which should still convey the cinematic experience at home.
We've rounded up our favorite projectors, including Full HD and native 4K models, which also support HDR, and some short throw projectors too for those with smaller spaces. There are even one or two portables that would make an excellent bring-along addition to a garden party for an outdoor cinema experience. The only question is how much do you have to spend?
Naturally, a great 4K projector will cost more than a Full HD one, and real, actual native 4K costs even more than those that use pixel shifting to spoof that top-end resolution. Fear not, though, we've got something for all budgets in our best projector list below. Just remember to save some money for the projector screen and the popcorn!
The VPL-XW5000ES is a watershed moment for not just Sony's projection business but the home cinema world in general. Why? Because it's the cheapest truly native 4K laser projector the home cinema world has ever seen.
Prior to the XW5000ES, Sony's entry-level SXRD 4K projectors – such as last year's VW290ES (VW325ES in the US) – have relied on lamp rather than laser technology. Moving to laser, though, means no longer having to put up with either the inconvenience and ongoing costs associated with having to replace lamps every few thousand hours of use, or the relatively rapid degradation in brightness that lamps suffer.
While you inevitably have to accept a compromise or two in return for Sony delivering a full 4K laser projector at this price, those compromises are ultimately crushed by the joyous impact the XW5000ES's combination of laser lighting and exceptional X1 Ultimate processing has on both your immediate and long-term movie night thrills.
Read the full Sony VPL-XW5000ES review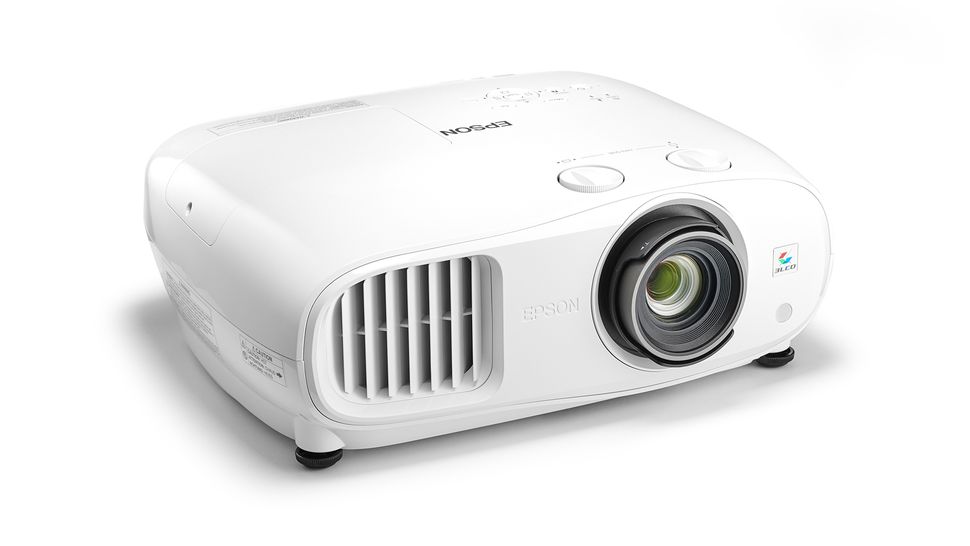 It's a shade pricey for an entry-level device but, make no mistake, the Epson Home Cinema 3800 (known as the EH-TW7100 in the UK) is the king of affordable 4K projectors. It's easy to set up and install, and produces a picture that's reminiscent of what you'll get at the cinema.
You'll get a great image right out of the box without needing to be any kind of expert at tinkering with the settings. All the preset modes are very well judged and it gives an excellent level of black depth and dark detail for a projector at this price. Colors are balanced and motion is naturally smooth.
That said, it's as much the convenience of this machine that makes it so good. Bluetooth allows for direct connection with a wireless speaker or soundbar, and the high luminance means that it's usable in moderately lit rooms. In other words, an AVR, speaker package and home cinema room are not entirely necessary. How's that for a superb family projector?
Read the full review: Epson Home Cinema 3800 (EH-TW7100)
Sony is taking no prisoners with its pair of new native 4K laser projectors, with the VPL-XW7000ES being the higher-end of the two models. As we've already given the cheaper VPL-XW5000ES a five star review, it's now time to look at its beefed up counterpart.
The Sony VPL-XW7000ES takes everything up a notch, pushing brightness up to 11 and featuring a more comprehensive set of motorized lens controls. Its native 4K resolution and notably, high lumen count should catch the eyes of those looking for a flashy projector that will have people talking about the device as much as the content that's being watched on it.
The Sony VPL-XW7000ES consistently received involuntary verbal reactions of "wow" and "can you believe how good this looks?" throughout our testing. The brightness surpasses the gimmicky branding that many would expect, and the details are razor sharp.
Read the full Sony VPL-XW7000ES review
It might only have a Full HD chip, but the Epson Home Cinema 4010 still supports 4K and HDR content thanks to its clever '4K-enhancement' tech. True, it's not native 4K, so will look a little wanting compared to a 'proper' 4K model. But this model is a lot cheaper, and still delivers an exceptional picture for the money.
The image is pin sharp ad very colorful, while also popping with punch and dynamism. The Epson digs out plenty of detail in dark scenes too – useful if moody, moonlight-lit thrillers are your bag. Plus it's a cinch to operate thanks to the motorised lens and handy remote control.
If you're ready to take the step up from a big-screen TV, but don't want a native 4K projector (which tend to be prohibitively expensive), this is a great middle ground. Invite people round for a movie night, and you won't hear any complaints.
Read the full review: Epson Home Cinema 4010
Ultra short throw projectors, or USTs for short, are becoming an increasingly popular option for those who want the big screen theatrics of a projector with the convenience of a TV. Space saving is the game here, without the need for mounts or dedicated home cinema rooms to house bulky traditional projectors, the UST's main advantage is that it can be placed against a wall but it can still produce a huge image.
The LG Cinebeam HU715Q is about as close as a projector can get to being a TV, with a sleek design, sharp picture and built-in webOS operating system. But while it may be close, could it really replace your TV?
The LG HU715Q is the most convincing case yet for swapping out your TV for an ultra-short throw projector. Naturally, it doesn't offer the inky blacks, striking contrast or next-gen gaming specs of a 77-inch LG C2 OLED, but it does offer a vastly bigger and more cinematic picture – and for a lower price.
You should also consider a traditional home cinema projector, of course, but for those who don't have the space and/or patience, a UST will make all sorts of sense. And if that's the case for you, this is the UST projector that we most heartily recommend.
Read the full LG CineBeam HU715Q review
JVC has set the standard for high-end projectors with its D-ILA designs since 1997, and it doesn't look to be slowing down any time soon. The DLA-NZ7 is here to carry the torch on for this long line of prestigious projectors. It's fully featured, capable of producing a gorgeous image and is just an all-round showstopper.
Over the years, practically every JVC DLA projector has performed well in our reviews, so the NZ7 has a lot to live up to. Thankfully this projector, much like those before it, steps up to the challenge.
This projector never brags to you about how capable it truly is, instead letting the crisp, natural and cinematic picture wash over you. It's home cinema projection taken seriously, and while there are other options at this price with punchier pictures, the JVC is here for people who want to be immersed in the image rather than what the projector itself is doing.
Read the full JVC DLA-NZ7 review
The DLA-NP5 is JVC's most affordable D-ILA projector for 2022 – and with JVC's cheapest laser D-ILA models setting you back well into five figures, we have a funny feeling that interest in the lamp-based NP5 could be seriously high. Especially now that the 'Covid years' have given us all a whole new appreciation of the value of a high-quality home entertainment system.
Don't be put off by the DLA-NP5's lack of laser lighting. Yes, you will likely have to change a bulb or two during your time with it, but the rewards for this occasional bit of maintenance are consistently gorgeous all-round picture quality at a fraction of the price you'd need to pay for one of JVC's laser models.
Read the full JVC DLA-NP5 review
This entry-level 4K projector is the baby brother of the Epson at No.2 in the list. The chassis and most of the features are the same apart from the missing internal speakers on this model which are a bit of waste of money anyway.
There are differences on the inside, though. It's still a 3LCD machine but the projection technology will only allow for a picture with a stated contrast ratio of 40,000:1 compared to the 100,000:1 on the TW7100. That said the picture performance is still excellent and very fair for the money.
HDR handling and dark detail are very good and, considering the price point, this projector is capable of some brilliant detail. Black depth and motion processing isn't a patch on more expensive models but the results are very appealing nonetheless and give a wonderfully naturally cinematic feel for very little outlay – a masterclass in budget projection.
Read the full review: Epson Home Cinema 3200
Anyone who's into home cinema appreciates the value of a really big TV screen. But they'll also be all too aware of how much really big TV screens cost. As soon as you step up to screen sizes above 80 inches the cost of TVs explodes, leaving the vast majority of households having to limit their home theatre dreams to 75 inches at the very largest.
Unless, that is, they go for a projector. But then, of course, projectors aren't usually a convenient fit for living rooms. Cue Samsung's The Premiere LSP9T: a projector designed from the ground up to deliver an epic TV-like experience for a fraction of the cost.
Thanks to its uniquely (by projector standards) potent audio and the remarkable color range and brightness made possible by its tri-laser lighting system, the Premiere LSP9T really does get closer than any other projector to date to making you believe you're watching a king-sized TV. Which is pretty handy considering that it's going to be many, many years (if ever) before you'll be able to get a 130-inch TV for anywhere near its asking price.
Read the full Samsung The Premiere LSP9T review
The Freestyle, Samsung's diddy new LED-based projector lives up to its name by enabling you to take projection to places it's never really been able to go before. Literally. Even the usual power cable 'tether' doesn't have to hold The Freestyle back from doing its thing in even the most inaccessible corners of your home.
The sheer extent of its flexibility actually makes its performance feel better than we arguably have any right to expect, though. So if you're prepared to show it the sort of love it needs, the Freestyle has the potential to be your home's new best friend. Right up until the point where you end up squabbling over whose turn it is to use it, anyway.
Read the full review: Samsung The Freestyle
How we test projectors
Why you can trust What Hi-Fi? Our expert team reviews products in dedicated test rooms, to help you make the best choice for your budget. Find out more about how we test.
Testing projectors involves taking the time to explore their capabilities fully through lots of options-tweaking and content-watching. This includes checking every item in the settings menu, and individually tweaking picture features to ensure the projector is giving us the best visual performance it can.
We conduct these tests in our state of the art testing room in Bath, which is outfitted with a 100-inch screen and a plethora of external sources to hook the projectors up to, including 4K Blu-ray players, video streamers and games consoles. This is also where each of these projectors meets its rivals, as every product is tested side-by-side with the competition to ensure it meets expectations and so that its place in the market is considered as a whole – no product exists in a vacuum after all.
We test using a wide range of content from 4K Blu-rays, to streaming services, video games and standard definition DVDs to make sure all kinds of content are put through these projectors. This helps us find the strengths and weaknesses of each projector.
At the end of this process, a verdict is reached by a team of reviewers who work closely together in order to ensure that each projector is tested fairly, and to avoid the possibility of any personal preferences creeping in. This is also to make sure our reviews are consistent and thorough, and so that no feature or flaw is missed within our testing process.
MORE:
These are the best outdoor projectors 2023
Take a look at the best home cinema deals