If your TV looks great but sounds flat, what you need is a soundbar. The very best soundbars can pack great, meaty sound into a package small enough to sit in front of your TV. They might also boast wireless subwoofers, Bluetooth, 4K-friendly HDMI inputs and even Dolby Atmos audio.
These are our picks of the best soundbars for a range of different budgets. All of them are simple to install and will avoid the need for lots of speakers and cables cluttering up your living room.
Under £100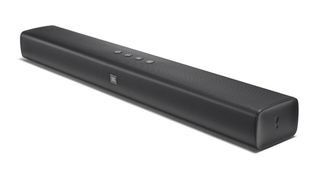 On a sound-per-pound basis the JBL certainly holds its own. We originally tested it at £150, and now you can pick one up for just £99. Sure, that might be too cheap for a true all-rounder, but the JBL Bar Studio is proof that there are some fine performers to be had for very little money. For a confident, full-bodied upgrade to your telly's speakers at an extremely affordable price, you can't go far wrong with this.
Under £300
With a multitude of soundbars competing in the budget-to-midrange market, the fact the Yamaha YAS-207 manages to excel in some areas of sonic performance that others don't makes it pretty special. The YAS-207 is a natural entertainer, and another chapter in Yamaha's soundbar success story. A worthy Best Buy.
Under £500
The Sonos Beam is a smaller, cheaper TV speaker than the Sonos Playbar and Playbase. It comes with a few additions to its spec sheet, including an HDMI connection and voice control assistant, initially Amazon Alexa, but Google Assistant and Apple Siri will follow.
This is an affordable soundbar that most could find space for, and that could transform your listening experience. The width, depth and three-dimensionality of the presentation smashes expectations. You really don't need to spend another £300 for the Playbar - this should meet most people's needs perfectly.
Under £750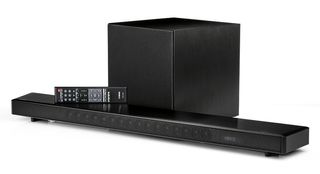 There are numerous reasons you might shun a traditional full surround-sound system in favour of something more convenient – lack of space, too many wires, too much hassle.
Yamaha's YSP soundbar range has been one of the best solutions for over a decade now, offering a simpler, more compact way to get the surround-sound effect into your home. The YSP 2700's excellent performance and unique capabilities more than justify its price.
Under £1000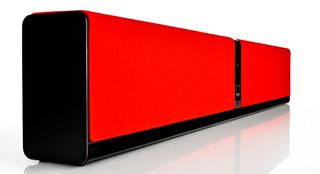 One of the best premium soundbars we've tested - the sound is hugely engaging, and it looks very dapper to boot. Dali says the Kubik One is not exactly a soundbar – it's a system in its own right, rather than a mere extension of your TV. Whatever the appropriate nomenclature, one thing is for sure: we think it's brilliant. Award winning brilliant, in fact.
Over £1000
Accomplished Dolby Atmos soundbars are few and far between. The Sony HT-ST5000 is one of them. It makes film soundtracks so immersive you'll think you're inside the movie. The HT-ST5000 is fantastic – pairing a real sense of height with a sophisticated sound quality. If you've been looking for a fuss-free way to get Dolby Atmos into your home, this is the best we've seen so far.
MORE: Best soundbar deals