Amazon's video-streaming service was previously known as Unbox, LoveFilm Instant and Instant Video before the company finally settled on the name Prime Video. Anyone familiar with Amazon's identity crisis might assume Amazon Music Unlimited is a rebranded version of Amazon Music Prime, the free streaming service exclusively for subscribers of its £8.99/$14.99/AU$6.99 per month Prime membership.
But Amazon Music Unlimited is, in fact, a separate music-streaming service that coexists alongside Music Prime.
With its 'open to all' access, 100m song catalogue and cheap entry fee (more on that later), in theory, it's a very credible Spotify and Apple Music rival. But not only that, you also now have access to the Amazon Music HD tier for no extra cost.
Think of it as an extension of Music Unlimited, which opens up CD-quality and high-resolution audio streams for those who want to play them on suitable kit. Given the fact that Amazon and Apple now both offer hi-res audio streaming for free, on paper, it makes justifying more expensive music streaming services such as Tidal a little trickier.
But enough with the theory. How does Amazon's much-travelled music-streaming service stack up in reality?
Amazon Music Unlimited pricing
Amazon's music streaming offering is split into Amazon Music Free, Amazon Music Prime and Amazon Music Unlimited.
Amazon Music free won't cost you a penny and will give you basic access to "thousands of stations and top playlists" and millions of podcasts.
Amazon Prime subscribers have access to Amazon Music Prime for free. This stripped-down version of Amazon Music Unlimited does give you ad-free access to Amazon's entire music catalogue but only in SD quality and you can only play via shuffling artists, albums, or playlists.
If you want to drill down into the catalogue or want to access higher-quality tracks, then you need Music Unlimited. Amazon regularly offers free trials that can run from 30 days to three months during some promotions so potential subscribers can always try before they buy.
£9.99/$9.99/AU$9.99 per month seems to be the going rate for individual streaming memberships and Amazon Music Unlimited follows suit. Its £15/$15/AU$18-per-month family tier (for up to six people) is par for the course too although, from the 8th November 2022, the price of this plan will increase to £16.99/$15.99/AU$18.99.
Following an April 2022 price rise, an individual membership is now £8.99/$8.99/AU$8.99 per month for Prime members, which is a mild incentive for the millions of Prime subscribers.
You can also sign up for a £4.99/$4.99/AU$5.99 per month tier that lets you use the service on a single Amazon Echo or Echo Dot wireless speaker.
But the competitive pricing doesn't stop there. Previously, if you wanted to access Amazon Music HD, the company's CD-quality and high-res audio tier, you'd need to pay an additional £5 ($5, AU$5) per month. But in May 2021, Amazon scrapped the charge, which makes it even more appealing, and an even closer rival for Apple Music, which has upped its own game by introducing higher-quality streams to its customers at no additional cost.
Amazon Music Unlimited compatibility
Amazon Music Unlimited is compatible with smartphones and tablets via its Android and iOS apps; PCs and Macs via either its web player or desktop app; Fire tablets and Fire TVs; some in-car entertainment systems; Sonos multi-room wireless speakers; Bluesound and NAD BluOS devices. It's worth noting that you can't actually access CD-quality music or hi-res tracks in Amazon Music HD through your browser, though. This can only be done through the dedicated desktop and mobile apps, which is no bad thing.
Up to 10 authorised devices can use Amazon Music on one account, although you can only play through one device at a time. Music can be downloaded to play offline on the iOS, Android and Fire tablet platforms.
Amazon Music Unlimited also works on its homegrown Echo and Dot wireless speakers, as does Spotify.
And Amazon has worked to further its service's functionality, integration and intelligence with its voice-control assistant. For example, saying "Alexa, try Amazon Music Unlimited" gets you up and running with the service.
You can ask it to play certain songs, albums or artists ("Alexa, play Stormzy" will shuffle his songs) or, for example, 80s pop.
You can even search by lyrics; say "Alexa, play the song with the lyrics 'hello, is it me you're looking for?'" and it complies – even if it does choose a cover rather than Lionel Richie's original. "What cover is this?" we ask. "Zooey Deschanel's from the Trolls soundtrack" we are told. Like we didn't know.
The comprehension is spot-on. Just make sure you start each command with the wake word 'Alexa' (which can be changed).
Amazon Music Unlimited features
Amazon claims over 70 million songs are available on its service and the Music Unlimited home page points you to new releases, 'popular' and recommended music and playlists.
We don't see any immediate gaps in their offering, and our search for more obscure music artists reveals a very good rate of success. After a slow start, the service has expanded its library of music videos too, although we wouldn't call it extensive.
As with Prime Video, Music Unlimited gives you the option of purchasing through its Digital Store, which mirrors the 'Digital Music' section on Amazon's website. Amazon scrapped its very useful Music Storage plans back in 2018.
Amazon Music Unlimited won't look or feel alien to anyone who's ever used a streaming service, or even a shopping website.
The dark interface has three main tabs: 'Home', 'Podcasts' and 'Library'. Your 'Home' page is arranged in horizontal rows which showcase your most frequently played songs, playlists handpicked for you, songs you might like based on what you've been listening to and a range of playlists that relate to certain timely topics such as the 'Sounds of Summer'.
There's quite a lot going on and quite a lot of content to choose from and there are slight differences between how the desktop and mobile apps prioritise and order recommended content and playlists which can make for a slightly disjointed user experience.
One of the key playlists you'll use is My Discovery Mix, which is the equivalent of Discover Weekly on Spotify and it's a playlist of new tracks created off the back of what you tend to listen to and your favourite tunes. We find it serves up enough new tracks to pique our interest but it doesn't have quite the success rate of Spotify, and the recommendations tend to be a little older too.
Amazon Music Unlimited ease of use
Need inspiration? Amazon can provide plenty of suggestive guidance, even if rival services do have the edge when it comes to music discovery and curated recommendations.
The 'Discover New Music' section for example, is a gateway to brand new releases that can also be drilled down into by music genre. And it makes good use of its screen real estate: album artwork and playlist graphics are bright and colourful and there are shortcuts for adding tracks and playlists straight to your library and downloading them for offline listening.
The familiar three-dot ellipsis is a neat way to expand functionality, and is where you can buy songs or add them to specific playlists or play more tracks by similar artists.
The mobile app looks good on smartphones and tablets, but isn't quite as intuitive as those provided by Apple or Spotfy. It also seems more susceptible to bugs and glitches. We've had the app refusing to play ball with wireless headphones and actually severing a Bluetooth connection. It has also failed to download some tracks in their entirety, so you only get to enjoy a small portion of the track before it skips to the next song. A spot of tweaking here and there to bring it more into line with the desktop app would make the user experience feel more cohesive.
Amazon Music HD
If you're navigating around Amazon Music HD you'll spot songs labelled HD and some songs and playlists labelled Ultra HD. Confusingly, and rather annoyingly, Amazon Music HD doesn't use the term HD when it's discussing high-resolution audio. Where you see tracks labelled HD, this actually means that they're CD-quality.
Amazon refers to and labels hi-res music as Ultra HD, (Ultra High Definition). Why? Presumably, it feels that this labelling will prove clearer for a mass audience - and perhaps it's right.
Amazon refers to HD tracks as having a "bit depth of 16-bits, a minimum sample rate of 44.1 kHz (also referred to as CD-quality), and an average bitrate of 850 kbps". UHD tracks, on the other hand, "have a bit depth of 24-bits, sample rates ranging from 44.1 kHz up to 192 kHz, and an average bitrate of 3730 kbps."
To Amazon's credit, it pushes Ultra HD content extremely hard on the service with dedicated playlists and clear labelling, eg Best of Ultra HD, Ultra HD: New Arrivals, Ultra HD Hip-Hop and Ultra HD Jazz. It doesn't take long to find a steady stream of UHD music to listen to.
Click on the bright yellow HD or Ultra HD logos that accompany each track (on either desktop or mobile) and you're shown the sample rate of what you're playing together with the playback capabilities of your machine. The desktop app will even prompt you to change the audio settings on your computer to take advantage of the improved audio quality. It's a clever and thoughtful touch, especially if you want to connect an external DAC that can handle all the available sample rates natively and make the most of Amazon's high-res library.
If you own any Echo devices (2nd-gen and newer), Fire TVs and Fire Tablets, these all support HD audio quality. And, should you own an Amazon Echo Studio, you'll also be able to access Amazon's catalogue of 3D audio tracks (encoded in either Dolby Atmos or Sony 360 Reality Audio) through Amazon Music HD.
There's a huge amount of music in high-res on Amazon Music HD. Neither Amazon nor Tidal releases exact figures but our experience suggests that Amazon Music HD has a larger catalogue of high-res music to call upon. There were a number of occasions when we found an Ultra HD release on Amazon but couldn't find it as a Masters track on Tidal.
Amazon Music Unlimited sound quality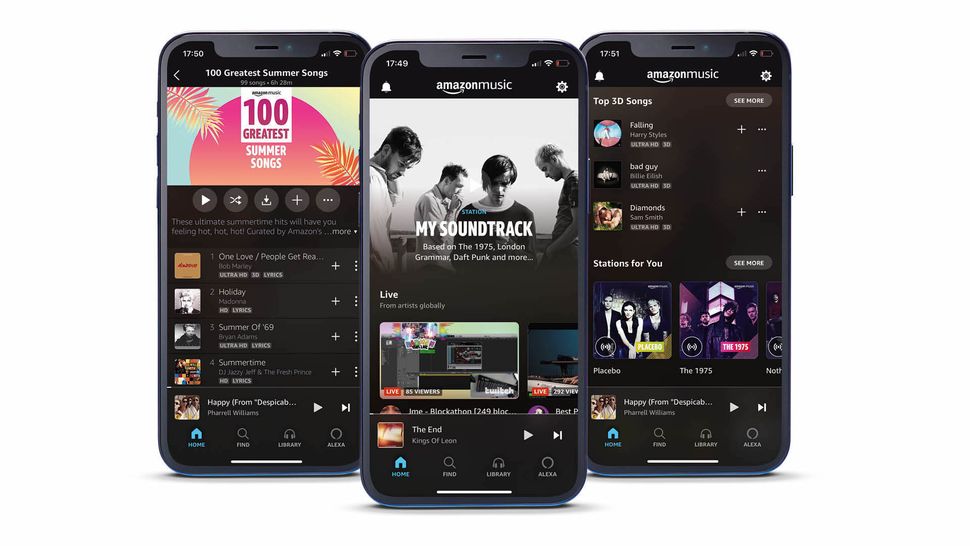 Amazon has been coy about revealing its streaming bitrate, claiming to support "multiple bitrates", but we'd bet our reference hi-fi system that it's not dissimilar from Spotify's 320kbps streams.
Listen to the two side-by-side through a budget pair of headphones connected to a smartphone or laptop, and differences are barely audible.
It takes an accomplished DAC/headphone combo, such as the Chord Hugo 2/Grado SR325e, to discern Amazon has a slight edge.
It's a touch better in terms of dynamic subtlety, and there's a pleasantness to its rounder-sounding presentation. The oozing harmonica opening of Conor Oberst's Mamah Borthwick (a Sketch) sounds slightly warmer and more delicately delivered.
Amazon Music HD sound quality
If you want to take Amazon up on the offer of its CD-quality and hi-res streams you'll be pleased to know we found they sound clearer, more detailed and more dynamic than the standard streams offered through Music Unlimited.
Play No Church in the Wild by Jay-Z and Kanye West in Ultra HD through the desktop app and a decent USB DAC and there's an impressive level of detail throughout the track. Bass is probing and powerful – there's real texture to every note as the bassline punches its way along. Vocals are detailed, clear and expressive.
Listening to Charli XCX's 2099 in Ultra HD on Amazon versus the same track in Tidal Masters, the former sounds more open, more detailed and more interesting to listen to. Although TIdal makes a bit more of the rhythm of the track, it also sounds more compressed and less open and lively. It can really vary from track to track.
Verdict
For Prime subscribers looking to take advantage of the reduced subscription cost and the added CD-quality and hi-res tiers provided by Amazon Music HD, Music Unlimited makes a lot of sense. It's certainly a tempting alternative to more premium services such as Tidal.
But Spotify does deliver more reliable, comprehensive functionality with superior curation. And its users have Spotify HiFi to look forward to. Amazon will also have trouble getting Apple Music users to swap sides, especially now that the latter also offers CD-quality and hi-res streams that sound fantastic.
It's always going to be tricky to convince streamers who are already invested in a service to jump ship, but if you're new to streaming, Amazon Music Unlimited has enough in its locker to get itself onto your shortlist.
MORE:
Hi-res music streaming services compared: which should you sign up for?
Amazon Music Unlimited vs Spotify: which is better?
Apple Music vs Spotify: which is the best streaming service?
Our pick of the best free music apps