Quick Menu
1. The quick list ↴
2. Best for hi-res
3. Best for iOS
4. Best free tier
5. Best value
6. Best for video
7. How we test
8. FAQ
Streaming services have transformed the way we consume music and even audiophiles with a stubborn fondness for physical formats have to admit that it's hard to fully resist the allure of online platforms when it comes to getting your music fix – especially now that the quality of streaming is getting better and better.
With the entire history of music collapsed into the modern streaming era and access to tens of millions of tracks at the tap of a touchscreen, it has never been easier to hunt down old favourites or discover brand-new bands and artists.
Here at What Hi-FI?, we're not only concerned with the physical hardware that goes into a great listening experience, we're also here to help you decide which less tangible formats will really help the music you love to shine. We've spent time with the streaming scene's major players to assess each brand's strengths, weaknesses, and unique selling points to give you the most coherent picture possible when choosing to whom you will pledge your allegiance.
Harry McKerrell is a staff writer at What Hi-Fi?. He studied law and history at university before working as a freelance journalist covering TV and gaming for numerous platforms both online and in print. When not at work he can be found playing hockey, practising the piano or forcing himself to go long-distance running.
The quick list
Here's a quick breakdown of our picks for the best music streaming services with a short summary and some of the key features that they individually offer. If you're after more details, click the image of the streaming service to drop down to the in-depth entry.
The best music streaming services we recommend in 2023
Why you can trust What Hi-Fi? Our expert team reviews products in dedicated test rooms, to help you make the best choice for your budget. Find out more about how we test.
Best for hi-res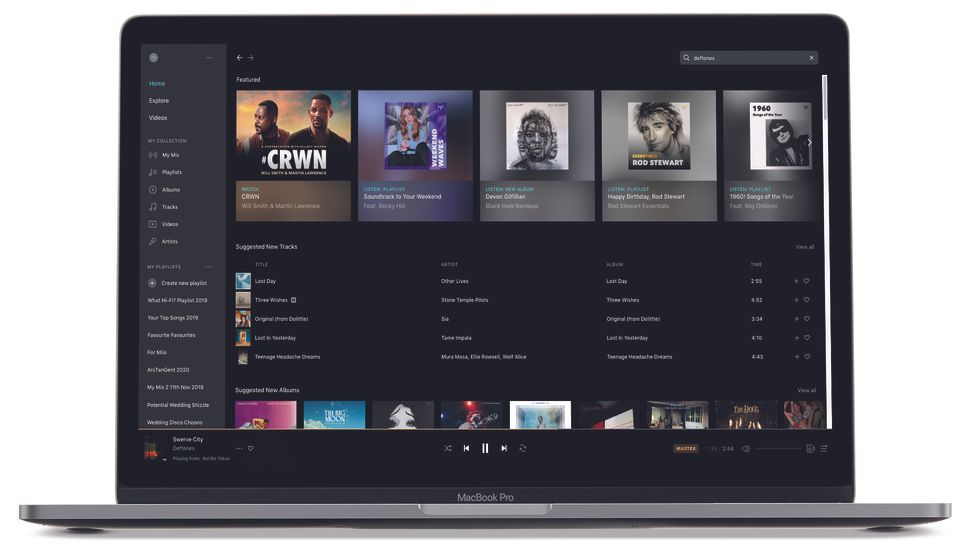 Tidal is now a serial Award-winner and has long been at the forefront of high-quality streaming, and the service was made more accessible thanks to changes in its pricing structure that saw the inclusion of lossless 16-bit 44.1kHz audio streams in its standard plan. Sadly, Tidal has been feeling the squeeze recently, so those prices have increased to now start at £11 /$11 / AU$12.
Still, subscribers to the newly rebranded 'Tidal HiFi' plan get interruption-free access to audio at up to CD quality. However, there are still some perks that are reserved for Tidal's top tier. Besides CD-quality streams, 'Tidal HiFi Plus' affords its subscribers access to millions of hi-res audio tracks that are typically 24-bit/96kHz but do go up to 24-bit/192kHz. Tidal now gives access to FLAC files as well as files encoded using MQA (Master Quality Authenticated) technology. It also includes tracks mixed in immersive sound formats (Dolby Atmos Music and Sony 360 Audio recordings).
But hi-res and CD-quality streams aren't the be-all and end-all of Tidal's offering. Customers in the US can take advantage of the service's first-ever free plan, called 'Tidal Free', which offers the company's complete library of 100 million tracks at 160kbps with "limited interruptions" from Tidal that will "aim to educate consumers on the music industry".
You can access Tidal through iOS, Android, desktop – all of which offer hi-res streams – as well as a browser-based player and a good spread of other platforms, such as Sonos. Tidal Connect also now allows you to connect via wi-fi to a growing list of products from manufacturers including NAD, Naim, KEF, Bluesound, Dali, Cambridge Audio, McIntosh and more.
It may have one of the priciest premium account tiers on our list, but Tidal's ease of use is exemplary, and sound quality is exceptional across the board. The CD-quality streams display excellent levels of detail and expression, and hi-res recordings take this up a level. Sonically Tidal still has the edge over almost all the competition, although Apple Music's ALAC streams manage to match it for openness and subtlety.
Tidal is also now distinguishing itself from the rest of the pack by introducing initiatives designed to provide artists with direct payments (from HiFi Plus subscribers only) that represent each user's listening habits rather than being attributed by aggregation.
If you're a conscientious music fan looking for the best high-quality streaming experience, with an extensive catalogue, immersive content, broad device support, and improved discovery features (and you aren't already tied into the Apple ecosystem), Tidal is still the one to choose.
Read the full review: Tidal
Swipe to scroll horizontally
Tidal scores in depth

| | | |
| --- | --- | --- |
| Performance | Whether you're listening to CD-quality or hi-res streams, Tidal sounds great compared to its rivals | ★★★★★ |
| Features | Choice of audio resolution and a host of connectivity options | ★★★★★ |
| Ease of use | Exemplary layout, personalised Home sections and a simplified smartphone app | ★★★★★ |
Best for iOS
Unsurprisingly, Apple Music is aimed squarely at Apple users, so Android owners often want to look elsewhere – although that needn't be the case. However, if you're fully immersed in Apple's ecosystem, Apple Music makes a lot of sense. What's more, Apple Music starts out at just £5 / $5 / AU$6 per month with Apple's 'Music Voice Plan'.
Crucially, though, 'Apple Music Voice Plan won't let you use the Apple Music app to play songs and doesn't offer access to Apple Music's premium offerings, including Spatial Audio, Lossless Audio, lyrics and music videos. You'll need to switch to Individual or Family plans if you fancy any of those features, plans that'll set you back £11 / $11 / AU$13 and £17 / $17 / AU$20 respectively.
Whether using the desktop or mobile app, the interface is easy to navigate with a simple yet effective layout. The service does a great job of curating playlists and serving up useful and intelligent recommendations. While there's no free tier, Apple has now added support for lossless audio and spatial audio with Dolby Atmos without charging any extra. The service's 100 million-strong catalogue is available in CD-quality (16-bit/44.1kHz) with most tracks available in hi-res (24-bit/48-192kHz), and subscribers will also receive access to the Apple Music Classical service at no extra cost. That's a really good deal if you're into classical music with hi-res and spatial audio support.
However, there are some limitations on what kit can playback Apple's new high-quality offering. For example, although Apple Music with Dolby Atmos will work with all headphones and Apple's own HomePod and HomePod Mini will support Lossless at some point (following a software update), Apple's own headphones don't support lossless audio.
Also, while Apple's iPhones (since the iPhone 7) natively support lossless, that only applies to Apple Music Lossless and not the highest quality Hi-Res Lossless. So if you want to listen to Apple Music tracks above 24-bit/48kHz on your iPhone, you'll need to shell out for an external DAC and use a wired pair of headphones.
Apple hasn't revealed the bitrate it uses for its standard streams, but tracks still sound clean, snappy and entertaining. Compared with similar tracks on Spotify (approximately 320kbps streams), Apple's have greater subtlety and more space around instruments while its ALAC (Apple Lossless Audio Codec) streams match Tidal for openness and subtlety even sometimes sounding just a touch clearer.
If you're an Apple user, this is undoubtedly the most attractive and best-value hi-res streaming service out there.
Read the full review: Apple Music
Swipe to scroll horizontally
Apple Music scores in depth

| | | |
| --- | --- | --- |
| Performance | Hi-res playback and greater subtlety compared to free alternatives | ★★★★★ |
| Features | Excellent playlist suggestions and integration with Apple's HomePod | ★★★★★ |
| Ease of use | Visually pleasing and easy to navigate, some technical issues to be wary of | ★★★★★ |
Best free tier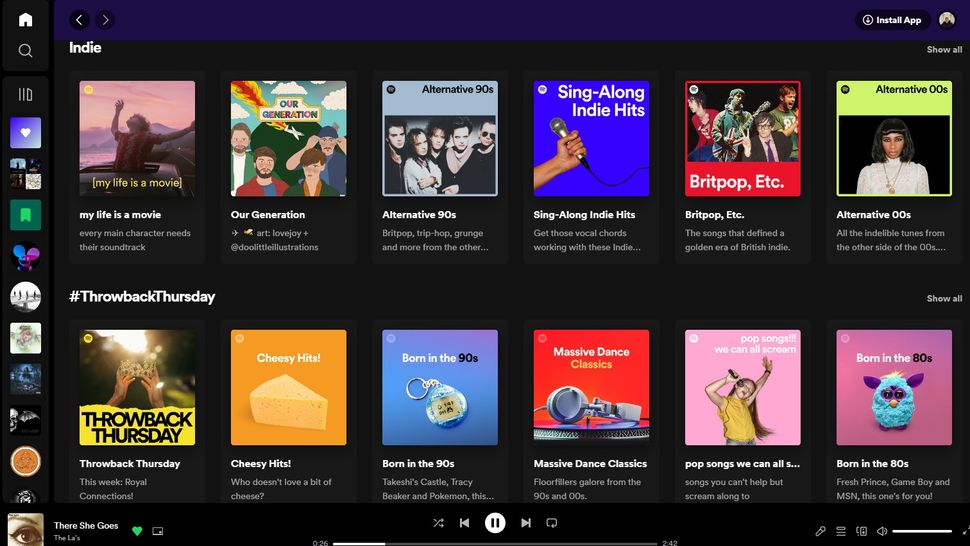 Despite its critics, Spotify remains comfortably the most popular and convenient way to get your music fix. Not only does it offer decent (by most people's standards) quality of approximately 320kbps, but it also boasts one of the most exhaustive and easy-to-navigate catalogues – though some big artists, including Neil Young, Joni Mitchell, Graham Nash, David Crosby, Stephen Stills, India.Arie and Nils Lofgren, are absent after recently taking issue with the service's stance on Covid disinformation.
The rest of the platform's catalogue of over 82 million songs can be played on pretty much any device you own, thanks to intuitive iOS and Android apps and support in numerous smart TVs, connected speakers and other AV kit courtesy of Spotify Connect. Sadly, Spotify recently mirrored Tidal in raising its prices, with subscriptions (students notwithstanding) starting out at £10 / $11 / AU$15 a month.
The service is renowned for its new music discovery algorithms, which compile excellent weekly playlists tailored to your music tastes. And the more you listen, the more the playlists evolve – a compelling reason to choose Spotify as your streaming service.
Spotify delivers an accessible, comprehensive and complete experience and even offers a meaty discount for students. Plus, if you don't have any spare cash to spend, there's a free tier that offers lower-quality streams supported by adverts.
Of course, the elephant in the room is that Spotify remains the only major platform not to offer music at lossless quality, with rivals all supporting at least CD-quality streams for the same price or less. The company had announced its intention to launch its eagerly anticipated Spotify HiFi tier by the end of last year but failed to do so. Apparently, HiFi tier is still coming, and although we still don't know how much it'll cost (or the official launch date), we do know it will give subscribers the chance to listen to "music in lossless audio format, with CD quality".
There have been a few recent rumours surrounding Spotify's hi-fi tier which stem from code diggers finding evidence of what could be a new 'Supremium' subscription. Whether this ends up coming true, only time will tell.
Still, we're still excited to see what the most popular streaming platform has in the pipeline. As noted above, the best option within Spotify's streaming quality settings right now is 'Very High', which delivers audio tracks with a bitrate of approximately 320kbps. By comparison, a CD contains a 1411kbps bitrate. So, 'CD-quality' of around 1411kbps should be a solid step up from what Spotify users are used to. A higher bitrate means more information, which should translate to a better sound...eventually.
Read the full review: Spotify
Swipe to scroll horizontally
Spotify scores in depth

| Attributes | Notes | Rating |
| --- | --- | --- |
| Performance | Decent quality but we're still waiting for hi-res playback | ★★★★☆ |
| Features | Plenty of playlist and suggestion options available | ★★★★★ |
| Ease of use | Intuitive user interface, easy navigation and discovery journeys | ★★★★★ |
Best value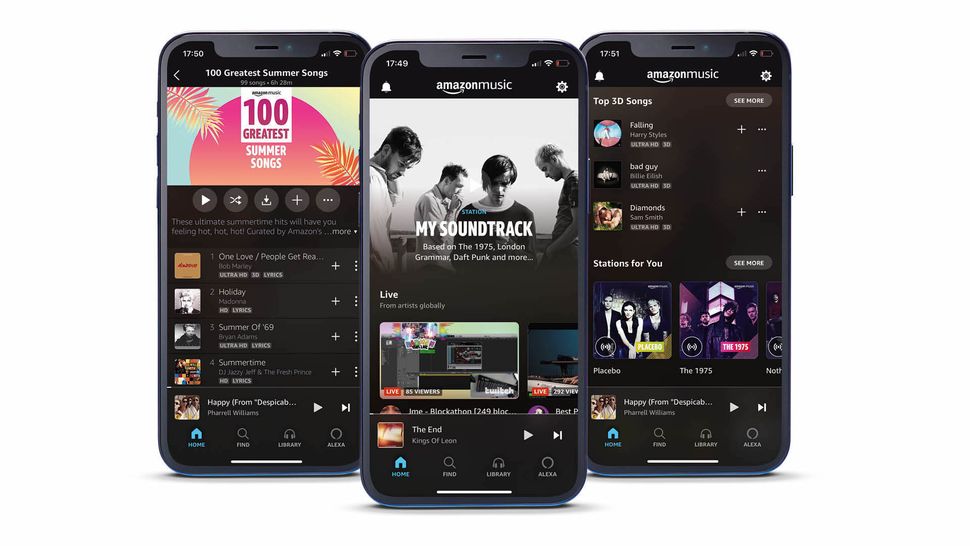 At £10 per month, Amazon Music Unlimited's pricing is competitive with our top picks for streaming services. And if you subscribe to Amazon Prime, this drops to just £9 which just undercuts the rest of the field. There's also a Single Device plan, which lets you use the service on a single Amazon Echo or Echo Dot wireless speaker for £4.99 / $4.99 / AU$5.99. Otherwise, this service starts off at £10 / $10 / AU$12 per month, and while there is a bare-bones free version, it's pretty limited in what it gives you access to. Once again, students get a discount of their own which drops the rate to £5.99 / $7.65 / $11.63. Lucky students.
Music Unlimited is compatible with smartphones and tablets via its Android and iOS apps, as well as PCs and Macs via its web player or desktop app. Fire tablets and TVs are compatible while some in-car systems and audio products (including Amazon Echo and Sonos speakers) also support the service.
The mobile app looks good on smartphones and tablets but isn't quite as intuitive and reliable as those provided by Apple or Spotify. Those rival services also have the edge when it comes to music discovery and curated recommendations, although Amazon does provide plenty of suggestions and guidance, allowing you to browse the catalogue with minimal fuss to find new music.
Amazon has been coy about revealing its streaming bitrate for its standard tier, claiming to support "multiple bitrates", but it sounds not dissimilar from Spotify's approximately 320kbps streams. Listen to the two side-by-side and differences are barely audible: Amazon is a touch better in terms of dynamic subtlety, and there's a pleasantness to its rounder-sounding presentation.
While it may be evasive about its standard tier, Amazon Music has gone all-in on high-res and 3D formats and is not at all bashful about it. The number of Ultra HD songs on the platform has tripled since the format was introduced in 2019 and unlimited subscription-holders also have access to a rapidly growing catalogue of songs mixed in Dolby Atmos and Sony's 360 Reality Audio, a boon that (according to Amazon) has grown by more than 20 times since spatial audio was originally introduced to its listeners.
Notably, Amazon Music Unlimited listeners can now stream music mixed in spatial audio on the new Sonos Era 300, iOS, and Android devices with their existing headphones – no special equipment required – as well as on select devices that support Alexa Cast.
For Prime subscribers looking to take advantage of the reduced subscription cost and the added CD-quality and hi-res tiers provided by Amazon Music HD, Music Unlimited makes a lot of sense and is certainly a tempting alternative to more premium services.
Read the full review: Amazon Music Unlimited
Swipe to scroll horizontally
Amazon Music Unlimited scores in depth

| Attributes | Notes | Rating |
| --- | --- | --- |
| Performance | Other services offer more reliable and comprehensive functionality | ★★★★☆ |
| Features | A large library with access to more obscure artists | ★★★★★ |
| Ease of use | Mobile app is good but not as good as some rivals | ★★★★☆ |
Best for video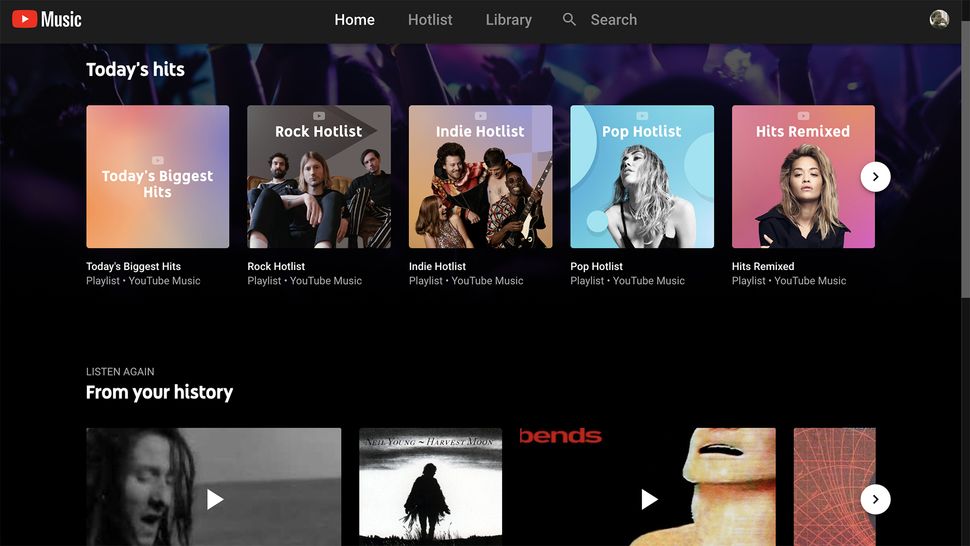 The service rather underwhelmed us at launch, but YouTube Music is now starting to look like it's ready for the challenge. The user interface is solid, and the search function is terrific, turning up long-lost musical gems through its video vaults. The problem is that the competition's quality remains an issue: Spotify and Apple Music are the mass market titans to tackle, and both already offer five-star services.
There are a few good reasons to choose YouTube Music, though. The free tier is easy to use and supported by ads but, for £10 / $10 / AU$12 per month, you can sign up to YouTube Music Premium, which is ad-free and allows downloads for offline listening too. Students can get access to a discount that knocks the price down to around £5 / $5.50 / AU$6 a month.
The app is available through Sonos speakers and anything Google Assistant-powered, such as Google Home devices or third-party devices. As for sound quality, the 256kbps streams are far from unlistenable but sound compressed in a way that main rivals don't.
Still, if you like the USP here – music videos, rather than audio – and the ability to seek out a recording played live at a certain venue on a certain date, YouTube Music has plenty to offer.
Read the full review: YouTube Music
Swipe to scroll horizontally
YouTube Music scores in depth.

| Attributes | Notes | Rating |
| --- | --- | --- |
| Performance | Access to long-lost gems however there's noticeable compression | ★★★★☆ |
| Features | Solid user-interface, the features are all there and the search function is terrific | ★★★★☆ |
| Ease of use | Very accessible and easy to jump straight in | ★★★★★ |
How we test
How we test music streaming services
We have state-of-the-art testing facilities in London, Reading, and Bath, where our team of experienced, in-house reviewers test the majority of hi-fi and AV kit that passes through our door. Of course, music streaming services are software-based and used in different scenarios – in a hi-fi system via a streamer, and out and about using a phone, to provide two examples.
When we test a music streaming service, we use it across these different scenarios and with different kit, from headphones to smart speakers and, of course, our reference hi-fi system. We'll try out both the desktop and smartphone versions of the interface and, as What Hi-Fi? is all about comparative testing, we directly compare the service to others in its price and features class.
We are always impartial and do our best to make sure we're hearing content at its very best, so we'll try plenty of different styles of music with both advanced and standard audio formats. We'll check all the features, and allow for plenty of listening time before we begin reviewing.
All review verdicts are agreed upon by the team rather than an individual reviewer to eliminate any personal preference and to make sure we're being as thorough as possible, too. There's no input from PR companies or our sales team when it comes to the verdict, with What Hi-Fi? proud of having delivered honest, unbiased reviews for decades.
MORE
Best music streamers: upgrade to a wireless system
Prefer to own your music? Here are the top download sites for buying hi-res tracks
High-resolution audio: everything you know
Want a more in-depth guide? Here are the top hi-res music streaming services compared to help you decide
FAQ
Is Amazon Music Free with Prime?
In a word, yes. If you subscribe to Amazon Prime, you can access Amazon Music Prime for free. It's a stripped-down version of Amazon Music Unlimited, so while you do have ad-free access to Amazon's entire music catalogue, it's only available in SD quality, not CD or high-res. And, you can only play via shuffling artists, albums, or playlists. Want higher quality or more specific control over playback? You'll need Amazon Music Unlimited which is £9.99/$9.99/AU$9.99 if you don't have a Prime subscription and £8.99/$8.99/AU$8.99 if you do.
Why is Spotify so popular?
Spotify is the longest-running music streaming service out there so it has a run on most if not all of its rivals. And it has a fine track record of launching new software developments that keep moving the streaming game on (even if we're still patiently waiting for its CD-quality Hi-Fi tier) and it's also one of the streaming services to offer a free music app alongside its premium service. Spotify Connect also exists in its armoury, which sees the service baked into compatible speakers, TVs, and a range of hi-fi and AV products, which just adds to the appeal.
What has better sound quality over Spotify?
If you're looking for sound quality better than Spotify, you don't have far to look. In our opinion, both Apple Music and Tidal offer a step up. Apple Music in particular offers not only better standard-quality streams than Spotify it also offers higher quality streams too, with both CD-quality and hi-res available to stream through the service.