If you've shunned a CD collection in favour of music stored on a hard drive, then you're going to need a quality streamer or server suited to the task. We've found the best music streamers to take the hassle out of the hunt.
Most of the selections below support the vast majority of hi-res music formats. Some also boast AirPlay, Bluetooth, Spotify Connect, UPnP compatibility and USB connections.
This being the 21st century, internet radio comes as standard - as do smartphone and/or tablet control apps. With the cheapest budget model coming in at just £30, the question is: can you really afford not to add a music streamer?
Best music streamer under £100
The Google Chromecast Audio is a super affordable and simple way to make a traditional audio system work wirelessly using Wi-Fi. That means you can get high-quality 24-bit/96kHz audio beamed wirelessly around your home, controlled by just using your phone. The tiny device offers 3.5mm and digital optical outputs meaning it can simply plug-into your system and start delivering a stream. Cast-compatible apps include Spotify, Google Play Music, and more. Remember to pop into settings and turn on the high dynamic range mode, to get the best audio possible.
Best music streamer under £500
If your budget is £500, you'll be hard pressed to find a wireless music streamer as talented as the Node 2i. It boasts a strong set of features, like Apple AirPlay 2, two-way Bluetooth, dual-band Wi-Fi, 32-bit/192kHz DAC and a raft of analogue and digital outputs. When it comes to sound quality, the Node 2i shows plenty of skill from impressive detail to slick timing. It's an enthusiastic-sounding piece of kit, capable of breathing life into any audio you send its way. As far as music streamers go, you won't find many that offer such amazing value for money.
Best music streamer under £1000
If you want a stylish way to stream your music wirelessly then the Cambridge Audio CXN, with its brushed metal finish and intuitive menus, could be for you. Sound quality is fantastic with an enthusiastic, driven delivery that combines snappy timing with subtle levels of detail. There's a wide range of features to choose from, including AirPlay, Tidal, Chromecast and Spotify Connect, all controlled through Cambridge's Connect app for iOS and Android.
Best music streamer under £1500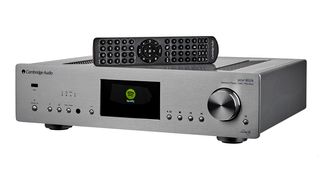 The Award-winning Cambridge Azur 851N is the ideal premium music server if you want a machine that doubles as a digital pre-amp or you want something to slot straight into your system. The sound is full-bodied and muscular with punchy bass and a great sense of dynamic reach. The Cambridge connects to your network via ethernet, or by plugging in the supplied USB adapter. File support extends all the way up to 24-bit/192kHz and the Cambridge upsamples this to 24-bit/384kHz.
Best music streamer under £2000
The Moon Neo MiND offers a stunningly musical and brilliantly balanced sound. From NAS drives to streaming services, this no-frills machine streams them all wirelessly, supporting 24-bit/192kHz files, useful for the likes of Tidal. The sound is fantastic with near perfect dynamics, timings and musicality. Quality isn't even lost when you stream over Bluetooth. You will need to factor in the cost of an external DAC, though.
Best music streamer under £3000
To put it bluntly, the Naim ND5 XS is one of the most talented high-end streamers we've ever tested. It's a full UPnP player and supports everything from Wi-Fi and aptX Bluetooth to NAS, Tidal and Spotify Connect. Sound quality is stunning no matter the kind of music that's being played. Its balanced and detailed presentation is apparent from the outset with no seeming limit to tits dynamic reach.
Best music streamer under £5000
The Naim NAC-N 272 delivers on two fronts - it's a feature-packed streaming preamp and it sounds superb. Connectivity options include digital inputs, optical and coaxial connections along with Bluetooth. There's also 24-bit/192kHz support with all the main file formats covered, from FLAC to AIFF to Apple Lossless, with native support for Tidal and Spotify Connect. Build quality is suitably solid, while sound quality is stunning at the money. We're huge fans of the Naim's communicative, balanced sound and it's a master of dynamics. And it's preamp section is as good as any rival we've heard in the £1000 to £1500 price range.
MORE:
How to build the perfect hi-fi system