Apple Music arrived pretty late to the streaming service party, but it has quickly risen through the ranks thanks to its excellent music curation, unique 24/7 Apple Music 1 (previously Beats 1), Music Hits and Music Country radio stations, and integration across Apple's ecosystem of headphones, TVs, smart speakers, watches and more.
And, of course, it's not just for iOS users; Apple Music is available on Android too, as well as other devices such as Samsung's smart TVs.
Apple Music weathered an initially mixed reaction but, thanks to some excellent iOS redesigns and updates, its paying user base soared. By the second quarter of 2021, a report filed by MIDiA revealed that of the 523.9 million people who subscribed to a music streaming service, Apple Music was taking a 15 per cent slice of the market (or over 78.5 million paying users), making it second only to Spotify, at 31 per cent.
And that figure is continuing to grow in light of its latest Lossless, Hi Res Lossless, Dolby Atmos and Spatial Audio content, which arrived in June 2021, poking the hornet's nest by doing so at no extra cost to its subscribers. And let's not forget Apple's top-tier Spatial Audio with head-tracking, reserved for its own iPhone, iPad, or Apple TV 4K when listening with AirPods (3rd generation), AirPods Pro, AirPods Max and most recent Beats Fit Pro.
While there's still a fair gap between Apple Music's number of customers and Spotify's 162 million paying users (by mid 2021) it's not too shabby considering Apple's service is so much younger. For context, Spotify had already accumulated 22 million subscribers by the time Apple Music launched…
What is it?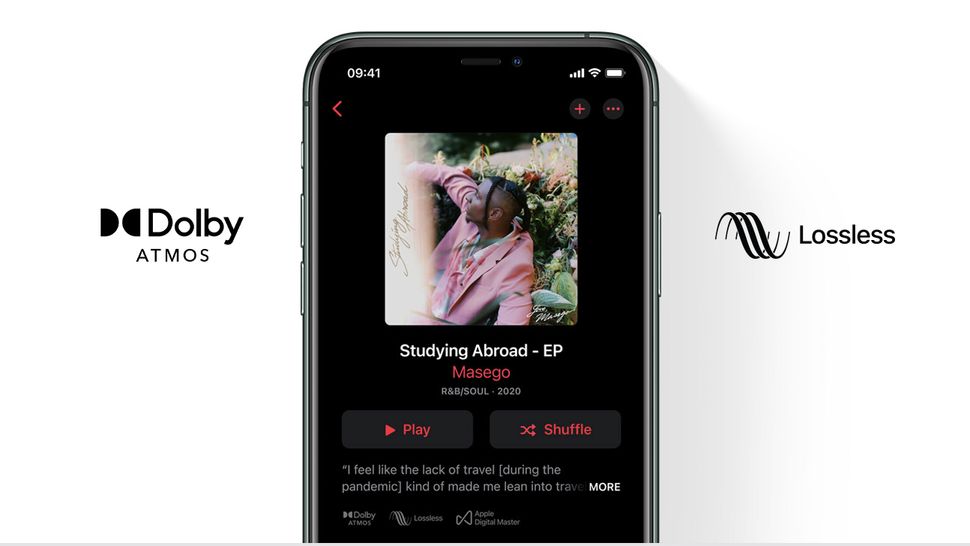 Apple Music mixes your personal music library with an enormous catalogue of over 90 million songs – a mix of old and new tracks on par with Spotify's extensive catalogue – along with Apple Music's three live radio stations plus TV shows, films, music videos and over 30,000 expertly curated playlists.
With the standard membership, you can download 100,000 songs to listen to offline, too. And now, all of Apple Music's 90-million-strong music catalogue is available in CD resolution or better encoded in the ALAC (Apple Lossless Audio Codec) format. Also, certain tracks are getting Dolby Atmos support and the Cupertino giant's own standard (or head-tracking enhanced) Spatial Audio treatment too. It certainly beats Spotify's current 320kbps cap on streaming resolution…
The monthly subscription is £10 ($10, AU$10), which is the same as Spotify Premium and Tidal HiFi – but cheaper than Tidal's top HiFi Plus tier (which will set you back £20 a month). Alternatively, you can pay an annual fee of £99 ($99, AU$119).
Other deals include a student subscription of £5 ($5, AU$6) per month, a family membership that can be shared between six people for £15 ($15, AU$18) per month and the newest Voice Plan, which offers £5 ($5, AU$6) per month streaming if you only use Siri to verbally request songs – ie. you can't use the app, download songs, see the fun Lyrics View or access Apple's full Lossless audio and Dolby Atmos catalogue.
There's no hi-fi tier price hike as there is with Tidal, and no free version as there is with Spotify (or Tidal, provided you're lucky enough to live in the US) – it's either brilliantly simple or a little restricted, depending on your point of view. We're in the former camp.
Apple Music is available on all Apple devices – it replaced the old Music app on iPhones and iPads and is integrated on Mac laptops – and is also available to download on Android devices.
Ease of use
Apple Music initially launched in June 2015 with a visual-heavy, cramped interface very much at odds with the clean, simple interfaces seen on rivals such as Deezer, Spotify and Tidal.
Since 2016, however, it's a different story. Apple has stripped back its app design. Expect clean typography and graphics along with a simple, uncluttered and enjoyable layout. The app is easy to navigate (although there are sub-sections everywhere), and it looks appealing thanks to the prominent album artwork. After a few minutes of figuring out where everything is, it becomes a breeze to use.
Apple has cleverly hidden plenty of options behind icons to keep the main screen as neat as possible. You'll see three dots (or ellipses) everywhere: click them for sub-menus of various options such as adding to your library, downloading (a cloud with a downward-pointing arrow), sharing, playing later or adding to a playlist.
Crucially, you'll find the red heart icon here, which you should tap if you like a particular song (or tap the thumbs-down icon if you dislike it) to help Apple curate music to your tastes.
The app is divided into five main sections: Library, For You, Browse, Radio, and Search.
The Library tab is where your entire music collection lives – every album (if you've turned the iCloud Music Library option on) plus your Apple Music-saved playlists and songs stored on your phone. Everything is grouped into categories: playlists, artists, albums, songs, downloaded music. Directly below these, you can scroll through your recently added tunes, which is handy if you want to revisit your latest earworm.
We like being able to access our entire music library in one app, although you do have to sacrifice a degree of control over your music files for the convenience. There's no way of knowing the file size or type of your songs – which tracks in your library are ripped WAV files and which ones are Apple Music tunes, for instance.
That can be a problem if you've got plenty of the former and would rather Apple didn't replace it with a different version from its Music service. If you have rare B-sides Apple Music doesn't stock, you'll have to store the song files on your phone to play them – it's easily done via Apple Music on your Mac or iTunes for Windows on your PC, but worth mentioning nonetheless.
Searching is split into two filters: across Apple Music's vast catalogue or within your own library. This might seem odd at first, but can be helpful when your collection grows and sprawls.
Features
Aside from offering hi-res audio at no extra charge, it's important to note that Apple Music excels in terms of music curation. The For You tab is where all the fun happens, with Apple Music recommending artists, albums, and playlists tailored specifically to your music tastes and listening habits. And it's spookily spot on.
When you first sign up to one of Apple Music's app-supported plans, you're presented with floating red bubbles highlighting various genres of music. Tap on the ones you like to give Apple Music a head start, then tap 'Love' on any song or album you like and Apple will update your preferences to generate well-crafted playlists.
We're impressed with how interesting the playlists are – not just in the song selection, but in the way they're grouped and presented. From top hits to little-known tracks of an artist, influences on a certain band or a playlist focused on a songwriter or particular era, Apple's curation is nuanced, thoughtful and intelligent.
There's a real sense that the myriad playlists have been curated by humans with an understanding of music, not just by a cold-blooded algorithm. Even the words "Because you listened to…" in front of an artist or album recommendation goes a long way to making the user experience feel more personal.
The superb music curation also works a treat with Apple's HomePod and HomePod Mini smart speaker, which is integrated solely with Apple Music. If you've got a HomePod device, simply ask Siri to play your favourite tunes and it will always come up with a track you know or really like.
Spotify is no slouch when it comes to recommendations, but Apple Music's little touches make it feel like everything is hand-curated for you. Apart from the weekly-updated 'New Music Mix' sitting in the For You tab, Apple Music doesn't seem to push new music and chart toppers upon you as readily as Spotify and Tidal. They're all hidden away in the Browse tab, where you'll find the latest releases, exclusives, Full HD music videos, TV shows, and playlists galore.
It's worth diving into each section as there are hidden gems everywhere, including countless playlists sorted by genre, activities and moods, often updated on a daily basis.
Unique to Apple Music is the much-hyped Apple Music 1 Radio, plus new Hits and Country music dedicated radio stations – 24/7 worldwide stations with celebrity hosts and star guests. Regular Apple Music 1 shows (headed by former Radio 1 host Zane Lowe but now with regulars Matt Wilkinson, Brooke Reese, Dotty and more) offer a diverse mix of music, with plenty of exclusive launches and big-name guest slots.
The more interesting and idiosyncratic music choices are when major artists, such as Olly Alexander, Travis Mills, Dr Dre, St Vincent, Stormzy, Elton John or Pharrell Williams host their own regular shows. These are a hybrid of radio shows and podcasts, where you can re-listen to your favourite shows on-demand.
How often you'll listen to Apple Music 1, Music Hits or Music Country depends on the calibre of artist you follow – Apple is clearly relying on star-power to draw in subscribers. If you already have your favourite BBC radio shows, it's unlikely to tempt you to switch allegiances, but they're still fun to dip into.
In September 2019, Apple iOS 13 added support for more than 100,000 live radio stations from around the world to Apple Music. You can summon Siri to play your top local radio station and get more genre-specific radio stations, or start a themed station based on an artist or song. Simply tap the love/heart icon to tell Apple whether or not you like the options it comes up with.
Like singing along with your tunes? 'Lyrics view' is on by default when you stream a song in Apple Music's standard plan on a device with a screen, which is a fun addition but can be turned off if you find it distracting (or you prefer singing your own words).
Now for the big news. Apple used to be shy about disclosing the bitrate its songs were streaming at – although we confirmed that the tracks stored in Apple's iCloud Library were 256kbps AAC (the same as your older iTunes downloads) – but all that has now changed significantly.
As long as you have an iPhone 7 or older (running the latest iOS) and you've allowed Hi-Res Lossless and Dolby Atmos streaming over wi-fi or data roaming in its settings menu, you can get Dolby Atmos on any headphones and can stream, download and listen to your music in hi-res – provided you have the right kit (more on this later).
Using Android? The Lossless and Spatial Audio update was rolled out for Apple Music on Android in late July 2021, bringing it in line with the iOS version. Once updated, Android users (as well as Apple device customers) have access to Spatial Audio 'on compatible devices', with Apple boasting "thousands of tracks in Dolby Atmos available at launch." The firm has helpfully curated a playlist of available songs, but you can scout for the Dolby Atmos badge that appears just above the list of tracks on an album page.
By tapping on the track in the app, you'll see little icons for Apple Music Lossless (24-bit/48kHz) and Hi-Res Lossless (up to 24-bit/192kHz) to know the quality of your stream, all of which use Apple's ALAC (Apple Lossless Audio Codec) codec.
What plays on what? Here's the rub: although Apple Music with Dolby Atmos will work with all headphones and Apple's own HomePod and HomePod Mini now support Lossless (as long as you're running the latest software and have turned Lossless on, in the Home app), Apple's own headphones don't support lossless audio. None of them. That means even if you've spent £549 ($549, AU$899) on a pair of AirPods Max, you can't listen to Apple Music in the highest quality – we're not joking.
Apple's iPhones (since the iPhone 7) natively support lossless – but only Apple Music Lossless, and not the highest quality Hi-Res Lossless. If you want to listen to Apple Music tracks above 24-bit/48kHz on your iPhone, you'll need to shell out for an external DAC and use a wired pair of headphones.
Our set-up for this review involves our iPhone, Apple's own camera adapter (to get from Apple's Lightning port to the USB input that the DAC requires), the Audioquest Dragonfly Cobalt DAC, to which we connect wired in-ear headphones. It's a bulkier set-up than a pair of entry-level true wireless headphones, but it's the only way to get at those Hi-Res Lossless files from our phone.
Apple's own Spatial Audio with head-tracking is available on AirPods Pro, AirPods Max, AirPods (3rd generation) or Beats Fit Pro. How does it work? The gyroscopes and accelerometers in both these select headphones and your iPhone or iPad are used to track the motion of your head as well as your device, and compare the motion data. The sound field is then remapped so it stays anchored to the device, even as your head moves.
But you don't have to line Apple's pockets to hear the regular spatial audio with Dolby Atmos tracks: it works on any headphones connected to an iPhone or iPad. You just have to enable it manually.
To do so, head to Settings on your iPhone or iPad and then to Music – a new Dolby Atmos option will be available. This will be set to Automatic by default, which means Dolby Atmos tracks will play correctly when you're listening via any W1- or H1-enabled pair of Apple or Beats headphones, but not when you're using third-party headphones. However, if you switch this option to Always On, even non-Apple headphones will play Dolby Atmos tracks in all their sonic glory.
Performance
We enable Hi-Res Lossless streaming and Dolby Atmos in our iPhone's settings under Music, then locate a Hi-Res Lossless playlist. Select Michael Jackson's Thriller and immediately that creaky door, tentative footsteps, drafty room and the iconic wolf howl echo through each ear with almost alarming clarity, depth and transparency.
As the vocal joins, extra musical guitar passages present themselves in our left ear – additions you'll struggle to hear better when listening to the equivalent Tidal HiFi stream. The space around the instruments has expanded to the point that the door slam and each of Jackson's numerous backing vocals have ample room to be impactful.
When listening to Willie Nelson's Stardust the picked strings feel three-dimensional and dutifully neutral as the Wurlitzer purrs somewhere behind our right ear. The clarity of the harmonica, keys, and Nelson's textured vocal complete a levelled-up Apple Music Hi-Res Lossless performance. Listen to the same song on Tidal (an MQA file from Tidal HiFi) and in direct comparison, those initial string caresses feel slightly more forward and the Wurlitzer just a touch closer. It's a small but noteworthy difference.
Even Apple Music's CD-quality songs (which, as of June 2021, is all of them) sound clean, snappy and detailed. Compared with tracks on Spotify Premium (which are 320kbps Ogg Vorbis streams), Apple's have greater subtlety and more space around instruments.
Dynamically, the sound is more fluid and exciting. Notes stop and start with a punch, timing is good, and subtle shifts from quiet to loud are admirably handled.
Donning our Apple AirPods Max, we sample Ariana Grande's Thank U, Next in Lossless and the sound envelops us as Spatial Audio with dynamic head-tracking and Dolby Atmos plonks us right in front of the mix. As we turn our head, the sound opens out to reveal extra harmonies we might otherwise miss, as if we're physically turning our ear to catch them. Kanye West's Black Skinhead is a similar story – the breathy, angry and rhythmic intro comes at us as if we're right there in the room with him.
We switch to the HomePod Mini. Nirvana's Smells Like Teen Spirit has plenty of wallop and attack. The grungy guitars are packed with texture and the noisy, sludgy, angry tone of the song is easily communicated. Kurt Cobain's vocals are appropriately surly and mumbling.
Back to our AirPods Max, we switch to something more polished, Charli XCX's Boys, and the sparkly pop tune is slick and snappy. Her voice comes through as clear and expressive as the artist intended.
It doesn't sound as compressed as its Spotify counterpart (because it isn't), and this Lossless file is now comparable to the openness and subtlety we experience when listening to the track on Tidal. And that's a pretty big statement.
Apple Music's enjoyable and dynamic delivery is now hands down a more engaging listen than Spotify, but for the same money, so it's well worth considering if you want the solid step up in sound quality. We'd urge you to invest in a decent portable DAC to get the best performance out of this streaming service's Hi-Res Lossless offerings – you'll be glad you did.
Verdict
Apple Music has come an awfully long way in its relatively short lifespan, offering plenty of unique features that set it apart from the streaming herd. Die-hard Spotify fans may even be tempted to switch allegiance now, thanks to those hi-res files (and still no sign of that long-awaited Spotify HiFi tier) and if you care about the quality of your music we'd urge you to give Apple Music a go. The simple fact is that you're getting hi-res music for lossy money.
These days, there are a plethora of ways to stream music – in lossy or lossless forms and at various prices – but Apple has certainly found its sweet spot. Apple Music's personal touches, hi-res content and nuanced curation simply make us want to listen to music more. And that can only be a good thing.
MORE:
Read more on the best music streaming services 2022: free streams to hi-res audio
Check out the best music streamers 2022: upgrade to a wireless system
Just signed up for Apple Music? Stream 11 of the best spatial audio tracks in Dolby Atmos on Apple Music