The Apple TV 4K has been our favourite streamer and an Award-winner since its release in 2021, and now there is a new generation with a more powerful chip and smaller casework.
With plenty of subtle upgrades across the board, from general usability improvements to a blazing-fast new processor inside, the new Apple TV 4K is already shaping up to be a nice upgrade over the last model – and did we mention that it's cheaper?
Price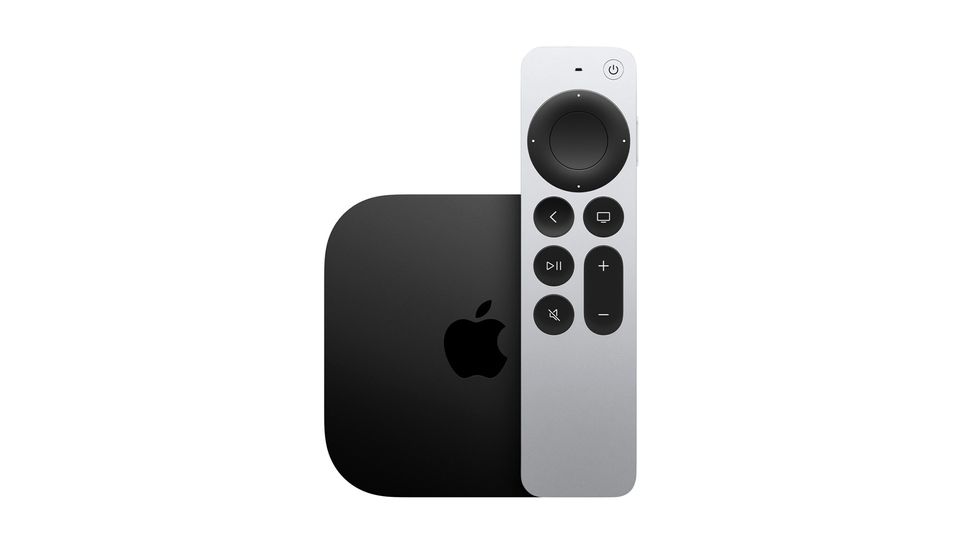 In a surprisingly un-Apple move, the 3rd Generation Apple TV 4K is actually cheaper than the previous model. It starts at £149 / $130 / AU$219 for the 64GB model, or £169 / $150 / $250 for the 128GB model, which also adds an Ethernet connection. For reference, the previous generation model started at £169 / $179 / $249.
The Apple TV 4K's nearest competitor is the Amazon Fire TV Cube which costs £140 / $130 / AU$219. The Apple TV 4K's price point puts it at the premium end of the market, as it's double the price of the Amazon Fire TV Stick 4K and Google Chromecast with Google TV. Is it worth the extra money? Read on to find out.
Build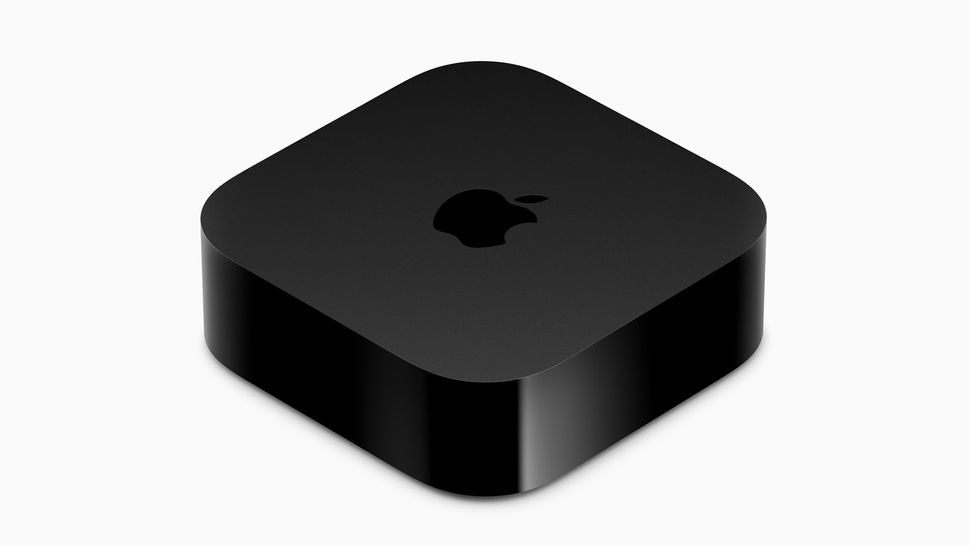 The Apple TV 4K retains the modest and boxy design of its predecessor, coming in a matte and glossy black combo finish. It's embellished with an Apple logo on top, and you'll find an HDMI 2.1 socket and a power connection on the rear, as well as an ethernet port if you opt for the more expensive model.
While it may look almost identical to the previous generation, this Apple TV is actually a tad smaller and it's around the size of a trio of stacked CDs. The reduction in size is made possible because Apple's engineers have opted for a fanless design this time around. The unit's aesthetics are sleek and low-key enough to practically disappear into an entertainment set-up, and it can be easily tucked behind a TV if needed.
The high-quality aluminium remote has hardly changed since the previous model. There is one difference, however, and that is a USB-C port replacing the Lightning connector. We're just waiting on the iPhone and AirPods to ditch Lightning now so that we can charge all of our Apple gadgets with one cable.
Features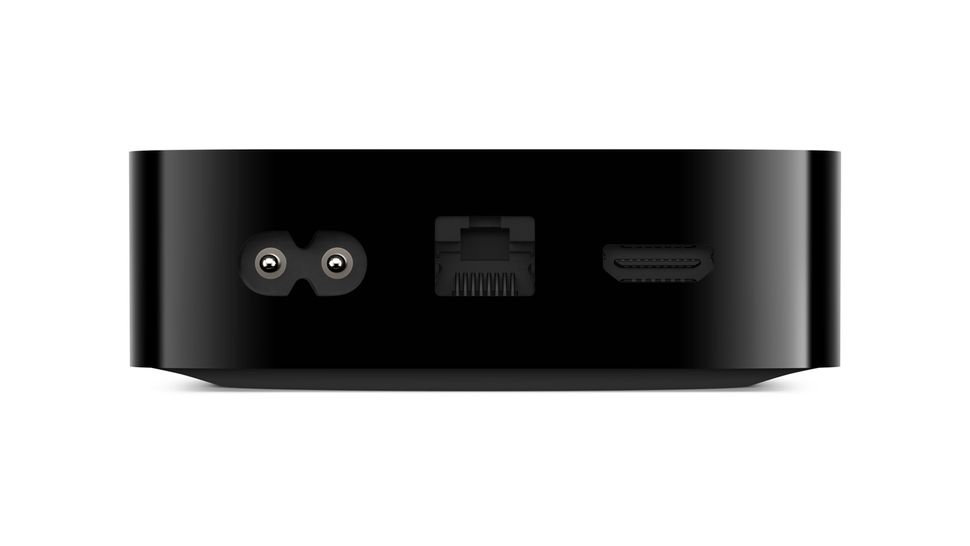 The big news with the Apple TV 4K 3rd Generation is its significant processor upgrade. It now uses an A15 Bionic processor, the same one found in the iPhone 14. It's joined by 4GB of RAM (up from 3GB last year), and the usability gains are noticeable as the TV 4K flies through menus and frankly refuses to stutter or glitch. Using a processor this modern and powerful means it's likely that this latest model should be capable of handling significant software upgrades over the years.
Speaking of software, the latest tvOS 16 version (recently updated to 16.3) is here, and brings multiple user profiles, personalised spatial audio for compatible AirPods models, support for the Matter smart home standard, Apple Fitness+ compatibility and a redesigned Siri interface. It's easy to navigate, and isn't crammed with advertisements unlike Amazon's Fire OS platform; that being said it certainly guides you towards Apple's services where it can, such as Apple TV+ and iTunes Movies.
The powerful internal specs and HDMI 2.1 connection allow for 4K HDR streaming up to 60Hz, although there's no word on 4K/120 quite yet. Why is this worth noting? Well, the Apple TV 4K can be used to access Apple Arcade and you can even connect a PS5, Xbox Series X or Nintendo Switch controller for a proper gameplay experience.
Apple TV 4K (3rd Generation) tech specs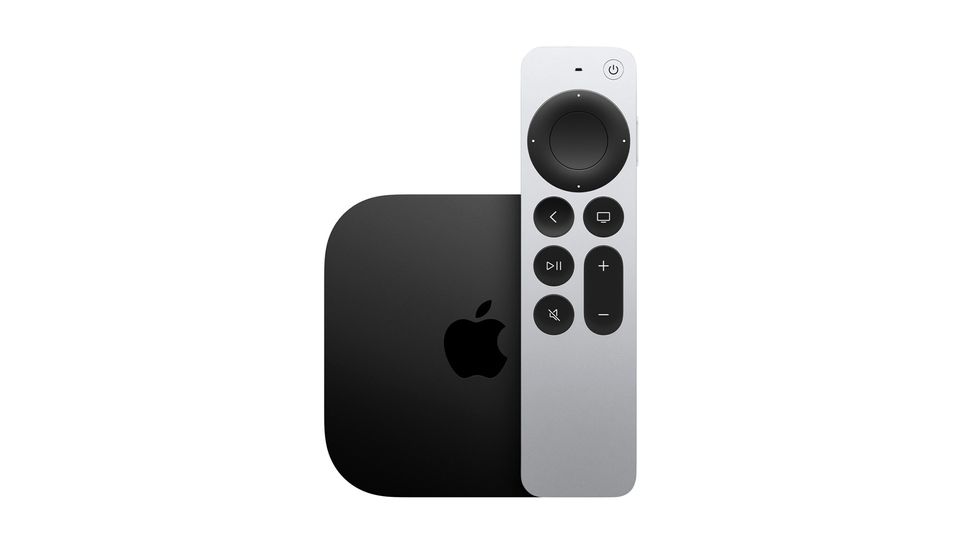 Resolution Up to 4K HDR, 60fps
Bluetooth version 5.0
HDR formats Dolby Vision, HDR10, HDR10+, HLG
Remote control Yes
Dimensions (hwd) 3.1 x 9.3 x 9.3cm
Weight 208g (Wi-Fi), 214g (Wi-Fi + Ethernet)
Apple's streaming box supports all the HDR formats of its predecessor including HDR10, HLG and Dolby Vision, however, Apple has added HDR10+ to the roster this year. This is of course a win for Samsung TV owners, as Samsung still refuses to include Dolby Vision on its sets. The Apple TV extends Dolby support into the audio department too, with Dolby Atmos as well as Apple's own Spatial Audio platform for both movies, TV and music from Apple Music and Tidal.
You can download a host of movie and TV streaming, music streaming and lifestyle apps via the App Store. You'll find all the usual suspects here including Netflix, Disney Plus and Amazon Prime Video to name a few, as well as region-specific apps such as BBC iPlayer, All 4, ITVX, My 5 and Now in the UK and HBO Max, Peacock and Hulu in the US.
It's not all about streaming here, as you can access iTunes to buy music, movies and TV shows to add to your digital library. Apple offers plenty of 4K HDR content when it comes to purchasing films and TV shows, and it's labelled the relevant tags which makes it easy to differentiate when browsing the store.
Picture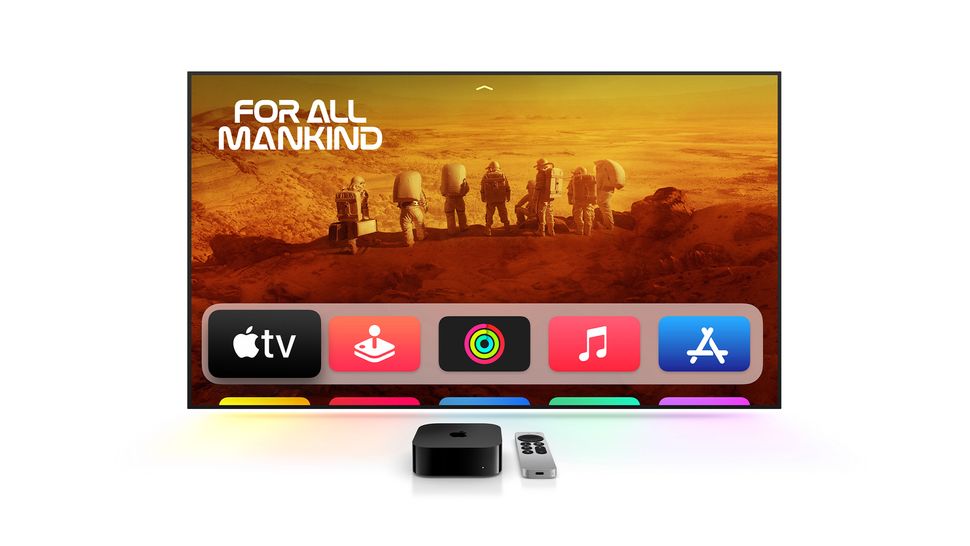 This new generation Apple TV makes a very compelling argument for how much media streaming devices have improved over the years. We've hooked it up to a Sony XR65A80K for our testing, and we're comparing it to the previous Award-winning model for reference.
Both units are set up by using Apple's Colour Balance process. This involves holding an iPhone up to the TV screen and using the calibration software to measure the display's colour output, which then allows the TV 4K to automatically tweak the settings to achieve the intended balance. While the differences aren't exactly night and day, we certainly notice a few improvements.
Starting things off with Babylon via iTunes, the new version shines. The rich colour palette of the film is right at home, with the streamer taking a bold yet balanced approach. The deep red hue of Nellie's dress and the pinkish-orange sunrise over 1920s California both pop off the screen with impressive vibrancy, without looking overblown. Skin tones are nicely balanced too, with a warm and lively appearance that doesn't verge on overly ruddy territory.
Contrast is another strength. The edges of subjects on screen are a bit sharper, which adds a deeper three-dimensional effect to the image. In comparison, the previous generation model looks slightly flatter and less detailed.
Moving onto something a bit more action-packed, Thor: Love And Thunder on Disney Plus provides smooth motion in the action-packed battle in New Asgard near the beginning of the superhero epic. This scene also highlights the Apple TV's prowess when it comes to dark details, as there are still subtleties to be picked out in the parts of the scene absorbed in shadows.
The bold and three-dimensional performance is present here too, with the luscious oasis that Gorr stumbles into bursting with vivid foliage. We're also able to pick out extra detail in his damaged skin texture, with enhanced shading and variation, especially in the burnt and dried-out parts of his face. Finishing off with Peep Show on Netflix for something a little older and in SDR, the Apple TV does an admirable job of brightening up the picture and sharpening details where possible.
Sound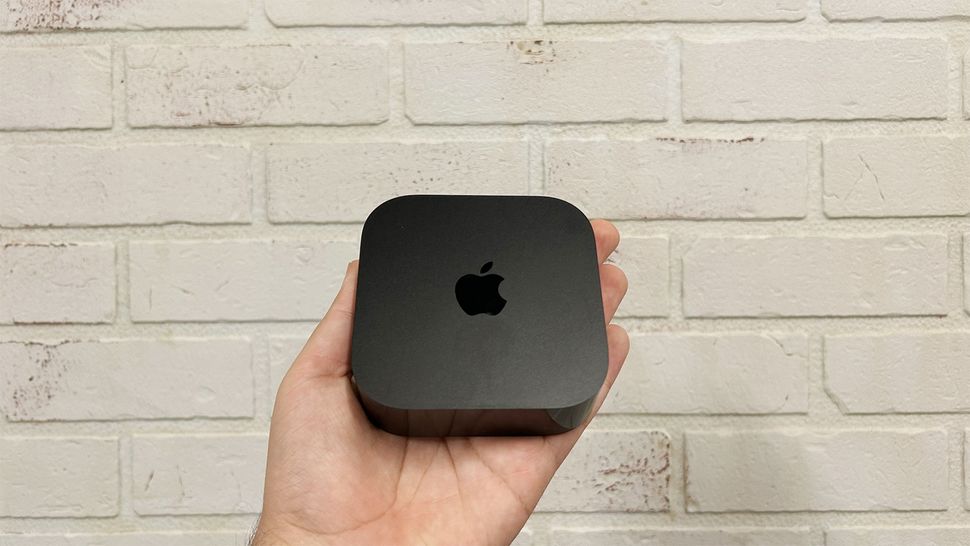 This unit's sound quality is as good as its picture. It has a warm and expressive approach that gives voices and instrumentation a rich and dynamic feel. Starting with Taylor Swift's My Tears Ricochet on Tidal, her vocals sound natural and convey the emotion of the track well. This ability extends into the instrumental parts of the song, with the Apple TV presenting the piano with a rich and textured sound. Dynamics are a strength as the quiet moments are cherished as much as the louder ones, allowing for a dramatic and impactful performance.
Switching to the more up-tempo Kyoto by Phoebe Bridgers, we see the Apple TV move up again with its excellent timing. It has great rhythmic drive, hitting beats at the correct time and arranging everything neatly. Bridgers' vocals sound clear and textured, with a sparkle that conveys both the upbeat nature of the instrumental and the sombre meaning behind the lyrics. The Apple TV 4K sounds terrific for a video streamer, but if listening over viewing is your priority, then a dedicated music streamer would still serve you better.
Verdict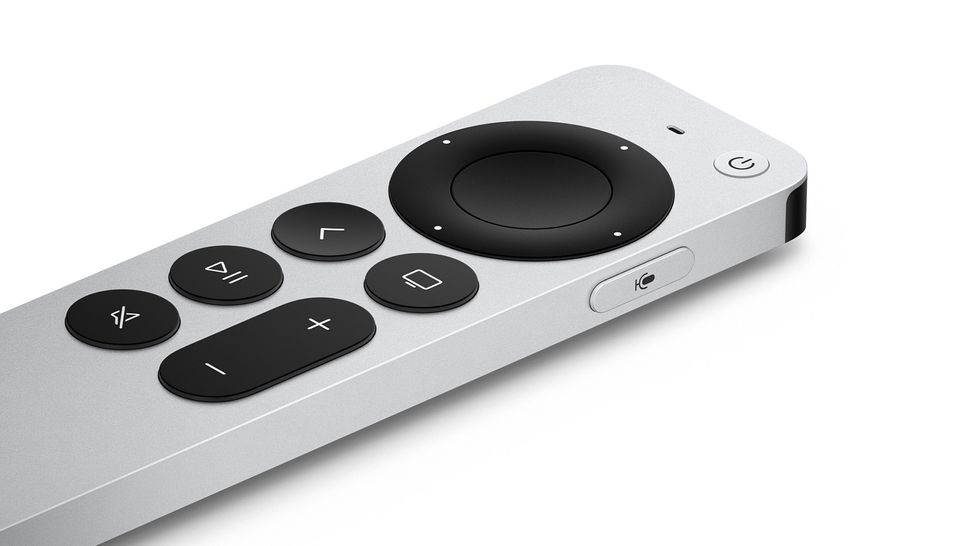 The latest Apple TV 4K doesn't reinvent the media streaming box, instead making small but meaningful tweaks to its predecessor in everything from its design to the performance. The bottom line is that it's better and cheaper than its Award-winning forebear, which kind of says everything.
SCORES
Picture 5
Sound 5
Features 5
MORE:
Read our Google Chromecast with Google TV review
And see our Amazon Fire TV 4K Max review
These are the best video streamers you can buy
And our pick of the best music streamers