The battle to become the best music streaming service when it comes to offering hi-res streams is well and truly underway. Gone are the days when all a streaming platform had to do was offer up low-quality Ogg Vorbis or MP3 streams and make you endure a few ads for the privilege. Today, the key to victory is ad-free, hardware-supported streaming in high-resolution audio quality – and, crucially, for the best price.
Qobuz was actually first to the hi-res streaming game (except in Australia, where it only launched in 2021) and is still kicking about with an excellent-sounding offering that has significantly reduced in price in recent years to remain competitive in the face of other services adopting hi-res. As well as a streaming-only tier, it uniquely offers a subscription that in addition to streaming also offers 60 per cent discounts on downloads from its online store.
Then there's Tidal, which became the first proper hi-res streaming rival to Qobuz and has helped carve out an ecosystem of MQA (Master Quality Authenticated) products through its decision to use that technology to power its hi-res 'Tidal Master' streams. It has recently split its membership options into HiFi (supporting CD-quality 16-bit streams only) and HiFi Plus (offering hi-res 24-bit streams along with Dolby Atmos and Sony 360 Reality support), and is currently our favourite streaming service for hi-fi fans.
Something big happened in 2021: Apple announced that its Music streaming service would offer CD-quality, hi-res and spatial audio streams to subscribers... for no extra cost. That would've undoubtedly been a big blow to Tidal and Qobuz, not to mention Amazon Music, which by that point had also launched a hi-res tier. Amazon's response? To bundle its hi-res streams into its standard subscription as well.
So where does the arrival of these newer, competitively priced hi-res services leave Tidal and Qobuz, and even services not in the hi-res game (Deezer 'only' offers CD quality, and the delay of Spotify HiFi leaves the world's most popular streaming service with some of the poorest-sounding streams)? And ultimately, which service best deserves your monthly subscription?
Below, we try to help you decide just that, starting with the differences between lossless and hi-res music, and offering a breakdown of the services and their USPs. Get ready: your music is about to sound a lot better.
Swipe to scroll horizontally
Music streaming services compared – at a glance

| | | | | |
| --- | --- | --- | --- | --- |
| Service | Free tier | Monthly hi-res price | Supported formats | Max streaming quality |
| Spotify | Yes (ad-supported, 128kbp) | - | OGG | 320kbps |
| Apple Music | No | £11 / $11 / AU$13 | AAC, ALAC | 24-bit/192kHz |
| Tidal | Yes (US only) | £20 / $20 / AU$24 | MQA, AAC, ALAC, FLAC (coming) | 24-bit/192kHz |
| Deezer | Yes (ad-supported, 128kbps) | - | FLAC | 16-bit/44.1kHz |
| Amazon Music HD | No | £11 / $11 / AU$12 (£9 / $9 / AU$9 for Prime Members) | FLAC | 24-bit/192kHz |
| Qobuz | No | £13 / $13 / AU$20 | AIFF, ALAC, FLAC, WAV, WMA Lossless | 24-bit/192kHz |
| YouTube Music | Yes (ad-supported, 126kbps) | - | AAC | 256kbps |
What is hi-res streaming and why should you want it?
First things first, should you care about hi-res streaming? High-resolution (often shortened to 'hi-res') audio is a term used to describe music files that have a higher sampling frequency and/or bit depth than that of CD quality, which is specified at 16-bit/44.1kHz. So a hi-res file can be 24-bit/44.1kHz, where bit-depth is higher than CD quality but the sampling rate is the same, and vice versa.
So what do the numbers mean? It might help to think of an audio signal as a sound wave being plotted on a graph. Sampling rate – the second number – refers to the number of times per second that the wave is measured during the analogue-to-digital conversion process. The higher the sampling rate, the more times the audio signal has been sampled, and thus the more detail resolution you get.
The first number is bit-depth, which indicates the number of 'bits' of information present in each sample of the signal. Going from 16 to 24 bits results in a massive increase in dynamic range, which is the gap between the quietest and loudest sounds that can be captured. In numbers, it's a jump from 96dB to 144dB, which is huge.
Until Spotify Hi-Fi arrives, all streams from Spotify use compressed file formats with relatively low bitrates, such as 320kbps Ogg Vorbis streams on Spotify Premium. This 'lossy' compression means that certain data is scrapped in the encoding process for the sake of convenience and smaller file sizes. Obviously, this affects the sound quality.
To illustrate why hi-res should sound better than, say, an MP3, we need simply to compare the relative bitrates (the amount of information being transferred measured in kilobits per second). The highest quality MP3 has a bitrate of 320kbps. A 24-bit/192kHz file takes that to 9216kbps. Music CDs are 1411kbps – remember, they're your starting marker for hi-res.
The hi-res 24-bit/96kHz or 24-bit/192kHz files should, therefore, more closely replicate the sound quality the musicians and engineers were working with in the studio. Provided your system is transparent enough, playing hi-res music can bring you more detail and texture, thus bringing you closer to what the artist wanted to say when they recorded their work. And isn't that what we want?
Although hi-res audio songs and albums have been available to download for several years now, streaming hi-res audio is relatively new across popular music subscription platforms – and some still don't offer it.
For more information on high resolution, read our everything you need to know about high-resolution audio article.
Hi-res vs 'lossless': what's the difference?
While the terms 'lossless' and 'hi-res' may be used in close connection – Apple Music has launched Lossless and Hi-Res Lossless labels and, to complicate matters further, Amazon Music prefers the terms HD and UHD when referring to its more premium audio offerings – music that is 'lossless' is not always hi-res.
Where hi-res audio is generally understood as music that has a resolution higher than CD quality, lossless audio has no set specification in terms of bitrate. The term covers only how much data has been thrown out during the encoding process and, as a result, how much quality or "loss" you will experience when you play it.
If no compression algorithm (or codec) has been used to compress the audio within your particular file, two things happen: lossless (though not necessarily hi-res) sound quality and pretty soon a storage warning on your device!
That said, the term lossless is often used to describe CD-quality audio, which is specified at 16-bit/44.1kHz.
Which streaming services offer hi-res music?
Short answer: Tidal, Qobuz, Amazon Music and Apple Music.
Here's an explainer on each service, the tech they use to deliver hi-res, what you'll need to play it, and, crucially, for whom each service will likely be best suited.
Tidal – for MQA-enabled kit
Tidal has been riding the hi-res wave since 2017 when it began offering hi-res audio streaming thanks to the adoption of MQA technology. Its vast number of hi-res streams are typically 24-bit/96kHz and referred to as 'Tidal Masters' tracks and are available to Tidal HiFi Plus subscribers.
Masters streams are available via the Tidal apps for Android, iOS and desktop, and hi-fi components and platforms that support MQA, making it a sensible choice for hi-fi system owners with MQA-compatible kit... but not for those who don't have it. When Tidal adds FLAC streams to its catalogue, however, presumably its hi-res streaming offering will be opened up to non-MQA hardware too.
Tidal Connect – a similar concept to Spotify Connect – also allows for easy hi-res streaming to compatible products from within the native Tidal app.
Tidal also offers a growing catalogue of immersive audio tracks via its support of Dolby Atmos Music and Sony 360 Reality Audio. The former means you can play Atmos tracks through Atmos-compatible kit, from soundbars and TVs to AVRs and smart speakers. Tidal HiFi Plus subscribers need to connect their Atmos-enabled device to a compatible streamer running the most recently updated Tidal app. Supported streaming devices include the Apple TV 4K, Amazon Fire TV Stick 4K, Fire TV Cube, Fire TV Stick (2nd gen), Fire TV (3rd gen), Nvidia Shield TV and Nvidia Shield TV Pro (2019 or newer).
Tidal tips: how to download music, play it offline, and more
Amazon Music Unlimited – for hi-res on a budget (especially if you are a Prime member)
Whichever way you approach it, Amazon has gone super aggressive on pricing. In response to Apple Music's hi-res streaming announcement in 2021, Amazon made its hi-res Music HD tier (which was an additional £5 / $5 per month) free for Amazon Music Unlimited subscribers. Price-matching Apple Music, it is currently the joint-cheapest way to stream in hi-res – but Prime members get a discount on the subscription making it the most affordable hi-res option out there for them.
You can access Amazon Music Unlimited's 'HD' (16-bit CD quality) and 'UHD' (hi-res 24-bit) streams via three different avenues: the desktop app, the Android and iOS mobile apps, and compatible audio hardware with direct access to Amazon Music.
To Amazon's credit, it pushes its seven-million-strong Ultra HD catalogue extremely hard on the service with dedicated playlists and clear labelling, e.g. Best of Ultra HD, Ultra HD: New Arrivals, Ultra HD Hip-Hop and Ultra HD Jazz. It doesn't take long to find a steady stream of UHD music to listen to.
Subscribers can also access Amazon's catalogue of 3D audio tracks, encoded in either Dolby Atmos or Sony 360 Reality Audio, through their headphones or Amazon Echo Studio speaker.
Qobuz – for avid downloaders
Qobuz is the first streaming giant to have dropped MP3 streaming entirely, going all-in on CD-quality and hi-res streaming. In truth, taking a stand is nothing new to Qobuz, a company that tends to do things differently from most of its rivals in the music streaming world.
There are now just two packages from which users can choose: the Studio plan purely for CD-quality and hi-res streaming, and the Sublime plan which also throws in discounts of up to 60 per cent on purchases of 24-bit downloads.
The main sticking point for us at the beginning was the service's high price and comparatively limited library – and we still regularly find gaps in its catalogue when building our What Hi-Fi? playlists – but the service's recent tier realignment and pricing have seen it rise quite significantly in value.
Qobuz is now available on lots of devices. There's a web player as well as desktop (Mac and PC) and mobile (iOS and Android) apps, plus integration into a wide range of hi-fi and audio products – including Sonos speakers and Google Chromecast kit.
On Qobuz, bitrate and frequency are displayed in the playback bar, and hi-res albums are clearly flagged with the familiar 'Hi-Res Audio' logo, both in the library interface and playback bar. It is a great-sounding service with a mature hi-res offering.
Apple Music – for Apple device owners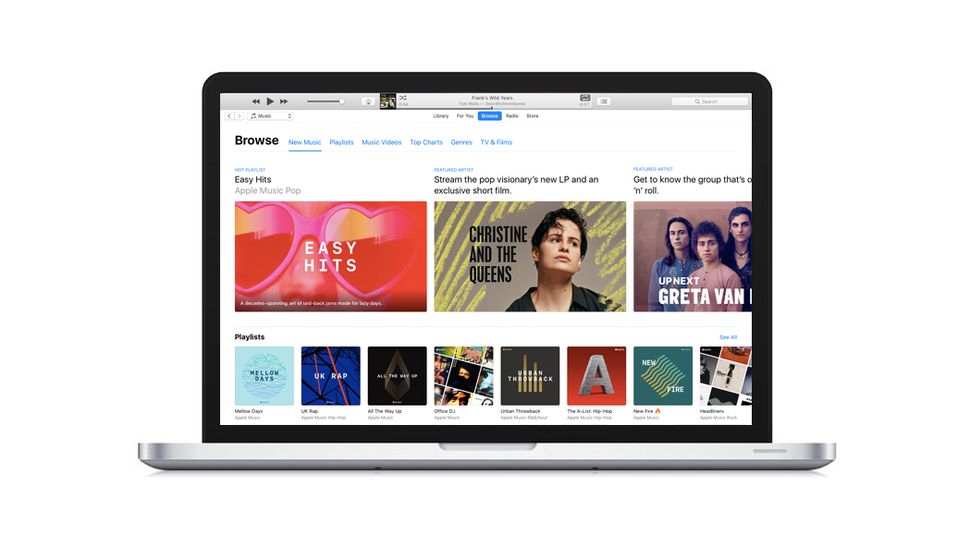 Apple offers CD-quality (16-bit/44.1kHz), Apple Music Lossless (24-bit/48kHz) and Hi-Res Lossless (up to 24-bit/192kHz) streams via its ALAC (Apple Lossless Audio Codec) codec. And the best bit? All of these streams are available under the standard subscription price. That puts it on a par with Amazon, albeit is cheaper than Tidal and Qobuz. If you own an iPhone, the chances are pretty high that Apple Music is your service of choice – and its inclusive hi-res streaming only makes it harder to ignore.
Here's the rub, though: Apple's own headphones don't support lossless audio. None of them. Not even the AirPods Max wired. Apple's iPhones (since the iPhone 7) natively support lossless – but only Apple Music Lossless, and not the highest quality Hi-Res Lossless. If you want to listen to Apple Music tracks above 24-bit/48kHz on your iPhone, you'll need to connect an external DAC and use a wired pair of headphones. Check out our guide for how to listen to hi-res audio on an iPhone.
Apple's HomePod range of smart speakers do support lossless – that's the brand new HomePod 2, the first-gen HomePod (2018) and current HomePod Mini. It's worth noting that they only support Lossless up to 24-bit/48kHz – not Hi-Res Lossless. The same is true of the Apple TV and iPad families, which are listed as supporting Apple Lossless, with no mention of Hi-Res Lossless.
Like Amazon Music and Tidal, Apple Music also now has immersive 3D audio tracks – this time through Apple's proprietary Dolby Atmos-powered Spatial Audio format. These tracks will play on AirPods or Beats headphones with a W1 or H1 chip, as well as on HomePods and the iPhone 11 onwards and iPad Pro (but not iPad, iPad Mini or iPad Air). Playing from an Apple TV 4K into a Dolby Atmos soundbar or system will work too.
Music services that don't support hi-res
Another short answer: Deezer, Spotify and YouTube Music are yet to offer (or even promise to offer) hi-res audio.
Spotify is still set to launch its long-awaited and seemingly delayed Spotify HiFi tier (which was promised by the end of 2021 but has still not yet materialised), but it remains to be seen whether hi-res quality will now be on the menu considering its adoption by Apple and Amazon since, or whether the service will stick to the CD-quality streaming it initially promised.
So will Deezer (which offers CD-quality) or YouTube Music (which maxes out at 256kbps) ever go hi-res? Alexander Holland, chief content and strategy officer at Deezer, offered some choice words on this in 2021: "Our goal is to make sure that Deezer brings value to both artists and music fans. We're not ready to announce anything just yet but are considering the implications on our users, technology and business. It's clear that our industry shifted overnight and HiFi is the new de facto standard for audio quality. We would never want to stand in the way of that. You'll hear more from us soon."
Intriguing.
Verdict: which hi-res streaming service is best?
Ultimately, the delicate balance of budget and device compatibility within your home will determine which service you opt for.
Tidal is our current Award winner: it sounds that little bit better than the competition, the user experience is spot on, the catalogue is extensive, and the accessibility of hi-res Masters streams on MQA-supporting hi-fi is only growing – and will grow even more once FLAC hi-res streams come to the service. That said, it is still the priciest hi-res option at £20 / $20 / AU$24 per month.
Qobuz is a good shout for Sonos and hi-fi owners who are looking to bring hi-res audio into their homes – especially owners of hi-fi that isn't MQA-certified and therefore cannot currently play ball with Tidal Masters. It does have one of the biggest hi-res catalogues (though we would still note the ongoing holes in its album offering, full stop) and uniquely, and admirably, offers Sublime subscribers heavily discounted downloads for those who like to stream and own digital music.
Amazon Music Unlimited has recently positioned itself as the joint-cheapest hi-res option (alongside Apple), and the outright cheapest for Prime customers, and could well be the service of choice for non-Apple users who want the best sound for little outlay.
Apple Music, however, is a no-brainer for owners of Apple kit who wish to enjoy hi-res streams through their iPhone or HomePod, not least due to its price, vast library and the added bonus of spatial audio. The downside, however, is that it isn't very hi-fi friendly (AirPlay doesn't support hi-res, after all) and you'll need a DAC to play maximum hi-res bitrates through your iPhone and wired headphones.
MORE:
Got the service? Now read how to choose the right speakers and get the best sound
An excruciating timeline of our six-year wait for Spotify HiFi
Struggling to hear the difference? The problem with hi-res audio is how you might be listening to it