Most of us have changed the way we consume music, swapping physical formats such as CDs for streaming services such as Spotify and Tidal. Instead of 'owning' music – either physical or digital – we're now content to pay a monthly subscription fee to access music in the cloud, allowing us to play any song without actually buying it.
Streaming has been the music industry's fastest-growing revenue source for some years now, and over the past decade one service has stood the test of time as the most popular: Spotify. And for good reason, too.
But music streaming is big business and there are a number of services vying for your attention (not to mention your wallet). Indeed, its dominance is increasingly under threat as rivals fight for a piece of its pie. One of them is Tidal, which has made a huge name for itself by focusing on superior sound quality. Of the music services offering lossless CD-quality and hi-res streaming (Spotify not being one of them), Tidal is our favourite.
So, how does it compare to the green giant of streaming? And which service's offering is best for you? If you are on the Spotify-Tidal fence, let us try to help you down from it...
Pricing
If you're on a tight budget and simply want unlimited music playback for as small a monthly fee as possible, go for Spotify, as it offers a free subscription plan. You'll have to bear some (fairly annoying) adverts, though, and audio quality is limited to a maximum of 160kbps. Still, it's free.
There's plenty to persuade people to pay for Spotify Premium, mind: improved (approximately 320kbps) streams, offline listening, the freedom to search and skip tracks on mobile devices and, of course, no adverts. It costs £9.99 / $9.99 / AU$11.99 per month.
Even better value is Spotify Premium Family, which gives Premium access to up to six people (nominally from the same household) for £16.99 / $15.99 / AU$17.95 per month.
Tidal, on the other hand, does not have a free tier (unless you're in the US, in which case it has 'Tidal Free' for 160kbps streaming with "limited interruptions"). But it does offer higher-quality audio for the same monthly fee as Spotify...
For £9.99 / $9.99 / AU$11.99 per month, Tidal Hi-Fi gets you audio at up to 1411kbps (i.e. CD quality). And Tidal Hi-Fi Family lets six people take advantage of it for £14.99 / $14.99 / AU$17.99 per month. Spotify is poised to offer CD-quality streaming via its announced Spotify Hi-Fi tier for an as-yet-unspecified price, though this much-delayed offering is yet to materialise.
Not content with spanking Spotify for CD-quality streaming, Tidal also has a HiFi Plus tier that brings audio quality up to 9216kbps (i.e. hi-res) by supporting Tidal Masters via Master Quality Authenticated (MQA) technology. It costs £19.99 / $19.99 / AU$23.99 per month, while a family subscription – again, for up to six people – costs £29.99 / $29.99 / AU$35.99.
*Winner: Spotify for free, Tidal for value*
Catalogue
Given that Spotify launched six years before Tidal, you might think it would have the bigger music library. Not so. Both services actually offer over 80 million tracks, giving its subscribers a comprehensive catalogue of music to listen to.
Tidal's hi-res Masters tracks are now in the millions, too, and the service also bolsters its catalogue with an increasing number of tracks mixed in immersive audio technologies Dolby Atmos Music and 360 Reality Audio for subscribers to try. Meanwhile, Spotify hits back with a load of big-hitting podcasts that it and its affiliate studios have produced, many of which it has exclusive rights to.
There are some cases where songs will be on one service and not the other. Spotify has notoriously come in conflict with musicians over royalties and politics over the years. Taylor Swift pulled her entire catalogue from Spotify in 2014 over "tiny royalty payments", though she's since made up with the Swedish firm. Neil Young and Joni Mitchell's discographies remain absent following the Joe Rogan debacle. Unavailable, greyed-out songs are present on Tidal, too, often signifying that the service and record label are mid-negotiation.
Tidal says it is "artist owned" and claims to pay the highest percentage of royalties to songwriters in the streaming market. In fact, to incentivise current subscribers and new listeners to subscribe to its top HiFi Plus tier, the service's 'direct-to-artist' payments now distribute up to 10 per cent of a HiFi Plus subscription to the artists a subscriber listens to the most each month, in addition to standard streaming royalties.
Jay-Z's investment in Tidal has seen some of his albums, including The Blueprint, appear exclusively on the service along with Beyonce's Lemonade and Rhianna's Anti albums, often for a limited window. Spotify, meanwhile, says it doesn't want to limit non-Spotify users by locking big artists into exclusive deals.
Either way, all music streaming services will have some gaps in their library, so it's best to check your favourite artists are present before you sign up. Generally, though, both Spotify and Tidal's libraries are exemplary.
*Winner: draw*
Device support
Both services are available on a number of platforms: there are web players and desktop support for PC and Mac, plus Android and iOS apps. Both support Google Chromecast and Apple AirPlay 2, making it easier to fire your tunes around the home, and both also tick the in-car audio boxes, supporting Apple CarPlay and Android Auto.
Spotify once had the considerable advantage of Spotify Connect, which lets premium subscribers stream directly to speakers, TVs or systems. It's become a familiar feature in many hi-fi and AV products – including Sonos speakers – and is a big draw for those interested in bringing streaming into their existing system.
But Tidal has now hit back with its own feature, named Tidal Connect, which also allows the direct streaming of songs to compatible hardware within the app but uniquely supports the casting of MQA and Dolby Atmos files. It isn't as widespread in the mass consumer electronics market, though many new hi-fi products do tend to launch with it these days.
Tidal's app is also part of several networked hi-fi products' streaming offerings, including Sonos, Bluesound and Denon Heos kit, Linn, McIntosh, Naim and Cyrus players, with more hardware supporting MQA in order to play Tidal's MQA-powered hi-res Masters tracks.
*Result: draw*
Music discovery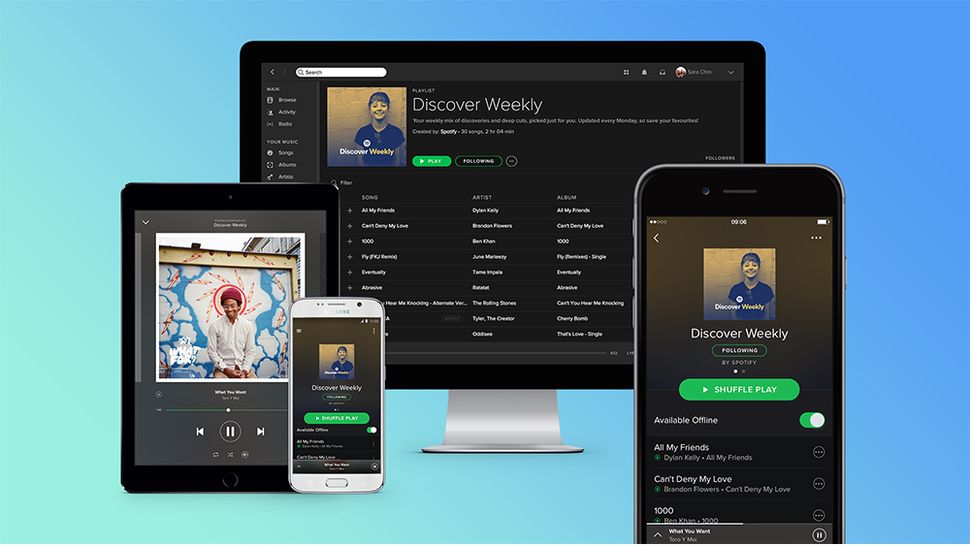 Just as Tidal distinguishes itself from rivals by offering hi-res audio, Spotify's USP is music recommendation.
Its hugely popular "Discover Weekly" feature uses AI and machine learning to generate a playlist of 30 songs that are relevant to your listening habits. It's impressively accurate.
On Fridays, Spotify sends out a two-hour Release Radar playlist containing brand-new music and remixes. The more you listen, the better the recommendations match your tastes. Factor in the mobile-only Daily Mix (five genre-specific playlists) and the Spotify Wrapped playlist that has trended big at the end of the last couple of years, and it's fair to say that Spotify rules the roost when it comes to music discovery.
Tidal's music discovery features are getting more up to Spotify's speed, though, with similar AI-based playlists such as My Daily Discovery, My Mix(es) and My New Arrivals formed from listening habits. Tidal Rising promotes interesting up-and-coming artists, too, and hi-res Masters playlists span new arrivals and genres (e.g. Tidal Masters: Motown). Due to its roots, Tidal's Home interface was for a long time predominantly hip-hop and rap dominated, but the more you use it and steer away from that genre these days, the more that's diluted.
*Winner: Spotify*
Sound quality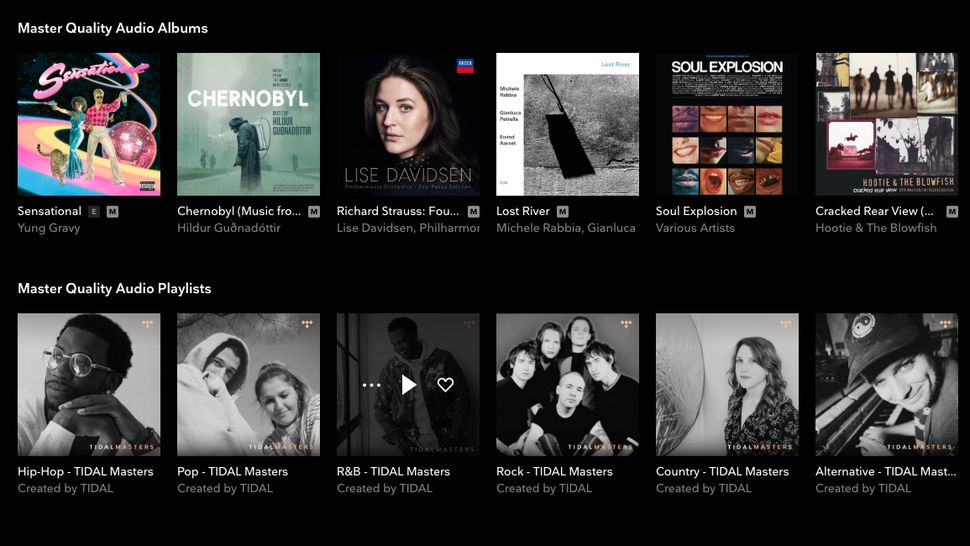 It will likely come as little surprise that Tidal wins this category hands down. It offers CD-quality streaming for the same price as Spotify's comparatively lowly 320kbps streams, and goes beyond that to offer hi-res audio for those who are willing to pay a premium for it.
With Tidal's increase in quality comes a rounded-out service geared towards better sound, with improved hi-res music discovery and better labelling (you can identify Masters by the tiny little "M" icon next the title) as well as a wider hardware support network for its Masters.
The future arrival of Spotify's HiFi lossless tier might tip the scales in its favour depending on the monthly price the company settles on, but for now Tidal easily has the upper hand here.
*Winner: Tidal*
Verdict
Spotify is the most recognisable name in music streaming and uniquely offers free (ad-supported) access to millions of songs around the world. It seems to constantly be finding new ways to improve the usability and increase the feature offering of its already comprehensive, intuitive and user-friendly service, to ensure it remains the world's most popular, most subscribed-to service.
That said, rival services like Tidal are catching up and getting close to matching Spotify's well-rounded functionality – and many others such as Apple, Amazon and Qobuz are also now joining Tidal in showing up its relatively poor audio quality, giving it nowhere to hide.
Aside from that glaring omission (which should in some way be rectified when Spotify Hi-Fi finally lands), Spotify is an excellent all-rounder and the number one choice for free streams.
However, those who value audio quality are definitely best off with Tidal. Stretch to the HiFi Plus tier if you can – it's a fantastic destination if you want to listen to hi-res files on the go and, if you own kit that supports MQA and/or Tidal Connect, at home too.
*Overall winner: Tidal*
MORE: