Over-ear headphones are still one of the best ways to get lost in music or watch a movie. That's why we've picked out the best over-ear headphones for 2019.
But with choices so varied it's hard to know which to pick. From price and sound quality to connectivity and noise-cancelling, there are lots of factors you'll need to take into account when deciding which are the best over-ear headphones for you.
We've tested pretty much all the options out there and refined that lot down to a list of the best over-ear headphones, separated by price and features like noise-cancelling and Bluetooth. Read on to meet your future favourite set of cans.
Under £50
If you want quality closed-back wired headphones, on a budget, then the AKG K72 are the best option out there right now. The solid build means these are going to last - AKG even bends the cable 80,000 times to test longevity. The padding is comfy while the three metre cable offers more than enough play for listening comfortably anywhere. The sound is expansive with the width, scale and bass you'd expect to find on a far more expensive pair of headphones.
Under £100
The Grado SR80e headphones look retro-cool, not only for a design win but out of necessity, so they can reproduce the best quality audio possible. As a result the clarity, detail and dynamics of these earphones are unmatched for the price. Their open-backed design lets a lot of noise through, so perhaps not ideal for public use, but they help make for a nimble and fast-sounding set of cans with clean and punchy bass.
Under £200
The Sennheiser Momentum 2.0 headphones are a sensational option for the money. And, they've dropped heavily in price in recent years, which makes them as competitive as ever. As such you get stylish closed-back cans with excellent comfort. Sound quality is superb, with stunning precision and vocal definition and nuanced yet weighty bass.
Best over-ear headphones under £300
If you like retro looks and demand the best sound for that sub-£300 price then the Grado SR325es are the best headphones out there. While the open back does bleed sound it helps the Grados deliver a superb audio experience. That means clearer and lighter sound than the SR325es mentioned above with distinctive, well-organised layers and a naturally cohesive sound. Beautifully sharp and truly delicate – you won't be left wanting.
Best over-ear headphones under £400
Thanks to an aluminium and carbon fibre build, coupled with oval Alcantara earpads these Shures are comfy and light enough to wear anywhere. Those 40mm neodymium drivers make for an utterly superb sound with impressive dynamics and awesome levels of detail. These are truly fantastic headphones.
Under £500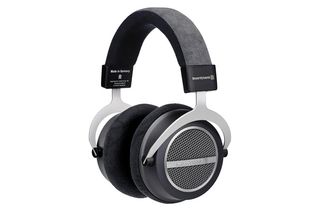 Beyerdynamic's Amiron headphones are extremely comfortable thanks to Alcantara micofibres and microvelour used in the earcups and headband. The open back design means some sound leakage but the design also brings an awesome spacious quality to your music. That sound is superb with a good grip on high frequencies, a clear midrange and fantastic sense of rhythm.
Under £1000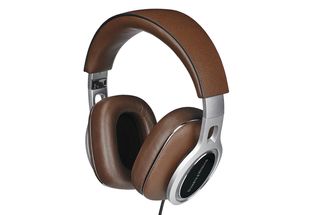 The B&W P9 Signature headphones were created to commemorate 50 years of Bowers & Wilkins and they certainly do them justice. The sturdy Saffiano leather is comfortable yet hardy and the memory foam headband enhances that comfort. Housed in the ears are 40mm driver units, angled for more natural listening.
After the first 50 or so hours these really loosed up for peak performance meaning a sense of space with vocals and perfectly layered instruments. They can grab a rhythm and hold it perfectly no matter what else is going on. The result is precision and enthusiasm with a perfect balance of pace and attack.
Under £2000
Connect them to the right source and these Sonys could be the best headphones you'll ever hear. The unique drivers feature a two-piece 70mm diaphragm made of a magnesium dome sitting in an aluminium-coated liquid crystal polymer ring. With an impressive frequency response that reaches to 120kHz and sensitivity of 100db/mW no expense has been spared on these high-end over-ears. It all adds up to a pair of headphones capable of seismic bass, immense dynamic reach, perfect tonal balance and a spacious yet detailed sound.
Best noise-cancelling over-ear headphones
The third generation of Sony's fantastic wireless headphones is the best yet. Lighter than the XM2s, these are also more comfy with softer cushioning to the thicker headband. Tap and voice controls are neat features while the microphones have been improved making these great for calls. Even the noise-cancelling has been improved. Bluetooth sound quality is fantastic with a more open and spacious delivery than their predecessors, while still offering sensational levels of detail and enhanced dynamics.
Best wireless over-ear headphones
The AKG N60NC Wireless headphones are a more affordable alternative to the Sony WH-1000XM3s. Bluetooth and noise-cancelling are built-in. These are lightweight and comfortable yet offer up to 30-hours of battery life (15 with noise-cancelling on) and don't scrimp on sound quality. Bass has good weight while sound is clear and striking. Transparency is excellent and the balance between the bass, midrange and treble is spot-on.