Best in-ear headphones: quick menu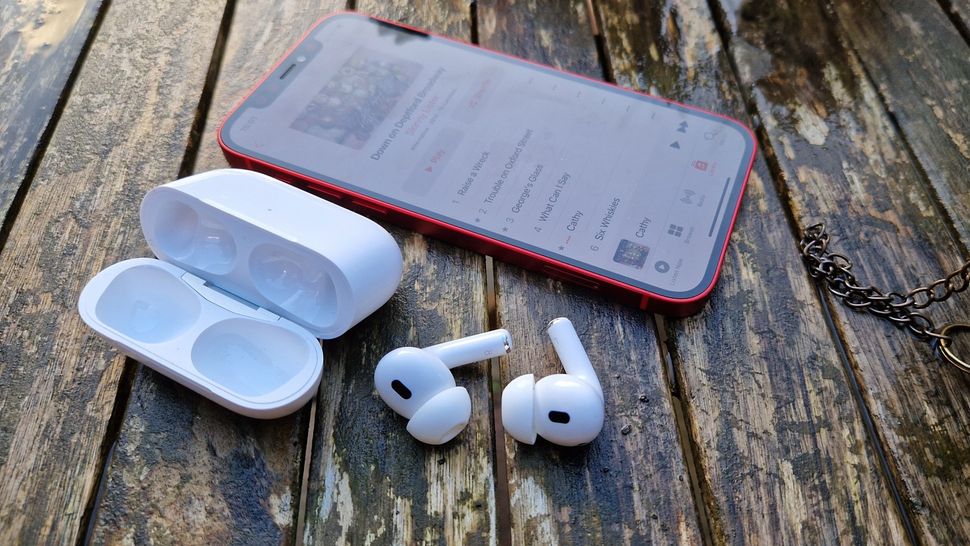 1. The list in brief
2. Best wired overall
3. Best wireless overall
4. Best cheap wired
5. Best cheap wireless
6. Best mid-price wired
7. Best mid-price wireless
8. Best high-end wired
9. Best high-end wireless
10. Best Apple
11. How to choose
12. How we test

While many people like the comfort of over-ears, there are still plenty that prefer in-ear headphones, either because they like the more discrete look or simply prefer the fit.
But what are the very best in-ear headphones? In today's world that is a tricky question as there are a variety of different form factors and technologies on offer. Runners may like to opt for a true wireless pair with winged tips, which in our experience offer a more secure fit and seal. Audiophiles on the other hand will care more about getting a premium set of earbuds focused on audio quality above all else.
As an added layer of complexity, having tested more in-ear headphones than can easily be counted, we can safely say not all the sets doing the rounds are worth your time or investment. Over the years we've tested many sets that look good on paper and have compelling price tags, but with real-world use fail to deliver in key areas, like audio and build quality.
Here to help you avoid investing in a lemon, we've created this guide detailing the top-performing in-ear headphones money can buy that we've tested. Every set of earbuds has been used by our team of expert reviewers both in our test rooms and the real world to ensure they're worth your hard-earned money.
The quick list
Load the next 3 products ↓
Best high-end wired
Best high-end wired in-ear headphones
They're a pricey proposition, but if you have a good enough source the IE 900 more than justify the outlay.
Best high-end wireless
8. Bose QuietComfort Earbuds II
Best high-end wireless in-ear headphones
They don't come cheap, but if you're looking for brilliant sound and the best noise cancelling around, go Bose.
Best Apple
Best Apple in-ear headphones
With improved noise cancelling and a wonderfully rich and engaging sound, these are Apple's best in-ear headphones yet.
Best wired in-ear headphones overall
Shure has plenty of experience with wired in-ear headphones, and it shines through in the Aonic 3. They are comfy and lightweight for starters. The headphone cable hooks over the top of your ears and keeps them secure at all times – there is a slight knack to getting the swivelling buds in place, though.
Nine different eartip choices allow for excellent isolation, while an in-line remote and mic can control your tunes and answer calls.
And the Shures absolutely nail sound quality. They are dynamic, detailed and their sense of rhythm and timing needs to be heard. We can't think of any pair of earbuds at this price that comes close to their musicality and insight. If you want a pair of wired in-ear headphones that deliver a clear and obvious step up in sound quality from the cheaper SoundMagics further down this list, then these Shures simply must be heard.
Read the full review: Shure Aonic 3
Best wireless in-ear headphones overall
Sony hasn't been shy in making some changes to its winning formula for the WF-1000XM5 – but they all add up to yet another five-star performer from the Sony WF stable.
They're significantly smaller than their predecessors (the WF-1000XM4), with a more pocket-friendly case to match, but they're also more comfortable to wear for long periods, even if others feel more secure when lodged in your ears.
Despite their more compact dimensions, there's a bigger 8.4mm Dynamic Driver X inside each one, which results in unmatched levels of detail and clarity, and absolutely top-notch musicality and timing. Noise cancelling has been beefed up too, and while Bose's QuietComfort Earbuds II (below) still lead the way on that front, the XM5 aren't far behind, minimising unwanted racket in a more subtle fashion.
Throw in a bunch of handy features, including Adaptive Sound Control, Speak-to-Chat, support for hi-res and 360 Reality Audio, and the ability to automatically activate the ANC in certain locations, and you've got the undisputed king of wireless in-ears.
Read the full review: Sony WF-1000XM5
Best cheap wired in-ear headphones
Founded in 2005, a relative flash in the pan compared with many audio companies, SoundMagic rose from obscurity to multiple-Award winners, most notably with its budget in-ear headphone range. And the SoundMagic E11C continue this trend.
The E11C deliver a snug fit and a well-balanced, fun and energetic sound from their 10mm dynamic drivers. Sound is warm and there's decent depth to the bass, which is topped with a clear and crisp midrange. It's also worth noting that their high sensitivity (112dB) means that the E11Cs can deliver plenty of volume which makes them a great fit for smartphones and portable audio players, provided you have a 3.5mm socket, of course.
Functionality is kept simple with a remote and mic on the cable for the left earphone. It's a standard three-button job, so it should work with Apple and Android smartphones, giving you volume and stop/start functionality. Given the price, it's hard to find fault with these excellent budget buds.
Read the full SoundMagic E11C review
Best cheap wireless in-ear headphones
Earfun isn't the first brand that jumps to mind in this category, but If you want cheap and cheerful wireless in-ear headphones the Airs are worth a try.
These earbuds are packed with features. You don't get noise-cancelling at this price, but the Earfun Airs do provide excellent noise isolation and they feel comfy in situ too. They are also waterproof to IPX7 standards (submersible in one metre of water for up to 30 mins), support virtual assistants and include Qi wireless charging if you have a suitable charger to hand.
Battery life is seven hours from the buds and a further 28 hours from the charging case. Amazingly everything feels fairly premium too. The Bluetooth 5.0 connection is solid and stable, calls sound clear, and for the money the in-ears offer an energetic and spacious sound.
The Sony WF-C500 are also worth a look if there's a little wiggle room in your budget, but if you are after a pair of cheap and entertaining in-ear headphones, the Earfun Air have plenty going for them.
Read the full Earfun Air review
Best mid-price wired in-ear headphones
With a transparent section on each earpiece that allows you to see their inner workings, Shure's Aonic 5 are certainly an eye-catching pair of buds – but it's how they sound that earns them their place on this list.
The Aonic 5 use three high-definition balanced armature drivers in a dual woofer and single tweeter configuration, and with the right source and material they sound sensational. There's an embarrassment of detail and a wonderful sense of clarity, with vocals sounding particularly rich and natural, but they're sonically transparent too, so any ropey recordings will be exposed.
Shure provides plenty of tips to help you find the right fit for the buds, but you also get two extra nozzles that you can use to change the balance of the sound. The ones labelled 'Bright' put too much emphasis on the top-end for us, but the 'Warm' pair offer a subtle increase in weight and substance. We'd still recommend sticking with the default ones, though.
If you've got a decent DAC/headphone amp to drive them, the Shure Aonic 5 will show you exactly what they're capable of.
Read the full review: Shure Aonic 5
Best mid-price wireless in-ear headphones
These Sony earbuds slot neatly between the budget WF-C500 and premium WF-1000XM5, so they're ideal for anyone looking to step up from a cheaper pair but not ready to fork out for some flagships.
The buds are impressively small, and their lightweight design helps make them more comfortable than a whole host of rivals. Battery life is competitive at seven and a half hours, although the fact the charging case can only offer one extra charge seems a little stingy.
They lack aptX HD and LDAC but do feature noise-cancelling tech, which the WF-C500 lack. Adaptive Sound Control automatically switches listening modes depending on your location, and Sony's DSEE (Digital Sound Enhancement Engine) upscales low-res digital audio files to higher quality.
The sound quality is superbly balanced too, with deep, detailed bass, expressive mids and engaging highs. They're a very musical listen for the money.
Multipoint Bluetooth, which lets you switch seamlessly between devices, has arrived as part of a software update, and while the lack of support for aptX HD and LDAC is disappointing, it's not the end of the world at this level. Either way, the superb level of comfort, sound quality, and great feature set make these in-ear headphones easy to recommend.
Read the full Sony WF-C700N review
Best high-end wired in-ear headphones
Sennheiser's IE 900 earbuds will appeal to purists who want to get the best audio possible from a high-quality source. They come packaged like premium in-ear headphones, including six ear tip options and three cables with a choice of normal 3.5mm and balanced 2.5mm and 4.4mm connectors. The only thing they don't have is an in-line remote.
With rigidity and minimal vibrations in mind, Sennheiser's engineers have chosen to go with a single driver rather than the more fashionable multiple-unit approach that many rivals take – and the results are fantastic. They are impressively clear and open-sounding, able to dig deep into the production of a recording. They sound confident and insightful too, revealing layers of low-level information and organising every track they are faced with into a structured and cohesive whole.
Partner these in-ear headphones with a high-quality outboard DAC, such as the Chord Mojo 2, and use good-quality files and you will hear just why the IE 900 justify their hefty price tag.
Read the full Sennheiser IE 900 review
Best high-end wireless in-ear headphones
These premium Bluetooth in-ear headphones sound amazing and set a new benchmark for earbuds of this type.
Smaller and lighter than the original QC Earbuds, the Earbuds II provide a comfy fit and plenty of features. Bluetooth 5.3 support is a big bonus, and the Bose app allows you to play around with the amount of noise-cancelling on offer via various customisable presets.
Speaking of noise-cancelling, the Bose are at the top of their game. They can automatically adjust the amount of ANC on offer so your music isn't drowned out by particularly loud noises and the effect is deeply impressive. The Bose sound balanced and neutral and have no problems uncovering fine detail.
It's a shame there's no support for high-quality wireless audio codecs such as LDAC or aptX HD, nor is there wireless charging or Bluetooth multipoint. But we don't think this is the end of the world when you consider that these classy in-ear headphones deliver such a great sonic performance.
Read the full Bose QuietComfort Earbuds II review
Best Apple in-ear headphones
Apple's in-ear headphones have historically been decent but unremarkable wireless earbuds. They've performed solidly but not spectacularly over the years compared to the class leaders in their field – those from the likes of Sony and Bose, for example. But with the AirPods Pro 2, Apple has made a pair that delivers the goods.
How? Noise-cancelling is very good, battery life is very competitive, and you get new features and, more importantly, a big jump in sound quality compared to previous efforts. They're also the same price as the original AirPods Pro, which helps.
Fit is very good, and the new design feels a lot less intrusive than some rival in-ear headphones. Apple has finally added on-bud volume controls, which improves the user experience too. For Apple users in particular, these noise-cancelling in-ear headphones make a lot of sense.
The noise-cancelling works a treat, while Adaptive Transparency muffles loud noises when letting in ambient sounds. And the sound quality? With weight, detail and a good dose of dynamic subtlety, they really are accomplished in-ears – not as good as the Sony WF-1000XM5 or Bose QC Earbuds II further up this list, but not miles away either.
Read the full Apple AirPods Pro 2 review
---
How to choose the best in-ear headphones for you
First of all, you need to decide how much you are willing to spend, and that will also be somewhat determined by how you are going to use your new in-ear headphones.
Are you going to plug them into a smartphone or will they be used with a premium portable music player packed with hi-res music? You can go the wired route for the ultimate performance-per-pound value, but there's always the wireless option should you want a bit more convenience from your earbuds.
Compared with the best over-ear headphones, which can look and feel big and bulky, the best in-ear headphones offer a more discreet listening experience, while the use of ear tips tends to deliver decent levels of isolation from the outside world. So, you will also want to ensure the in-ear headphones you go for (and the tips you get with them) are comfortable. And, if you want to block out more of the outside world, you might want to consider noise-cancelling, which is an increasing feature on all but the very budget true wireless earbuds these days.
There's a pair of earbuds for everyone on this list, including budget wired headphones and premium models, plus noise-cancelling headphones and Bluetooth headphones, too. Rest assured, we have tested all the in-ear headphones mentioned above, which is why you can be confident they are all up to the job. Check the most recent pricing to bag a possible discount and also don't forget our page dedicated to the best headphone deals.
How we test in-ear headphones
We have state-of-the-art testing facilities in London and Reading, where our team of experienced, in-house reviewers test the majority of hi-fi and AV kit that passes through our door.
Testing earbuds, whether it is the wired or wireless variety, naturally doesn't require us to be in a test room all the time, although when we want peace and quiet and to compare pairs with their closest rivals, then a dedicated room does come in handy.
We treat in-ear headphones as though they are speakers, so we give them plenty of time to run in, and then we use them with the equipment they are most likely to be partnered with, be it a smartphone, headphone amp and DAC, or portable music player.
We try a wide range of music and music file types, and if the earbuds offer extra features such as noise-cancelling, we also test this and use them in different environments to make sure it's up to scratch.
All review verdicts are agreed upon by the team rather than an individual reviewer to eliminate any personal preference and to make sure we are being as thorough as possible, too. There is no input from PR companies or our sales team when it comes to the verdict, with What Hi-Fi? proud of having delivered honest, unbiased reviews for decades.