Whether you run once a day, once a week or once a year, a good pair of running headphones will make it all the more enjoyable.
The best running headphones will deliver your music with motivating clarity and energy while offering a sweat-resistant fit that stays in place, and with wireless options aplenty you won't be short of choice. Most of them pack a decent battery life, too – you know, for those Ultras.
Headphones designed for sport tend to be in the form of earbuds, whether their exercise friendliness is due to their waterproof rating, above-average ruggedness in the design department and/or wing tips or even ear hooks for an extra secure fit.
While such features used to be exclusive to dedicated sports headphones, waterproofness is part and parcel of many earbuds today, and their decreasing size has made the average pair much more secure and running-friendly. That's why we've included a couple of our favourite everyday pairs in this expert-curated list.
Indeed, below are the best running headphones we've reviewed when pounding the pavement and working up a sweat...
How to choose the best running headphones for you
Why you can trust What Hi-Fi? Our expert team reviews products in dedicated test rooms, to help you make the best choice for your budget. Find out more about how we test.
A few things to consider when picking your new running partner. First, do you want wired or wireless headphones? All of our models below are wireless, because of the added convenience and freedom they provide, especially when you want to avoid snagging your arms on an annoying dangling cable.
If you do plump for a wireless model – and we strongly suggest you do – you'll need to consider battery life. We've given three indicators of battery life in our specs: the battery life of the buds themselves, how long the charging case will last before needing juicing up from a wall socket, and the total battery life (which is the other two measurements combined).
If you're running outside and not just on a treadmill, you'll need some kind of waterproofing in case of a downpour. IPX4 is the minimum you'll want (all of the below have at least this rating) as that means they'll withstand water splashing – i.e rain drops. Some models can be fully submerged for swimming or just a post-workout shower, adding a new dimension of protection for those users who prefer a dip in the pool rather than a jog around the park. For a full rundown of the protection you'll get, our IP ratings explainer article is a must-read.
Also consider the charging case. Some models have different waterproof ratings for the case than for the earbuds, something that's worth remembering so it doesn't get ruined or damaged by a poolside or in a soaked pocket.
Noise-cancelling will neutralise background noise and help you focus, and be better for your hearing as you can hear the detail of your music without cranking up the volume. But it could be a hazard if you're out running as it makes you less aware of approaching cars, traffic and other hazards that you may need to hear.
Lastly, weight. Around 5g per earbud is very good indeed, but some can weigh twice that. In some cases, the listing only gave the weight of the buds and case combined. We've made clear in the specs where that's the case.
The standard JBL Reflect Flow were a mainstay on this list for years after they launched in 2019, but the company's newer, pricier, premium-er 'Pro' pair replicate that success admirably.
They add active noise cancellation to the mix, along with ambient and TalkThru modes that make you more aware of your surroundings (handy while you're out running). They're dust-tight and can be fully immersed in water, too, so won't be troubled by even the heaviest of downpours.
They sound pretty great, with plenty of bounce to power you through that fifth mile. They aren't quite as sonically refined or detailed as the very best wireless earbuds you can buy, but for sports-focused buds with a rugged build and various wingtip options, they tick all the boxes.
Read the full JBL Reflect Flow Pro review
If you're looking for a pair of mid-range running headphones that provide stunning sound (for the price) alongside some of the best in-ear comfort anywhere in the Sony range, you need to find yourself a pair of the superb WF-C700N. Small, lightweight and never a chore to wear, we can't think of a set of buds that offer as much comfort, security and reliability at this price point.
The C700N are impressively dinky and unobtrusive thanks partly to their smaller driver, while their light weight helps make them even more comfortable than Sony's WF-1000XM4 or XM5 models. They even feel more expensive than they are, thanks to little additions like magnets on the charging case that snap the buds into place.
Oh, and if you think that the C700N are going to be something of a sonic letdown after all that talk of comfort and fit, think again. Sony's mid-range buds are a masterclass in getting the most out of a pair of relatively inexpensive in-ears, offering up a meaty, detailed and surprisingly musical sound that will really make your workout tunes pop. Sound quality is excellent across the frequency range, too, from rumbling bass notes to those all-important high points.
As a pair of reliable, comfy, well-made and super-sounding running headphones that won't break the bank, we'd struggle to recommend many better.
Don't need noise-cancelling or simply want to save a few bucks? The more affordable siblings, the five-star Sony WF-C500, are your best bet.
Read the full Sony WF-C700N review
The little-known Hong Kong audio company Earfun doesn't have many products to its name, but it has managed to do something that many bigger brands haven't, and that's come up with a super-affordable set of running headphones that are actually worth buying.
Not only do the Earfun Air give a very worthy listen, but they're feature-packed too. While you won't get active noise cancelling at this price, the noise isolation of these comfortable, well-fitting earphones does an excellent portion of that same job. They're waterproof to IPX7 standards (1m submersible for up to 30 mins), they have voice assistance built-in and they support Qi wireless charging.
Call handling is responsive and clear, and the battery life is a pretty stonking 35 hours when using the charging case. Amazingly, it all feels fairly premium too. The Bluetooth 5.0 connection never lets us down and, while the audio is no match for headphones at double the price, they still offer a grippy, energetic listening and an excellent sense of space.
What's more, (and this isn't a backhanded compliment), the Earfun Air don't even sound too bad, either. If anything, we were seriously impressed with how much musicality and depth Earfun managed to squeeze out of what is essentially a budget pair of buds that could've ended up feeling like cheap knockoffs but which instead boast decent levels of fun, detail and genuine organisational cohesion.
If you're after something inexpensive that'll sound good on your run, the Earfun Air buds could just be the ideal proposition. A great budget pick.
Read the full Earfun Air review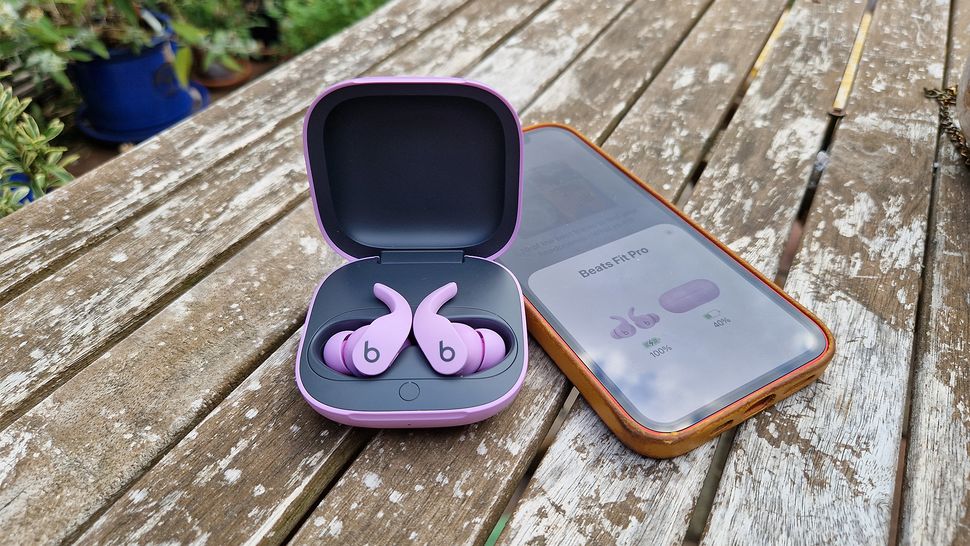 Stylish, workout-friendly, active noise-cancelling earbuds aren't all that common, which makes this Beats pair all the more noteworthy. We love the innovative new wingtip design which provides a more secure fit when you're throwing yourself around, while the Beats app for Android allows non-Apple users to reap the benefits and features of Apple's own brand products, which are usually closed off to anyone not in the iOS ecosystem. They even have Spatial Audio, and for a price that's quite reasonable.
They're lightweight and comfortable to wear, with the aforementioned wingtips keeping them in place. You can get them wet – but not submerged – thanks to the IPX4 rating, while the 27-hour battery life is impressive for a pair with active noise cancellation.
Sonically, they've lively and enjoyable, which is exactly what you want from a pair of sports headphones, and there's enough detail in the mix whether you're listening to Wet Leg or Nick Cave. A really solid choice and a great buy for Beats fans.
Read the full Beats Fit Pro review
Many of the models on this list of running headphones double up as both sports and general use in-ears, showcasing sufficiently competent sound quality in tandem with fantastic comfort and fit to earn their respective places on both sides of that particular fence.
The Jabra Active 4, however, are conceived specifically as a pair of sporting in-ears, and while they don't offer the handy fit features that make a pair of running headphones truly conducive to running (there are no in-ear wings or over-ear hooks to be found here), Jabra's well-designed Active 4 are secure enough on their own without the pressing need for external structural aids.
They're also tough as old boots. The newer, more expensive Jabra Active 8 (priced at £200 / $199 / AU$329) were touted as the hardiest sports earbuds on the planet, but these more wallet-friendly buds are hardly what you'd call flimsy. With an IP57 rating and a tough, no-nonsense design, you won't find many sturdier pairs at this price.
Sound quality isn't bad, either. The Active 4 are lively, entertaining listens, scaling the sonic heights with conviction (occasionally to their detriment) and then plumbing the lowest recesses of a recording's bassier tones with aplomb. If you like vibrancy and sonic joie de vivre in a hardy wrapper, the Active 4 will be right up your street.
Read the full Jabra Active 4 review
How we test running headphones
Here at What Hi-Fi? we review hundreds of products every year – and that includes plenty of headphones. So how do we come to our review verdicts? And why can you trust them?
We have state-of-the-art testing facilities in London, Reading and Bath, where our team of expert reviewers do all our testing. This gives us complete control over the testing process, ensuring consistency across the board.
All products are tested in comparison with rival products in the same price category, and all review verdicts are agreed upon by the team as a whole rather than an individual reviewer, again helping to ensure consistency and avoid any personal preference.
We take headphones out in the field, so they're tested in real-world situations. And when it comes to running headphones, we lace up our sneakers and give them a thorough workout to test all their features.,
The What Hi-Fi? team has more than 100 years experience of reviewing, testing and writing about consumer electronics.
From all of our reviews, we choose the best products to feature in our Best Buys. That's why if you take the plunge and buy one of the products recommended above, or on any other Best Buy page, you can be assured you're getting a What Hi-Fi? approved product.
MORE:
7 crucial things to consider before buying running headphones
19 of the best songs for running and workouts
IP ratings explained: how waterproof are your headphones?