Running: possibly the simplest and cheapest form of exercise known to man. All you need is a half-decent pair of running shoes, a route and some staunch willpower, and you're off.
If you want to add music and excellent audio to your workout regime, either for distraction or motivation, you really need to invest in a strong pair of running headphones. There are plenty of pairs on the market, so knowing where to start can be a bit daunting, especially as there are technical aspects to consider from an audio perspective as well as a purely sporting one.
Don't worry, though – we are here to help. We will run (ahem) you through what you need to consider, from style and fit to waterproofness, so you can be sure they will suit you and your sporting needs before you hand over any money. You will then be in a much better position to head over to our buying guide dedicated to the best running headphones and pick out your perfect pair.
Think about sport headphones style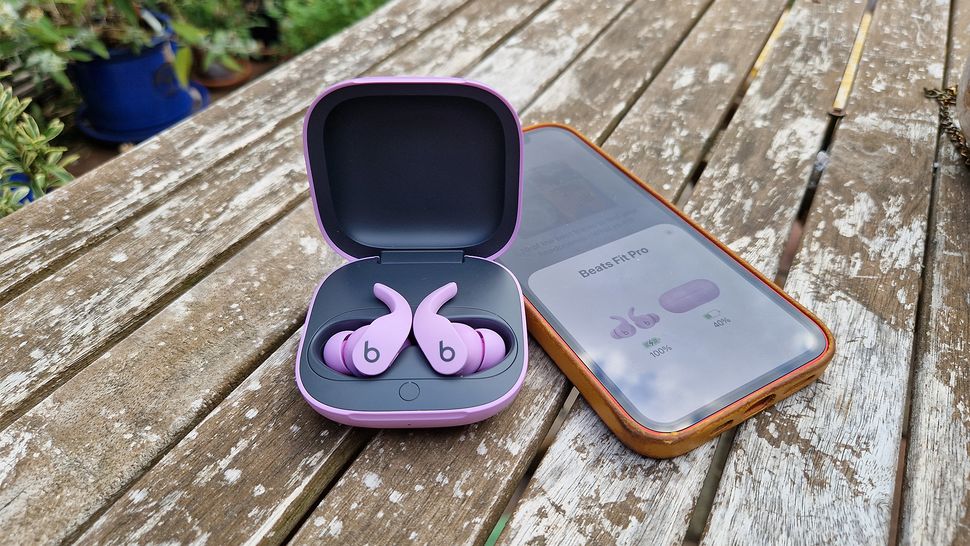 First things first: what style of headphones do you want? Sports headphones come in all shapes and sizes; you could go the wired route and pick an in-ear, on-ear or over-ear model, or for extra convenience, you could opt for a wireless pair and remove the risk of getting tangled up with wires when performing a complex yoga pose.
Wired headphones, as the name suggests, have a cable connecting the headphones to the device playing the music (i.e. your phone or music player). These have become less popular in recent years as wireless headphones offer convenience and good sound quality at affordable prices. After all, who wants to run or lift weights with dangling cables in the way?
There are two types of wireless in-ear headphones. The traditional kind has a cable running along the back of your neck that connects the two earbuds. This style can divide opinion somewhat: some people don't like the feeling of a cable bouncing up and down on their neck as they run.
True wireless is the headphone style du jour, though. These in-ear headphones remove the cables completely, leaving just two earbuds to pop in your ears. Even if you're not up on current models, you will have certainly seen the Apple AirPods Pro 2 while out and about – even if they are not specifically built for exercise at all. We would recommend the JBL Reflect Flow Pro, Sony WF-C500 or Jaybird Vista 2 instead as they have active-conscious fits, high waterproof ratings and decent sound; but, if you're willing to splash the cash, the Award-winning Bose QuietComfort Earbuds II or the (also) Award-winning Sony WF-1000XM4 can't be beaten for performance, even if they aren't sport-specific designs exactly.
As for on/over-ear headphones, they are naturally good at physically blocking sound out but are bulkier than earbuds, not to mention looser and less secure to wear, thus making them less than ideal for rigorous exercise that involves a lot of movement. We would stick to using ons/overs for weight lifting in the gym, as running with over-ears tends to be a cumbersome affair.
How much water resistance do you need?
If you're doing it right, exercising makes you sweaty. While you can toss your gym clothes in the wash, you can't do the same with your headphones, so you will need a pair that have a sufficiently robust IP rating to ensure that a single bead of sweat doesn't cause irreparable damage to your fancy new buds.
For most, simple sweat resistance will do, usually indicated by an IP rating of around IPX4 as a minimum. If you want to work out in the rain without worrying about your headphones packing up, you should look for splash resistance, also an IPX4, but a more substantial rating such as IPX5 (see the EarFun Air Pro, for example) will fend off more powerful jets for heavier rain or when you want to rinse your headphones under the tap.
Our IP ratings explainer will give you the full rundown of what these values all mean, but as a quick overview, the first digit of the rating indicates protection from solid particles such as sand and dust; the second indicates protection from liquid ingress. An IP67 rating, for instance, guards against the ingress of foreign bodies of almost any size (denoted by the '6') while also allowing full submersion for 30 minutes in water up to 3ft (1m) deep (denoted by the '7').
Consider battery life
Long battery life is incredibly handy on a pair of running headphones. When fully juiced, they will all last you a decent session on the track (unless you're doing an Ironman, that is), but some go longer between charges than others. It's a useful feature: you don't want to spend half your time re-juicing your earbuds or suddenly finding they are out of power just before your first half marathon.
Whether you opt for wireless earbuds (with a cable between the earpieces) or true wireless earbuds (entirely wire-free), battery life from the earbuds themselves is usually between six to eight hours on a single charge. Just remember that true wireless buds always comes with a charging case that may be more convenient than wiring in a charger if you prefer to keep your headphones in a gym bag all week.
For class leaders in this area, you are looking at the JBL Reflect Flow Pro (25 hours total), the Bose QuietComfort Earbuds II (24 hours total) or the Jaybird Vista 2 (24 hours total).
Remember, sound still matters
Just because they are dedicated running headphones doesn't mean that sound suddenly has to take a back seat. On the contrary, the clearer, more precise and dynamic the audio presentation is, the more you are going to benefit from having music firing into your brain as you run in the first place. Music is supposed to inspire your athletic endeavours, or at the very least distract you from the misery, and inferior quality audio isn't going to do that anywhere near as effectively.
Without sounding like a broken record, there are some clear leaders in this field when it comes to sound quality: the Bose QuietComfort Earbuds II and the Sony WF-1000XM4. They are at the higher end of the market in terms of cost, though, and their absence of ear hooks or straps might not keep them in place while jogging, so bear that in mind before you leap onto Amazon and spend big money on a pair of buds that might fall out every time you do a pull-up.
Check which ear tip type(s) you want
With sport headphones, a secure fit is obviously essential. After all, they need to stay put while you're notching up the miles, and the last thing you want to do is stop and scrabble around in the mud for a fallen earbud.
Most running earbuds come with different sizes of ear tips. You can mix and match these (wearing a different size in each ear) depending on your ear size. Most standard earbuds come with three sizes (small, medium and large), but sporty pairs, such as the Bose SoundSport Free and JBL Reflect Flow Pro, often also come with wing tips designed to nestle into your ear cartilage to better hold them in place. These usually just need a little wiggle to get them fitting snugly, but the added support will almost certainly come in handy if you are doing some particularly intense sprints.
Want touch or physical controls?
Touch controls are becoming increasingly prevalent, but they can be a bit of a mixed blessing when it comes to running headphones. While undoubtedly useful, they differ quite significantly in terms of responsiveness and sensitivity, and while many can also be customised for different combinations of tapping and holding, some implement this more effectively than others.
They can also be a pain for mop-topped marathoners who find that the slightest brush from one of their locks ends up accidentally skipping a track, leaving them scrabbling to return to their Avicii dance mix when a particularly depressing Portishead number pops up to dampen the mood. Most designs use physical buttons or one large on-ear touchpad, whereas Cleer Audio's Arc II Sport can supposedly be controlled by moving your head.
Some running headphones support the voice assistants that live on your voice (Siri, Google Assistant, Alexa, Bixby) so you can control them just by speaking. This will save you from fiddling about with controls when working up a sweat, provided you're not so out of breath that you can't speak.
Do you want ANC and 'ambient aware'?
Active noise-cancelling (ANC) headphones are great for focus, letting you hear your music in more detail without having to crank up the volume to potentially eardrum-shattering levels to block out exterior noise.
What we are also seeing with ANC headphones is support for an opposite feature which makes you more aware of your surroundings rather than blotting out the outside world. This can come in the form of an 'ambient aware' or 'transparency mode', which when activated works to let in outside sound for a temporary period.
This is handy if you are cycling on roads or exercising out and about, when it might be useful (and much safer) to be able to hear traffic and some surrounding noise. If you run in your garden or a closed environment, this isn't such an issue to consider, but for those of us who run near busy roads, cycle paths or other traffic-heavy areas, it's a really important safety feature.
MORE:
Check out the best running headphones
Need some inspiration? Our 19 best songs for running playlist might help
These are the best in-ear headphones for runners and non-runners alike