The Sonos wireless multi-room system helped revolutionise the way many of us listen to music at home. It made a whole home music system a convenient and affordable reality, delivering music to every room in your house – whether playing in unison, or separately in different zones.
Sonos may not have been the very first option – and it's certainly no longer the only one – but it was the class leader for a long time thanks to its winning combination of usability, functionality and sound quality. Sonos kickstarted the idea that your music system was no longer restricted to one room or by pesky cables.
You can now stream your music from a range of devices – phone, laptop, NAS drive – to multiple speakers around the home using your home wireless network. There are plenty of manufacturers offering this multi-room experience, such as the cheap-and-cheerful Audio Pro, Apple's Siri-powered HomePod speakers, and hi-res-supporting Bluesound, but Sonos continues to be one of the leading (and certainly most popular) players with its long-established and well-developed multi-room family of products, from wireless speakers to soundbars, amplifiers to portable Bluetooth speakers (and possibly soon, wireless headphones).
Here, we'll guide you through everything you need to know about Sonos and help you set up your own Sonos multi-room system...
What is Sonos? How does Sonos work?
Sonos was founded in 2002 with one simple aim: to transform your home sound system for the digital age. Its products and software are designed to fill every room of your home with music, and the flexibility and functionality of its products has made the company a household name. No wonder the likes of Amazon, Audio Pro, Bose, Denon, Google and LG have since got in on the act.
The Sonos wireless sound system originally worked by connecting one single speaker to your home network, then adding more Sonos units (up to a maximum of 32) into the mix, using a dedicated secure wireless mesh network known as Sonosnet. Now, should you prefer, you can simply connect any number of Sonos products to your home wireless system – there's no longer a need for one device to be connected to your router.
But that Sonosnet network was certainly integral to the way Sonos's multi-room speakers operated initially, sitting one step removed from your home network. That meant a stronger, more robust signal, that wasn't prone to dropouts when streaming music. The choice is now yours.
Sonos launched the amplified ZonePlayer ZP100 and CR100 controller back in 2004 and it hasn't looked back since, continuing to innovate with new products and wireless speakers to expand and enhance the listening experience at home, adding streaming services and voice control to its ever-growing roster of offerings. With the arrival of the new Sonos S2 platform in 2020, some serious upgrades have made the whole experience even better, too.
Sonos set-up: how to get started
A major part of Sonos's appeal and meteoric rise in popularity lies in its hugely simple set-up process.
The Sonos app (available on Android and iOS) will walk you through the set-up, but it requires little more than pressing the speaker's sync button (to link them to your network and other Sonos speakers), finding the connected speaker on the app and entering details such as your wi-fi password. It's really that simple. And the slick, easy-to-use Sonos app makes everyday use even easier.
In the app, you can assign each speaker to a room of your house, programme it so the volume can be controlled via your TV's standard remote, and add your favourite streaming services.
Adding other speakers is a breeze: just tap in the app to add a new speaker, press the sync button on the back and it's all done. A new feature called 'Room Groups', introduced in the Sonos S2 update, allows users to create lasting groups of particular zones that you often use in unison – the lounge and kitchen, perhaps – so that you don't have to manually group the rooms together every time.
Ultimately, Sonos is still the smoothest multi-room set-up going.
The current roster of Sonos products kicks off with the new Era range of smart wireless speakers: Era 300 (which is the brand's first dedicated spatial audio speaker) and Era 100 (which replaces the Sonos One). There's a big difference in price: the Era 300 is a premium option at £449 / $449 / €499 / AU$749 (and more expensive than Apple's HomePod 2 smart speaker), while the Era 100 will cost £249 / $249 / €279 / AU$399 when officially on sale on 28th March.
The outgoing Sonos One and Sonos One SL wireless speakers (both will be phased out eventually as Era 100 comes to market), in turn had replaced the now-discontinued Play:1. The only difference between the latter two is that the One SL doesn't have voice control, so is slightly cheaper. There's also the premium Sonos Five smart speaker, which replaces the Play:5, and the company's first fully portable wireless speaker with Bluetooth, the 2019 Sonos Move. This was recently succeeded by the new Sonos Move 2.
In early 2021, Sonos launched a smaller, cheaper portable Bluetooth speaker – the Tolberone-shaped Sonos Roam. Not only is it significantly lighter than the portly Sonos Move (0.5kg vs 3kg), it's smarter and offers 10 hours of playback on a single charge.
It has since been joined by the Sonos Roam SL, a cheaper take on the standard Roam without the voice smarts.
Both the Playbar and Playbase have been replaced by the Award-winning Sonos Arc soundbar, which can be partnered with the Gen 3 Sonos Sub. The Sonos Beam Gen 2 is the company's smaller, feature-packed soundbar which bests the original Beam with more refined sound and Dolby Atmos smarts.
But the Arc and the Beam Gen 2 are undercut by the Sonos Ray, the firm's cheapest ever soundbar. It costs just £279 / $279 / AU$399, which is considerably cheaper than the Arc's £799 / $799 / AU$1399 price tag, or the Beam Gen 2's asking price of £449 / $449 / AU$649.
If you want to add some bass on a budget, there's the Sonos Sub Mini. Smaller than the full-sized Sonos Sub, it offers snappy delivery and a discreet build at a price that's... well, not actually all that cheap, it turns out. Guess this is Sonos' take on "budget" device. But for smaller spaces, it could well fit the bill.
Want something a little different (and cheaper)? Try the Sonos IKEA speakers-with-a-twist, the newer, updated version of the Symfonisk lamp (complete with a redesigned base and two different shade options or the Symfonisk bookshelf. Oh, and there's also the Symfonisk Picture Frame speaker which you can hang on your wall for an extra dash of minimalism.
You don't have to part with your beloved hi-fi system for Sonos to work, either. If you have a traditional stereo-amp-and-speakers set-up, add a Sonos Connect to turn it into a streaming system. Similarly, the Connect:Amp combines streamer and amplifier – so you can simply add it to your existing pair of stereo speakers. While these are still available, the latest versions are the Sonos Port and Sonos Amp.
There are also ancillary products such as the Sonos Boost. Connecting this box directly to your router expands and strengthens the wi-fi for Sonos products. It broadcasts 360-degree signals through walls and ceilings – ideal if you're setting up a multi-room system in challenging wireless environments. Oh and there are in-wall and in-ceiling speakers, too.
Sonos has even expanded into the in-car audio space. Its first system, the Sonos Premium Sound System, is found in the Audio Q4 e-tron, and, as our review found, it makes for a very good time indeed.
But if the rumours are right, that's not all Sonos has been working on...
Sonos wireless headphones rumours
The bigs news is that Sonos is making its first ever pair of wireless headphones. Probably. Because while the firm hasn't actually confirmed it, it's been rumoured for years that Sonos has a pair of wireless headphones in the pipeline.
These rumours aren't baseless either. They're grounded in patent filings, Sonos acquiring a firm specialising in Bluetooth audio and a recent callout for ad firms to help with a major new launch "in an established category", among others.
The headphones are thought to have an over-ear design with oval ear cups. Though another patent showed a wireless earbud design, so Sonos could be readying more than one pair.
In terms of features, the headphones are thought to feature Swap, which debuted on the Sonos Roam. Swap lets you transition what you're listening to from your headphones to your home Sonos system, and vice-versa. Ideal for coming home, or when you're about to leave the house and don't want to miss a beat.
Another patent lists both wi-fi and Bluetooth in the Sonos headphones skillset. The addition of wi-fi would let you stream direct from the internet, without using a middle man device like a Bluetooth-enabled smartphone or tablet. And it would pave the way for truly lossless streams at 24-bit/192kHz.
Next-gen Bluetooth could also be on the cards. Sonos recently acquired a start-up that was working on implementing Bluetooth LC3, which is designed to transmit higher-quality audio at lower data rates than currently possible. This would boost the battery life of the devices involved.
LC3 can also send out multiple audio streams simultaneously for better stereo pairing and more seamless voice assistant integration. And it can stream to multiple devices at once – so more than one pair of headphones could listen to the same audio simultaneously – much like a multi-room system working over wi-fi.
Quite the feature set, we think you'll agree.
Obviously none of this is confirmed yet, and some of the technology is still pretty nascent, so could still be a long way off. But that won't stop us getting excited.
For more, check out our dedicated Sonos wireless headphones page, which we'll keep updated with the latest rumours and news.
Sonos apps and services
The Sonos app is a large part of the system's charm. As well as walking you through the set-up, it's where you can control all aspects of your Sonos products and access your entire music library.
Sonos's mission statement is to offer 'all the music on Earth', so as well as allowing you to play music from digital libraries (such as from a NAS device or a laptop), the app also offers the widest choice of streaming service compatibility. Sonos's aim is to be platform agnostic, and it's the most comprehensive list we've seen in any multi-room product.
Apple Music, Amazon Music, Google Play Music, Spotify, Pandora, Soundcloud, Deezer, Qobuz, Tidal, TuneIn... the list of supported apps goes on. It's worth noting you will need premium subscriptions for some of these, though.
Deezer, Qobuz, Tidal and Amazon Music HD bring CD-quality, lossless streaming to Sonos. While the other music services offer files up to 320kbps, these four services offer unlimited streaming access to CD-quality FLAC files at 16bit/44.1kHz for a monthly subscription charge. The Sonos Arc and Bem Gen 2 soundbars support Dolby Atmos audio courtesy of the new Sonos S2 platform. The new Era 300 speaker will also support spatial audio with Dolby Atmos tracks from Amazon Music Unlimited and Apple Music at launch (but not Tidal, yet). Apple Music's spatial audio tracks are also coming to the Arc and Beam Gen 2. These three Sonos devices will be the first products outside of Apple's ecosystem to support spatial audio tracks on Apple Music.
One of Sonos's best features is that you can build playlists directly within the Sonos app, and from multiple sources as well. So if you want to add tracks from both Spotify and Tidal onto a playlist of tracks from your NAS library, you can.
Sonos now offers Bluetooth on the Era 300 and Era 100 smart speakers, along with the Sonos Move 2, Move and Roam portable speakers. And AirPlay 2 features on the most recent Sonos smart speakers.
Finally, there's voice control. Continuing its agnostic approach, Sonos offers all three main voice assistants – Amazon's Alexa, Apple's Siri and Google Assistant – in most of its smart products (there are exceptions; the new Era and Move 2 speakers don't support Google Assistant, for instance). Sonos also launched its own voice assistant on all its voice-enabled speakers – this arrived in the US at the start of June 2022, with other countries following later – and is available on the new Era range of speakers.
Sonos Trueplay
Where you place your Sonos speaker in the room will affect its sound. The Sonos Trueplay feature within the Sonos control app (available on iOS only at first) aims to counter this, using the microphone on an iPhone or iPad to measure the response of the speaker in your room and tweak its sound to suit.
This set-up process runs through a series of test tones and sweeps, which will be familiar to anyone who has set up an AV receiver. The process tunes your speaker to the room, adjusting the bass and the treble to get it sounding the best it can.
Trueplay's calibration is particularly useful if your Sonos speaker is placed in a less-than-ideal location, such as tucked into a corner. Of course, if you don't like the changes, you can always set it back to default.
For the portable speakers, Sonos has an 'automatic' version that uses the mics inside the Move 2, Move and Roam speakers to complete the tuning. If you keep this option (and the speaker's internal mic) on at all times, the auto tuning will happen every time you move the portable speaker.
As of 2023 with the launch of the new Era speaker range, Trueplay finally works for Android users too in the form of "Quick tuning". This works differently from the "Advanced tuning" on iOS devices, where the mic inside the Era speakers is used to calibrate the sound – a welcome step for Android users.
What is 'Works with Sonos'?
Another badge to look out for if you're buying into the Sonos ecosystem is 'Works with Sonos'. The Works with Sonos badge certifies products that connect with the Sonos family seamlessly, so you know which smart products you can count on to connect to your system without fuss. That's the theory, at least.
Victrola, Lutron, Onkyo, IKEA and iPort are just some of the brands using the branding and certification. You can see a fuller list on the Works with Sonos page.
Sonos missing features and things to consider
Of course, while Sonos bills itself as a "wireless hi-fi system", there's no denying a little more cash spent on a dedicated separates system will deliver better sound.
There are myriad streaming options should you value sound quality over the flexibility Sonos offers. You can stream music from your NAS device and other digital libraries using the Cambridge Audio MXN10, for instance, to get fantastic audio performance. And the more streamers (and speakers) you buy, the more rooms of music you can have.
You may also then get wider high-resolution audio support (an area where Bluesound and Denon have been quick to capitalise). Sure, the Sonos S2 app lets users play 24-bit files from a local drive, but at the time of writing users can only stream 24-bit/48kHz hi-res tracks from Qobuz and Amazon Music Unlimited. Though Sonos has hinted that wider support from more hi-res streaming services is on the way...
Sonos Recycle Mode and software updates
Another issue to consider is future compatibility. In the past, Sonos has got into hot water over its Recycle Mode, which was accused of 'bricking' perfectly good speakers which had become too old to receive the latest firmware updates.
The firm since rowed back from that and ended Recycle Mode, encouraging customers to perform a simple factory reset on their older gear before trading it in, choosing to give it to someone, recycling it at a nearby facility or sending it to Sonos and letting the firm handle it.
The good news is that the Sonos Trade Up programme still exists, and customers who own eligible older 'legacy' products can get the same discount, but they are no longer required to needlessly render usable speakers inoperable.
The following older products are not compatible with the S2 software platform and will not receive future firmware updates:
All Zone Players (ZP80, ZP90, ZP100, ZP120)
Connect
Connect:Amp (sold between 2006 and 2015)
Play:5 (Gen 1)
CR200
Bridge
Realistically, this is an issue affecting all smart products, from speakers to TVs. If anything, the fact Sonos has supported older products for far longer than many other companies, and many people still love their older Sonos devices, has inadvertently served to make Sonos' future support issue a much bigger deal than it is for other companies.
As we said in our opinion piece, the Sonos backlash simply reveals the cold hard truth of smart tech – it has a shelf life, especially if you want the latest features and updates.
Which Sonos speaker is best for you?
As an entire ecosystem, Sonos is hard to fault – if you don't mind sacrificing hi-res audio across the board, of course. Sensibly priced, beginner-friendly and with an appealing expand-as-you-go ethos, it's a multi-room solution to be reckoned with.
Now that you're armed with all the information, fancy creating your own wireless home sound system?
If you're set on investing in a Sonos speaker or soundbar, congratulations, we'd say you've made a great choice. The next step is to choose what Sonos products your system consists of. So, which Sonos speaker is best for you? We've tested every Sonos speaker and soundbar to help you make your choice.
Best Sonos alternatives
"So if I want a wireless multi-room speaker system in my home, I must turn to Sonos?" Not so fast. There are other options to consider, some of which offer a different flavour of sound or a different set of features to challenge Sonos's dominance.
Apple HomePod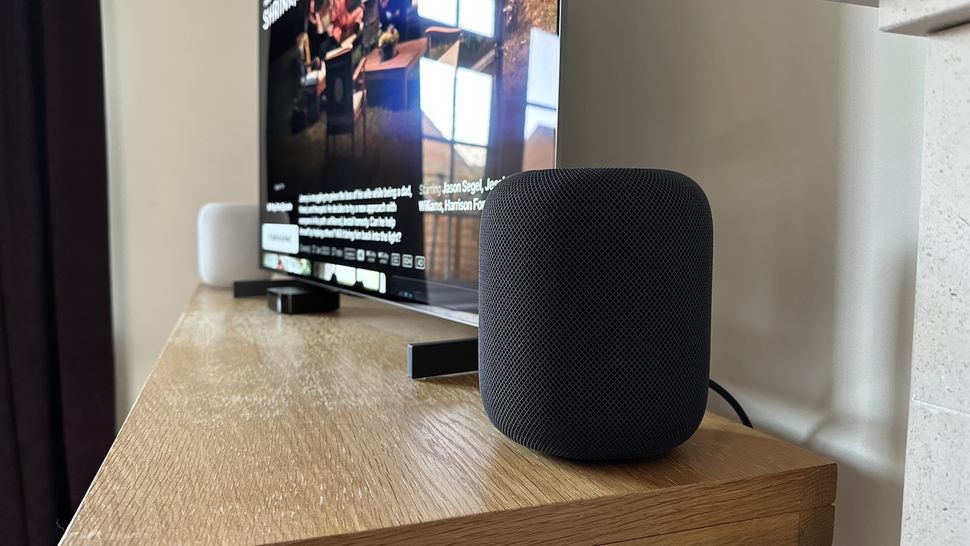 The Apple HomePod is a direct rival to Sonos and one of the best multi-room packages we've tested. The latest HomePod 2 is a direct rival to Sonos's new Era 300 speaker, offering spatial audio, AirPlay 2 and a wealth of great smart home features powered by Siri, especially if you're entrenched in the iOS ecosystem.
We gave the HomePod 2 a perfect 5/5 after reviewing it, with our team of reviewers particularly praising its natural, solid and energetic sound and spacious, three-dimensional performance when playing Atmos content. Using the Home app, you can also control different speakers in different rooms across your home.
For buyers on a stricter budget or with less space, it also sells the Apple HomePod Mini. The tiny speaker looks great and during our tests, it offered the best sonic performance we've seen on a unit its size and price, making it a great alternative to the soon-to-be-retired Sonos One or Sonos Era 100.
Audio Pro
The first of these is one of the newer entrants into the multi-room market: Audio Pro. We're big fans of the Swedish company's individual wireless speakers (which have picked up plenty of What Hi-Fi? Awards), so we aren't too surprised a multi-room system made from these superb speakers (Audio Pro Addon C5, Addon C3 and Addon C10 MkII) sounds great. What surprises us more is how its musicality is unrivalled by anything at a similar price – or even quite a lot more.
Such is the appeal of Audio Pro's expressive, nuanced and precise performance, we prefer it – in pure sound quality terms – over Sonos and Bluesound systems. Audio Pro's simple app can be a little buggy (and isn't anywhere near as fully-featured as Sonos's) but, for sound quality at an affordable price, this multi-room system is currently unbeatable.
Read the full Audio Pro multi-room system review
Bluesound
The first genuine threat to Sonos was Bluesound, whose key hook of support for high-resolution audio made it our preferred multi-room system for years (as multiple Awards trophies will attest). Its wide range of products (which includes wireless speakers, a streamer, amplifier and soundbar) and subtly detailed and punchy sound made this pricey system worth investing in. But that was before Audio Pro came into the picture with its better value wireless speakers.
Bluesound remains a solid-sounding system despite losing its fifth star, though, with an improved BluOS app that now supports Alexa voice control and makes daily use a breeze (even if it still can't match Sonos's intuitiveness). If you have deep pockets and a library full of hi-res music, it's worth a punt.
Read the full Bluesound Generation 2i review
Amazon Echo
Here's a question: if the Sonos One and Sonos Beam incorporate Alexa and Google Assistant voice control, is there really any reason to buy the Amazon Echo or Google Nest speakers?
There is: both Amazon and Google's ranges of voice-assisted speaker products offer a wealth of smart home features that aren't available when they're incorporated in third-party speakers like Sonos. And while previously we'd say these smart speakers are more suited to those who prioritise the fun smart perks over outright sound quality, that tide is now turning.
Amazon's latest generation of Echo speakers – particularly the Echo Studio and Amazon Echo (5th Gen) – are all good speakers in their own right. The entire Echo family (including older generations) are also all multi-room speakers, with Spotify, Amazon Music, Apple Music and TuneIn radio supported for multi-room streaming.
Google Home
Google's Nest Audio and Nest Mini (rebranded successors to the Google Home and Home Mini) similarly connect to any number of its voice-controlled wireless speakers for a multi-room set-up, and its compatibility with Chromecast streaming (and therefore other products with Chromecast built-in, such as smart TVs) should set it apart from Amazon's offerings, too.
We're not wild about any of these products' audio performances, however: they're acceptable for background listening, rather than being your main music system.
But most pertinently, they both offer cheaper alternatives to Sonos. You can get an Amazon Echo or Google Nest Audio for under £100/$100, making them solid alternatives if you're on a budget.
MORE:
Sonos Era 300 vs Apple HomePod 2: which smart speaker is better?
Sonos Era 100 vs Sonos One: which Sonos smart speaker should you buy?
Ready to buy? Find out which is the right Sonos speaker for you?
Sonos Era 300 vs Sonos Five: which high-end Sonos speaker is for you?
Read our Sonos multi-room system review
Consult the full list of best multi-room systems
Head to head to head to head: Sonos Arc vs Beam vs Playbar vs Playbase: which is best?