Are you looking for a no-compromises tablet? If so, you're in luck, because Apple's excellent iPad Air (2022) is now on sale for $500 at Amazon courtesy of this Prime Day deal, down from its $600 MSRP.
When we reviewed the iPad Air (2022), we gave it five-stars and complimented its gorgeous design, supremely powerful hardware, and high-end image and audio quality. If you need a great tablet, make sure to check out this iPad.
iPad Air (2022) Amazon Prime Day deal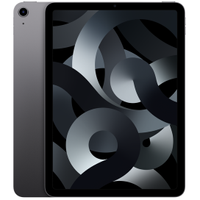 iPad Air (2022) was $600, now $500 (save $100)
This powerful Apple tablet comes with a sleek design, enough power for just about anybody, and Apple's trademark excellent image and audio quality. At $100 off, this tablet is a great deal, too.
Apple has been making iPads for a long time, and for a long time, iPads have been some of the best tablets around. This isn't any different when it comes to the iPad Air (2022). From its design to its hardware to its image and audio quality, this is an excellent tablet from top to bottom.
With the 2022 iPad Air, you're getting a 10.9-inch display with a 2360 x 1640 resolution, 64GBs of internal storage, 10 hours of battery life, a 12MP rear camera, a 12MP front camera, and of course, Apple's intuitive iPadOS where you can find all your favorite apps, services, and games ready for a download.
When it comes to AV performance, this iPad Air offers up incredibly authentic and natural picture quality, as well as strong HDR performance, and punchy, detailed audio, too. Put simply, other tablets in this price range likely won't be beating the iPad Air (2022) anytime soon.
If you need a tablet but want enough power to play games and a display perfect for watching movies, this iPad Air can get that job done. With this Prime Day deal, you'll also get to save $100 while supplies last, so make sure to take a look.
MORE:
Check out our full review of Apple's iPad Air (2022)
As well as our list of the best iPads around
And all the best iPad deals live now