Sony's X85 series is at the affordable end of the Japanese brand's TV range and it has represented fine value for money over the years when you consider the picture quality, attention to detail and levels of performance you get packed into the brilliant budget line.
The 2023 55-inch KD-55X85L really ramps things up a notch, adding local dimming for more impressive contrast and an improved HDR performance. When we awarded the Sony X85L (KD-55X85L) the full five stars, we were bowled over not only by the model's excellent contrast and backlight control but also by its skilful handling of colours and motion.
The mid-range 55-inch X85L launched at a price of £1399 but was down to £999 when we reviewed it (and gave it five stars) just last month. Now, though, you can pick it up for just £899 at Currys if you use code VISION100OFF at checkout.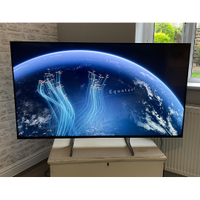 Sony KD-55X85L 55-inch 2023 TV £1399 £899 at Currys (save £500)
We've personally tested the 55-inch version of this particular Sony, so we can attest to just how great it is. The features and sound are both entirely solid, but it's the picture that really bowled us over. As we said in our review, the X85L is hugely appealing to AV fans on a budget who still appreciate the value of refined, nuanced LCD picture quality. Read the full Sony KD-55X85L review.
When we reviewed the 55-inch X85L just last month, we found plenty to like regarding the affordably priced model's professional, natural picture presentation. TVs can often become artificial-looking in the pursuit of brightness or visual pizzazz, but the X85L reins in such impulses to deliver a picture that feels sophisticated, subtle and well-balanced without ever seeming drab or dull. A tricky feat indeed.
Much of that success owes to this particular model's use of local dimming to push things to a new level, bolstering the screen's contrast performance when showing darker scenes and environments. As we stated at the time, local dimming means that contrasting zones provide 'more impact and a more convincing HDR feel, as the screen is able to deliver a wider range of light between the picture's darkest and brightest areas'.
Elsewhere, the Sony is well-furnished, versatile and reliable in its functionality. You'll be treated to Dolby Vision support (plus HDR10 and HLG) alongside smart features courtesy of the Google TV platform.
Audio-wise, the X85L's sound is delivered by a 2 x 10W audio system with a useful auto-calibration system built in. This is Sony, so rest assured the chaps in the lab know what they're doing when it comes to decent sound.
We're utterly confident in recommending the Sony X85L (KD-55X85L), and while it's built nicely and packs in numerous neat tricks, it's that natural, refined picture quality that really has us purring. If that's your priority and you're operating on a budget of around £1000, this superb Currys deal is the perfect place to start.
MORE:
Best OLED TV 2023: the latest and greatest models, rated and ranked
Read our full Sony A95K (XR-55A95K)