Best Bluetooth speakers Buying Guide: Welcome to What Hi-Fi?'s round-up of the best Bluetooth speakers you can buy in 2019.
Finding the right Bluetooth speaker can be a tricksy task. You've no shortage of options, with every consumer electronics manufacturer from Apple to Ultimate Ears vying for a piece of the action. Fret not, we've rounded-up our pick of the top Bluetooth speakers across all shapes, sizes and prices to give you the best chance of finding a product you'll be over the moon with.
Before opting for the first Bluetooth speaker that takes your fancy, it's worth considering what you actually want from it – you two will be together for some time, after all. Will it mainly be used at home? In that case you'll want something that's mains-powered. Do you want to be able to build a multi-room system around it? A smart Bluetooth speaker with with a built-in virtual assistant might be something to consider. If you want flexibility from your Bluetooth speaker and the ability to withstand the elements, then it sounds like a rugged, portable speaker with a built-in rechargeable battery will be your best bet.
The best Bluetooth speakers don't sacrifice sound quality, either. Some offer impressive, room-filling, 360-degree sound while other models can be connected together and used as a stereo pair in a more traditional configuration. With prices starting at under £100 and going right up to £1000, there's a Bluetooth speaker out there you can start a wonderful and fulfilling relationship with.
Audio Pro currently makes some of the best Bluetooth speakers on the market and the Addon C10 is another impressive Award-winning model. Connectivity is among the most thorough you can expect at the money, with wi-fi, Bluetooth and AirPlay, plus aux and RCA inputs. It supports all the major music streaming services, including Spotify, Tidal and Qobuz. The Addon C10 sounds big and bold, but is equally able to capture the subtler, more nuanced tracks as it is firing out big bassy numbers.
Read the full review: Audio Pro Addon C10
KEF has shrunk its multi-Award-winning LS50 Wireless streaming system down to make a miniature, half-price version, the KEF LSX at £1000/$1100. The LSX shares its successful sibling's blueprint as an all-in-one hi-fi system: a network streamer, Bluetooth receiver and amplification within a pair of compact stereo speakers.
And KEF has managed to squeeze much of its innovative system's performance and feature set into a more modest stature, offering the convenience and versatility of the tried-and-tested package at a much more accessible price that is relatively budget for an all-in hi-fi system.
Indeed, the LSX is a scaled-down, carefully crafted copycat of its sibling, and for that is just as triumphant. Take heed, rival systems, these miniature marvels are going to take some beating.
Read the full review: KEF LSX
Ultimate Ears has really made a splash in the Bluetooth speaker market with a number of colourful, fun-sounding and portable models on its books. The latest is the small but mightily impressive Wonderboom 2.
Battery life is 13 hours and a full charge takes just under three. It's waterproof, sandproof, dustproof and is also designed to float so it should withstand the most lively of pool parties. Playback is controlled over a Bluetooth connection, but it's surprising to see there's no mic for hands-free calling.
Sonically, the Wonderboom 2 is an exciting listen, with impressive bass given its small dimensions. It packs in plenty of detail and there's a fine sense of attack. It's easily one of the best sounding Bluetooth speakers you can buy for the money.
Read the full review: Ultimate Ears Wonderboom 2
The aesthetic may not appeal to everyone and they're far from inexpensive, but if you want a wireless pair of standmounts that nothing comes even close to right now for sound, you've just found them. The Duos are deadly precise speakers with excellent clarity and speed of performance. They make you want to dig out tune after tune just to hear what they can do.
The multi-room feature set, while not perfect (we'd prefer a single app to handle every function), is more than made up for by the superb audio performance.
Read the full review: Bowers & Wilkins Formation Duo
Five years ago, the Mu-so arrived to a profusion of praise. So unique was this one-box offering – wireless network multi-room streaming, physical connectivity, amplification and speakers – we weren't sure what to call it. An all-in-one hi-fi system? A streaming system? A wireless speaker? Since then, similar products have sprung up to challenge it, yet the Mu-so remains one of the best at what it does – especially with this update that (despite looking almost exactly like the original) is apparently 95 per cent new.
The Naim Mu-so 2 brings impressive sonic progression and a plethora of features – necessary to justify the hike in price over its competitors.
Read the full review: Naim Mu-so 2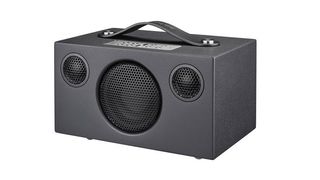 The Audio Pro Addon C3 isn't just the best Bluetooth speaker under £250, it's a stylish, wi-fi connected, multi-room capable centrepiece. The sense of refinement from such a small speaker is stunning. The Audio Pro is focused yet open and airy, meaning you can fill a decent sized room with immersive, weighty sound.
Read the full review: Audio Pro Addon C3
The JBL Xtreme 2's boombox design has fun and excitement written all over it. That rugged, waterproof exterior means it's a great option for the beach, while clever features like the ability to charge your phone from its USB port give added appeal. There's plenty of boom to the sound, but we're not talking ridiculous levels. That deep powerful bass is also nicely controlled too. Mids are of a high quality and highs show more clarity than you traditionally get from such a product. For the money, the JBL Xtreme 2 is brilliantly balanced Bluetooth speaker.
Read the full review: JBL Xtreme 2
The UE Blast offers not only a portable Bluetooth connected speaker for the price but also crams in wi-fi and Alexa smart assistant voice controls too. The 360-degree sound is powerful and has the bass you'd expect from a higher priced speaker. The far-field voice recognition makes the smart assistant and hands-free work well. IP67 water-proofing is a nice bonus for peace of mind too.
Read the full review: UE Blast
Better known for its traditional loudspeakers, Dali's Katch is a weighty, portable and attractive design, with 50W of total power. The speaker boasts buttons for power, volume and pairing which is made easier with the option of NFC. There are also two EQ presets: one for freestanding play and one for positioning on a shelf. Just two hours of charge will get you around 24 hours of music playback via Bluetooth – and a sound that defies its dimensions with immense weight and dynamics.
Read the full review: Dali Katch
The Naim Mu-so Qb is a stylish speaker with a small footprint but a big personality. Smaller sibling to Naim's full-width Mu-so (see below), the Qb boasts a striking minimalist design and the same impressive touchscreen dial that debuted on the original Mu-so. It doubles as a control panel, with illuminated icons for selecting inputs and handling playback.
There's a raft of streaming features, including Apple AirPlay, aptX Bluetooth, Spotify Connect, Tidal and internet radio. You can stream tunes located on a home network, and there's file support all the way up to 24-bit/192kHz hi-res tracks in WAV, FLAC and AIFF. The Qb delivers size and scale that belies its compact dimensions and one of the best performances you'll hear from a Bluetooth speaker.
Read the full review: Naim Mu-so Qb
Audio Pro already features in this list a couple of times, but the A10 offers a brand new, fabric-coated, cylindrical design in a sub-£200 package. It covers a number of bases besides Bluetooth, including wi-fi, Apple AirPlay and Spotify Connect. The speaker design encourages a wide spread of sound so the A10 isn't fussy when it comes to positioning. It's equally happy sat in the corner of a room or out on a kitchen worktop. The sound is balanced, detailed and easily up there with the best Bluetooth speakers we've tested at the money.
Read the full review: Audio Pro A10
The UE Megablast takes the performance of a portable Bluetooth speaker at this price to a new level. The result is a Bluetooth and wi-fi connected speaker with Alexa smarts which offers pounding bass and an enthusiastic sense of rhythm. It isn't quite as pocketable as some rival speakers but they can't match the UE for bass quality.
Read the full review: UE Megablast
The Drumfire is a departure from Audio Pro's compact, and koala-faced wireless speakers. It's actually a multi-room speaker and subwoofer combination in faux-leather and fabric. The bottom part houses a 20cm subwoofer powered by a 200W amp, while the top contains two 11cm woofers and a 25mm tweeter. The Drumfire plays a range of formats and features Bluetooth, wi-fi connectivity and Spotify Connect.
Connecting devices is straightforward, although Audio Pro's app is rather clunky when it comes to navigating streaming services. We've no issue with the sound quality, though. It delivers an expertly balanced sound with the speaker and subwoofer integrating perfectly. There's a dynamism and sense of expression on display that other Bluetooth speakers struggle to convey.
Read the full review: Audio Pro Drumfire
If you want a taste of proper hi-fi from a compact stereo pair of wireless speakers, the Ruarks deliver the best Bluetooth speaker experience of its kind. They produce a a wonderfully musical sound, communicating detail and dynamics on a level that rivals just can't match. There's loads of space between instruments in an airy soundstage which helps breathe life into the most congested of recordings. Voices sound spectacularly rich warm and agile.
The handcrafted wooden cabinets add to their charm, and features such as the optical input for connecting to a TV are handy. A rotary dial allows you to switch inputs without any hassle. Overall, these Ruarks really are superb desktop speakers.
Read the full review: Ruark Audio MR1 Mk2
Compact, portable and easy to use – this is what a Bluetooth speaker under £100 should be. The UE Roll 2 is big enough to improve upon your phone's speaker and will keep going for over five hours. It's also small enough to slip into a bag. Considering its size, you get a full-bodied performance that's clear and offers plenty of detail. But if you're after more bass, you might want to consider a pricier option.
Read the full review: Ultimate Ears Roll 2