Best wireless Bluetooth headphones Buying Guide: Welcome to What Hi-Fi?'s round-up of the best in-ear and on-ear wireless headphones you can buy in 2019.
Wireless headphones aren't what they used to be - they're far superior. Joining the wireless revolution means ever-more advanced Bluetooth codecs and ever-more ways to go wireless.
There are over-ear wireless headphones, often with noise-cancelling thrown in for good measure, with brands including Bose, Sennheiser and Sony leading the way.
But there are also now plenty of in-ear wireless earphones, some with neckband cables joining the buds, but others, known as 'true wireless', where the earbuds are completely wire-free.
Whatever wireless style you require, we've got the best wireless headphones you can buy, with prices starting at under £100...
The WH-1000XM3s are Sony's latest wireless noise-cancelling headphones and one of the most comfortable pairs of on-ears we've tested with thick, cushioned earpads that completely envelop your ears. Features include Sony's Atmospheric Pressure Optimiser which optimises the noise-cancelling for when you're flying, touchpad controls and an accompanying Headphones Control app. Thanks to a quick charging battery (done via USB-C), the XM3s go from empty to full in three hours while a ten minute charge gives you a whopping five hours of use.
They produce an open, spacious sound that gives every instrument, effect and vocal room to breathe. Vocals sound focused and direct, but the instruments around them are delivered in a way that makes it feel as if you're in the room with the band. Combine that spaciousness with greater detail, dynamic subtlety and loads of lovely deep bass and you've got a breathtaking noise-cancelling package. If you can stretch to these excellent Bluetooth cans you won't be disappointed.
Read the full review: Sony WH-1000XM3
There are wireless in-ear headphones and then there are truly wireless in-ear headphones. If you want to cut the cord completely, then the Sony WF-1000X earbuds are our current favourites. They're a lightweight design and compact with it.
It's quite the achievement, given the Sonys squeeze in batteries, playback controls, a Bluetooth receiver and active noise-cancelling. Battery life is three hours, although the supplied carry case doubles as a charger, giving you an extra six hours.
Their tonal balance is beautifully judged and timing is superb, with a good sense of rhythm and dynamics. Given the WF-1000Xs started out with a £200 price tag, the fact they're now available for under £150 makes them a bit of a bargain.
Read the full review: Sony WF-1000X
If you want a wireless in-ear bargain, look no further than the Beyerdynamic Byron BTs. Instead of cheap plastic, the earpieces are actually aluminium and the BTs feel like they could take some rough treatment.
There are also magnets on the back of each, making them stick together around your neck when not in use. If you want a more secure fit, perhaps for running, you can attach a little in-ear hook as well as a pair of silicone tips.
The 7.5hr battery life is impressive for the money. You recharge them using the Micro USB port on the remote housing, which is covered by a little rubber flap when not in use. Bass is controlled, and both mids and highs nicely defined. For the money, you can't really go wrong.
Read the full review: Beyerdynamic Byron BT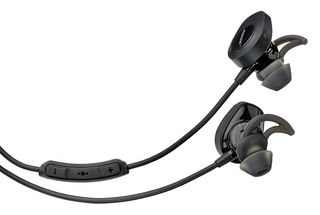 The Bose SoundSport Wirelesses are a smart design and a good shout for sporty types. The in-line remote barely weighs anything, leaving nothing to drag the cable down, and they are comfortable to wear. The soft silicone rubber hooks trace the basic lines of the ear, making the fit secure enough for running or going to the gym. Battery life is a modest six hours, but that should be more than enough for the average workout, or commute.
Performance is very solid, though, able to take on trains and offices full of mobile phones without wireless integrity falling apart. The Bose sound is perfect for this kind of earphone too – the kind of powerful, punchy bass that might get you running that bit faster. These earphones are dynamic and make music sound lively. They're fun all-rounders and well worth investigating, especially at this price.
Read the full review: Bose SoundSport Wireless
The Sennheiser Momentum Free in-ears take all that's great about the Sennheiser M2 In-Ears and place it in a wireless package. They're an unfussy design with six hours of battery life and come with an in-line remote and mic. When they're not pumping music into your ears, you can connect the earpieces to each other via integrated magnets.
They have the same powerful and dynamic sound you hear in the wired version of these Sennheiser headphones. You also get an impressive sense of clarity and detail for the money with the Momentum Frees carving out bass, mids and highs with expert precision.
Read the full review: Sennheiser Momentum Free
The BNX-60s show that noise-cancelling and Bluetooth can both carried off in a package under £100. They offer a comfortable, snug fit for an average pair of ears. One ear has a volume control, the on/off switch for the active noise-cancellation and a blue light that indicates when the 'ANC' feature is in use.
The other has the USB input for charging, pause/play/skip track controls, a Bluetooth connection light and a standard wired headphone output. A full charge is good for 15 hours of wireless music, or a little less with the active noise-cancelling.
At this price, you'd be worried about bright treble or booming bass, but instead, the Lindy BNX-60 headphones produce a balanced sound that's easy to listen to. They also deliver a groove and also do a decent job with vocals. For this kind of money it's extremely hard to grumble.
Read the full review: Lindy BNX-60
The AKG Y50BTs have been around for a few years now, but their ability for the money is unquestionable. The sound is extraordinary by wireless standards. It's remarkably clear, offering the sort of insight that makes it easy to tell the calibre of the talent on hand. Bags of detail go hand-in-hand with that clarity. You get all manner of texture to instruments and vocals, which are organised well enough for you to appreciate the sense of space and separation.
The right ear cup has buttons for volume, play/pause, and power/pairing. Pairing is easy – Bluetooth connection takes no time at all, and we don't experience any dropouts. And they're practical too. They're comfortable to wear, even with glasses, and they don't get warm too quickly. And when you're done listening, the earcups swivel flat and fold inwards, small enough to fit in a coat pocket. If you're looking for an affordable pair of Bluetooth on-ear headphones, look no further.
Read the full review: AKG Y50BT
One of the most compact and convenient pairs of noise-cancelling headphones we've ever tested, the AKG N60 NCs deliver a superb performance for the money. They're a good-looking pair of on-ears with an excellent fit. Battery life is 15 hours with the noise-cancelling and Bluetooth engaged and this ramps up to 30 hours when the noise-cancelling is turned off.
Bass delivery is powerful yet transparent with crisp, detailed vocals, soaring highs and convincing dynamics. You'd be perfectly content to wear these all day and for the money, they're extremely tough to beat.
Read the full review: AKG N60NC Wireless