Looking to buy some AirPods? There are some great deals to be had across Apple's entire earbuds and headphones range, helping you choose the right pair and get the best price this weekend.
Top of Apple's current AirPods range are the AirPods Max over-ear premium wireless headphones (2020), the new AirPods Pro 2 noise-cancelling wireless earbuds (launched September 2022), and the standard AirPods 3 wireless earbuds (new in 2021). You can also find the older models, such as the AirPods 2 (2019) and original AirPods Pro (2019) on decent discounts throughout the year.
We saw the first deals appear for the new flagship AirPods Pro 2 ANC buds during the Black Friday 2022 sales, while the older AirPods 2 is usually the cheapest deal to be had if you're looking for a real bargain.
If you're a dedicated iPhone user, the AirPods might just be the ideal wireless earbuds or headphones for you. They connect seamlessly with your iOS device, bring Siri to life in your ears, offer excellent hands-free calls from your iPhone and give you greater immersion with music and films thanks to spatial audio support. And they also sound fantastic, especially with the five-star flagship models.
AirPods deals vary week-by-week and are available across a wide variety of retailers, but there are always great savings to be had – here are the best deals below.
Best AirPods deals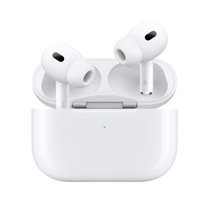 (opens in new tab)
AirPods Pro 2 was $249 now $200 at Best Buy (save $49) (opens in new tab)
Apple's latest flagship ANC buds are our new five-star favourites. With impressive ANC, a hugely enjoyable sound that's powerful, dynamic and subtle, along with personalised spatial audio and new Apple-centric features.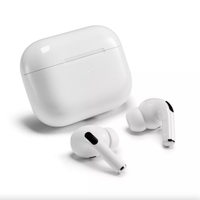 (opens in new tab)
AirPods Pro (1st Gen) was $249 now $179 at Walmart (save $70) (opens in new tab)
The original Pro model ushered in ANC, spatial audio, and a new design with ear tips for a better seal and fit. We called them "exceptionally comfortable" and praised their "strong noise-cancelling and balanced, easy-going sound". You can now get them at $70 off.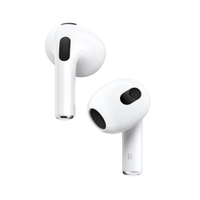 (opens in new tab)
AirPods 3 now $170 at Best Buy (opens in new tab)
Improved sound, innovative Apple-centric features, spatial audio support and Pro-inspired redesign with shorter stems, but no ANC. They are a great choice for iPhone users and this deal (while no saving) comes with the Lightning charging case. You'll have to pay $10 more (opens in new tab) for the one with Magsafe charging case.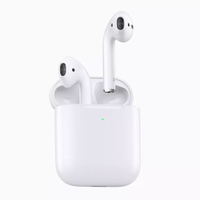 (opens in new tab)
AirPods 2 was $129 now $90 at Walmart (save $39) (opens in new tab)
The classic 2nd-gen AirPods with charging case feature the original longer stems design and forego any new Apple spatial audio or ANC features. But they dropped in price following the launch of the new AirPods 3 and are now the cheapest AirPods available.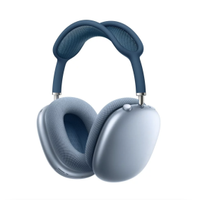 (opens in new tab)
AirPods Max was $549 now $479 at Walmart (save $70 (opens in new tab))
Apple's very first over-ear models were a five-star hit: superb-sounding, noise-cancelling wireless cans with a stylish and premium design. They come with a hefty price tag, but you can make some healthy savings - especially on specific finishes.
AirPods Pro 2 (2022)
Apple's new flagship Pro 2 earbuds earned the brand its first five-star review for the in-ear models. Thanks to the powerful new H2 chip, the noise-cancelling is improved two-fold, sound quality is now on par with the class leaders, and there are plenty of additional user-friendly features.
Battery life has increased to six hours in the earbuds, with 24 extra hours with the charging case, which now has a built-in speaker to emit tones. A fourth XS ear tip is included for an even better fit, and a new "Adaptive" Transparency Mode damps down loud and sudden harsh noises to great effect.
But it's the excellent sound quality that's king here. Weighty, detailed, open and with plenty of dynamic subtlety – these really are accomplished performers. For iOS users, they're the only wireless earbuds you'll ever need.
Apple AirPods Pro
The 2nd-gen Pro model is better in every way, but Apple's original top ANC buds are still a great option, especially at slashed prices.
The Pro's noise-cancelling tech with Transparency mode that actively allows sound in from the outside world works a treat, while the supplied silicone ear tips (you get three sizes) ensure a better fit than the standard AirPods. Battery life is a claimed five hours for the earphones, with another 19 hours added by the charging case.
Spatial audio with dynamic head tracking is on board and pairing with your iPhone or iPad is simply seamless. If you're an iOS user, the AirPods Pro should be on your wish list.
AirPods 3
Apple's latest AirPods advance closer to the Pro model, with a smart redesign (shorter stems) and full support for spatial audio thanks to added head tracking capabilities. Battery life is stronger than the older AirPods 2 (now 30 hours vs 24 hours) while the sound is balanced, clear and detailed.
The AirPods 3 might lack active noise-cancelling (you'll need to splash out on the AirPods Pro models, above) but they're a great all-round package with plenty to offer Apple device owners.
AirPods 2
Apple might have launched the newer AirPods 3, but the AirPods 2 remain a great everyday pair of hassle-free true wireless earbuds. They offer a good combination of performance, reliability and convenience.
We also regularly see the price of this model drop down to under £100 - so keep your eyes peeled for a fab deal.
AirPods Max
In 2020, Apple finally delivered its first over-ear, noise-cancelling, wireless headphones: the AirPods Max. They're large, rather heavy and expensive... and very good indeed, nabbing a five-star review and a 2021 What Hi-Fi? Award. Their exceptional build quality is as premium as the price, and they offer superb sound and noise-cancelling.
Their authenticity, detail, crispness and spaciousness elevate their audio quality enough to be considered alongside proper hi-fi products in this class. They work best with iOS devices, naturally, with cinematic spatial audio and Siri voice control amongst the many Apple-only features.
The good news is that we're now seeing decent deals and discounts on the AirPods Max, so keep an eye on the prices below.
MORE:
AirPods 3 vs AirPods Pro: what's the difference? Which is better?
AirPods 2 vs AirPods Pro: which Apple earbuds are better?
AirPods 3 vs AirPods 2: what's the difference? Should you upgrade?
AirPods Max vs Sony XM4 vs Bose 700: which is better?
B&W Px8 vs Apple AirPods Max: which wireless headphones are better?
Want something cheaper? The best AirPods alternatives