Dead set on getting a pair of Apple headphones or earbuds, but not keen on the idea of paying full price this Black Friday?
You're not alone, but getting a decent discount on any Apple product is tricky at the best of times as the company's tech tends to retain its value fairly well.
But that doesn't mean there aren't some decent savings to be found if you look hard enough, which is exactly what the team of bargain hunters at What Hi-Fi? has done this deals season.
We've trawled stores to find the best savings to be had on Apple AirPods currently running.
Top of the list price-wise are the AirPods Max over-ear, wireless noise-cancelling headphones, followed by the latest AirPods Pro 2 noise-cancelling wireless earbuds and the standard AirPods 3 buds. You can still find big discounts on the older AirPods 2, although stocks are likely running dry these days.
On the off chance you're not one hundred per cent set on getting AirPods, also make sure to check out our wider best Black Friday headphone deals guide.
Best Black Friday Deals - Quick Links
The Best Black Friday AirPods deals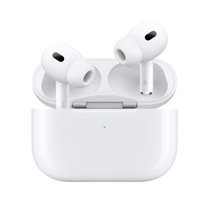 Apple AirPods Pro 2 was $249 now $190 at Target (save $59)
Apple's latest flagship ANC buds are our new five-star favourites. With impressive ANC, a hugely enjoyable sound that's powerful, dynamic and subtle, along with personalised spatial audio and new Apple-centric features.
Five stars.
Read our AirPods Pro 2 review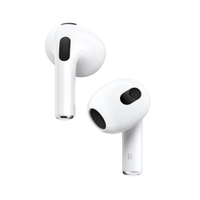 Apple AirPods 3 was $170 now $140 at Target (save $30)
Improved sound, innovative Apple-centric features, spatial audio support and Pro-inspired redesign with shorter stems, but no ANC. They are a great choice for iPhone users and this deal comes with the Lightning charging case.
Deal also at Walmart
Read our AirPods 3 review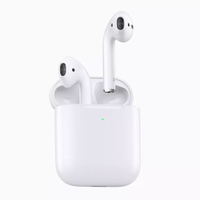 Apple AirPods 2 was $120 now $80 at Target (save $40)
The classic 2nd-gen AirPods with charging case feature the original longer stems design and forego any new Apple spatial audio or ANC features. But they dropped in price following the launch of the new AirPods 3 and are now the cheapest AirPods available.
Read our AirPods (2019) review
AirPods Pro 2 deals
Apple AirPods Pro 2
Apple's flagship AirPods Pro 2 earbuds earned the brand its first five-star review for the in-ear models. Thanks to the powerful new H2 chip, the noise-cancelling is improved two-fold, sound quality is now on par with the class leaders, and there are plenty of additional user-friendly features.
Battery life has increased to six hours in the earbuds, with 24 extra hours with the charging case, which now has a built-in speaker to emit tones. A fourth XS ear tip is included for an even better fit, and a new "Adaptive" Transparency Mode damps down loud and sudden harsh noises to great effect. And thanks to the recent iOS 17 software update, you also get nifty new features like Adaptive Audio (which dynamically adjusts the ANC according to our surroundings) and Conversation Mode (which pauses music when it recognises that you're speaking).
But it's the excellent sound quality that's king here. Weighty, detailed, open and with plenty of dynamic subtlety – these really are accomplished performers. For iOS users, they're the only wireless earbuds you'll ever need.
Note that in 2023, Apple has swapped out the old Lightning connecter charging case with a new USB-C charging case. There's no change to the earbuds themselves or to the sound quality, but take note when buying online to make sure you pick the correct case option for you.
Read our full AirPods Pro 2nd generation review.
AirPods 3 deals
Apple AirPods 3
Apple's latest 'standard' AirPods advance closer to the Pro model, with a smart redesign (shorter stems) and full support for spatial audio thanks to added head-tracking capabilities. Battery life is stronger than the older AirPods 2 (now 30 hours vs 24 hours) while the sound is balanced, clear and detailed.
The AirPods 3 might lack active noise-cancelling (you'll need to splash out on the AirPods Pro models, above) but they're a great all-round package with plenty to offer Apple device owners. Again, note that there are two options: one with a wireless charging case, the other with a Lightning connector wired case.
Read our full AirPods 3 review
AirPods 2 deals
Apple AirPods 2
Apple might have launched the newer AirPods 3, but the cheaper and older AirPods 2 remain a great everyday pair of hassle-free true wireless earbuds. They offer a good combination of performance, reliability and convenience, and are currently the cheapest AirPods that Apple makes (until the fabled AirPods Lite ever see the light of day).
We also regularly see the price of this model drop down to under $100 (they're currently at $80 at Target), so keep your eyes peeled for a deal, especially around the Black Friday sales.
Read our full AirPods 2 (2019) review.
AirPods Max deals
Apple AirPods Max
In 2020, Apple finally delivered its first over-ear, noise-cancelling, wireless headphones: the AirPods Max. They're large, rather heavy and expensive... and very good indeed, nabbing a five-star review and a 2021 What Hi-Fi? Award. Their exceptional build quality is as premium as the price, and they offer superb sound and noise-cancelling.
Their authenticity, detail, crispness and spaciousness elevate their audio quality enough to be considered alongside proper hi-fi products in this class. They work best with iOS devices, naturally, with cinematic spatial audio and Siri voice control amongst the many Apple-only features.
While the discounts are never huge, we normally see decent deals (especially across all finishes) on the AirPods Max during the Black Friday sales, so keep your eyes peeled. We haven't spied any yet across the likes of Amazon, Target or Walmart, but we'd be very surprised if there weren't at least a few reductions somewhere in the coming week or so.
Read our full AirPods Max review
Black Friday FAQs
The official Black Friday 2023 date is Friday 24th November. Cyber Monday 2023 will be Monday 27th November.
Black Friday always takes place on the Friday after Thanksgiving, which means this year it will fall on Friday 24th November. Most retailers will want to make the most of what will typically be the busiest 24 hours of the event, meaning we can expect deals going live at midnight and running until the end of the day.
Of course, you can rest assured that Black Friday will stretch out longer than just 24 hours – those days are long gone. Instead, expect at least a week of build-up, maybe longer, from many retailers. And of course, the Black Friday sales continue through to Cyber Monday, which is always the Monday after Black Friday.
What is Black Friday?
Black Friday began on the other side of the Atlantic but in recent years has very much become a worldwide and UK shopping phenomenon. It's regarded (and backed up by stats) as the busiest shopping day of the year – both online and in-store – and officially kicks off the holiday season.
Why is it called Black Friday? The date was traditionally the start of the Christmas shopping season when retailers hoped to move out of the "red" (loss) and into the "black" (profit), hence Black Friday. Cyber Monday is the online equivalent to Black Friday, and was created to give smaller websites a chance to compete with larger retailers.
What is Cyber Monday?
The term 'Cyber Monday', meanwhile, was coined by Scott Silverman and the National Retail Federation's Ellen Davis in a bid to encourage people to take their shopping online during the Black Friday event. That was back in 2005, when people needed such encouragement! It's always the Monday after Black Friday.
Black Friday lasts for 24 hours, as does Cyber Monday, but like other big sales events, you always have preliminary and aftermath offers.
For one, deals will run during the weekend sandwiched in the middle of the two days. And in the days and weeks building up to them, there will be plenty of early Black Friday deals flooding the internet.
MORE:
Best AirPods: Apple's wireless headphones ranked and rated
AirPods Pro 2 (2022) vs AirPods Pro: what are the differences?
AirPods 3 vs AirPods 2: what's the difference? Should you upgrade?
AirPods Max 2: release date rumours, potential price, features and spec leaks