Richer Sounds has slashed the price of the LG OLED48C2, letting you pick up the 48-inch 5-star OLED TV for a great price of £899 at Richer Sounds.
All you need to do to access this deal is use code RSTV100 at checkout.
If you're in the market for a premium TV that won't take up too much space we'd thoroughly recommend the C2, especially at this price.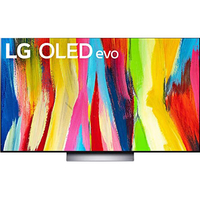 LG OLED48C2 £1399 £899 at Richer Sounds (save £500)
The LG C3 is out, but with it being a very minor update and costing more, the C2 is the 48-inch TV we recommend to most people, with it offering the best pound-per-performance ratio. Featuring an OLED panel it offers great picture quality and comes with all the bells and whistles next-generation gamers need.
Read our LG C2 review
Though it has since been superseded by the LG OLED48C3, which we reviewed earlier this year, the C2 is still the main small-screen OLED we'd recommend to most people.
This is because, when we ran the two TVs head-to-head in our testing rooms we found the C3, while excellent, is a very modest upgrade on the C2.
During our checks, we found the OLED panel offers at best modest upgrades to picture quality, and the only improvements generally thanks to the C3's newer Alpha 9 Gen 6 processor.
Outside of this, the LG C2 has all the same perks including four full-fat HDMI 2.1 ports, VRR, and a high 120Hz max refresh rate, which makes it great for gamers with next-generation PS5 and Xbox consoles as well as movie fans.
WebOS has all the apps you need and picture quality on the C2 is still among the best you'll find on a TV this size and price.
Colours look nicely realistic and once you adjust the motion processing settings movies have a wonderfully realistic and authentic feel that'll delight any movie fan.
This is what What Hi-Fi?'s TV editor said in his full LG OLED42C2 review:
"A lack of significant upgrades means last year's C2 is the small OLED to buy while it's still available, but once it's gone, the C3 will be the best TV at this size."
The only minor downside we'd note is that the TV doesn't offer terribly good audio. So, if you do decide to buy the C2, we'd recommend investing in a soundbar too, if you can afford to.
To help we've got a hand best Amazon Prime Day soundbar deals guide that details the best savings currently available.
MORE:
Read our in-depth comparison of the LG C2 vs C3
These are the best Amazon Prime Day 2 2023 TV deals we've seen
Want more options? These are the best TVs we've tried and tested