The excellent 55-inch LG G3 and Panasonic MZ2000 OLED TVs have both had their prices slashed in the Cyber Monday sale, but our experts currently only recommend one deal for avid bargain hunters.
The first deals went live during Black Friday week, dropping the LG to £1579 and the Panasonic to £1999. These were both big discounts on their RRP, but we picked the LG G3 as the standout deal. Now that Cyber Monday has rolled around, that recommendation is now even firmer as the G3's price has fallen even further!
That's right, you can now pick up the 55-inch LG G3 for £1499 at Sevenoaks thanks to yet another price drop. That makes for a huge £1100 saving on its regular £2599 RRP.
Still too expensive? The 2022 55-inch LG G2 is £1199 this Cyber Monday, which is crazy value for a big-screen OLED TV that still impresses in the picture, sound and features department today despite its year-old age.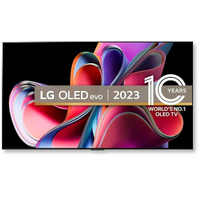 LG OLED55G3 2023 OLED TV was £2599 now £1499 at Sevenoaks (save £1100)
LG's 2023 flagship OLED has had yet another price drop, making it the best 55-inch OLED TV deal around this Cyber Monday. For your cash, you get a giant, next-generation, gaming-ready OLED with dazzlingly high max-brightness and excellent HDR performance. In our LG G3 review of the 65-inch model, we called its picture "superb" and feature set "flawless".
Meanwhile, the five-star 55-inch Panasonic MZ2000 is still £1999, a solid £700 saving on its regular £2699 price.
Ultimately, having reviewed the 65-inch models in each series, we can be confident that both 55-inch TVs will delight most people at their current price.
Looking at the specs sheet, you may understandably be struggling to decide which to get – both feature the award-winning brightness-boosting Micro Lens Array tech debuted by LG Display earlier this year, based on our testing, offer dazzling HDR performance.
But right now we would recommend most people opt for the LG G3 for one key reason. Specifically, it's significantly cheaper. Even by flagship OLED standards, a price difference of £500 is not to be sniffed at, and that's a key reason we recommend the G3 over the MZ2000 at the moment.
While we found the MZ2000 offered a picture that felt more natural and authentic when we ran it head-to-head with the G3, the performance improvements don't, in our minds, justify spending that much more. Keep in mind that "performance-per-pound" is a key metric we use in both our reviews and buying advice.
This is especially true with the G3, which features slightly better connectivity than the MZ2000, featuring four full-fat HDMI 2.1 inputs rather than two. This is a big deal if you have multiple next-generation consoles and a separate Dolby Atmos sound system – which all require full bandwidth HDMI 2.1 connectivity to run at full power/speed.
Which is why, unless you're a massive cinephile who cares about authenticity above all else, we reckon the G3 is the better purchase.
If you're not convinced by either also make sure to jump over to our best Cyber Monday TV deals guide, where our experts offer their live, curated picks of the top discounts currently doing the rounds.
MORE:
I've covered every Cyber Monday – and these are the 20 best tech deals
Our picks of the best 55-inch TVs
We rate the best OLED TVs currently available
Don't forget to get a sound system too. These are the best soundbars we've tested