4K smart TVs quickly get expensive, but not with this 50-inch 4K Toshiba C350 set you can find for just $250 at Amazon, down from $380.
We haven't reviewed the C350, but these Toshiba TVs offer up some compelling specs and features for the price. If you need a new TV but don't need to take out a loan to afford one, make sure to give this set a look.
50-inch Toshiba C350 4K TV deal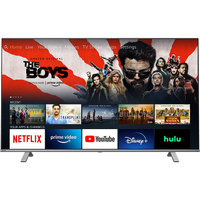 50-inch C350 was $380, now $250 (save $130)
This TV packs in a 4K panel, HDR support, and a variety of different audio technologies. Plus, you're getting built-in smart functionality, too. At just $250, there's plenty of value to be had here.
Toshiba is known for its line of budget TVs aimed at providing value for the money without requiring any extra shifts to cover the asking price. The C350 is no different, as you'll find it brings modern features and competitive specs for the price, most especially when you find one on sale.
In terms of specs, the C350 has a 4K LED panel, supports HDR by way of Dolby Vision and HDR10, and has a suite of audio technologies including Dolby Audio, Dolby Digital, and Dolby Digital Plus, among others. You're also getting smart functionality that'll let you consume all your favorite content without issue.
For gamers, this 4K/60Hz display will be more than enough for some casual gaming on a next-gen console, and you won't miss out too much on high-refresh-rate gaming considering how few games support it. If you're looking for something to play FIFA on once in a while, this TV definitely gets the job done.
In summary, this is a modern TV you can get for an exceptionally low price. It's not the most cutting-edge, but it's competitive with other value-focused sets, so if you're in the market, make sure to put this Toshiba TV on your shortlist.
MORE:
Check out our guide to Toshiba TVs in 2023
As well as all the best TVs around
And the best TV deals live now