Amazon has not only just confirmed the Prime Day dates for its summer sales extravaganza, but the online shopping giant has also given the buying public a taste of what it can expect in terms of deals. And one TV deal, in particular, has completely blown us away.
A 43-inch 4K HDR TV for just $99 would be considered too good to be true by many, but this is not a drill! Amazon is discounting one of its own Omni Series flatscreens by a huge 75 per cent. Quite extraordinary.
However, there is a slight catch, to which there are three parts...
Part one is that the deal is only available during the Prime Day sales which run from Tuesday 11th July through Wednesday 12th July.
Part two is that you'll need to be an Amazon Prime subscriber. Now don't fear if you aren't one, as you can take advantage of a 30-day free trial if you haven't before – just remember to cancel before the end of the trial period so you aren't charged for the next month. Alternatively, one month's subscription is $14.99.
Part three is that the deal is, in Amazon's words, only "available by invitation". Prime subscribers need to request an invitation and look out for an e-mail during the Prime Day sales that includes a "unique link [to buy] that's valid throughout the Prime Day event".
Now, there's no indication as to specific stock levels, but Amazon believes the TV might sell out (go figure!) so it might pay to strike as soon as you get that unique link. We also don't know if it's a raffle-based system where only a limited number of applicants will get the e-mail.
But we think these are pretty small hoops to jump through if you want the opportunity of picking up a 43-inch 4K TV for the ridiculously low price of just $99.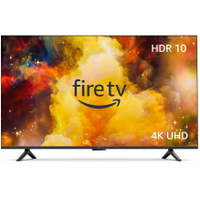 Amazon Fire TV 43" Omni Series was $399.99, now $99.99 (save $300)
Wow! Now this is what we call a discount. You won't be able to get this deal unless you apply for an invitation to buy, but you can potentially save a whopping 75% on an Amazon 4K Fire TV with HDR support and three HDMI inputs.
Full disclosure: we haven't reviewed any of Amazon's standard Omni Series 4K TVs, though we do have one model in for testing at the moment – watch this space. On paper, though (and for just $99 instead of $399), it's arguably worth taking a chance on, especially if you're looking for a decent-sized TV for a child's playroom or extra bedroom.
Spec-wise, you're getting 4K resolution, HDR in the shape of HDR10, HLG, and there's also Dolby Digital Plus support on the audio side of things. If you want Dolby Vision support you'll need to go for either the 65-in or 75-in versions. The former is currently discounted by 26 per cent for Prime customers, costing $559.99.
Three HDMI inputs and eARC are also at your disposal, as is a solid suite of streaming services – Netflix, Prime Video, Disney+, and more. You can go hands-free with Alexa and use voice controls to turn the TV on and search for content, too.
The Prime Day sales haven't even started, but we think this TV deal is already going to take some serious beating. For just $99, it's one of the craziest offers we've ever seen, period.
MORE:
Fancy a different model? Here's our pick of the best TV deals
New Amazon Fire TV 2023: All the facts on the Omni QLEDs set to arrive this year