At Amazon's Fire TV event this week in London, the company announced it has sold more than 200 million Fire TV devices worldwide. It seems Amazon's Fire TV range is still going strong and there are no signs of sales stopping soon. So what's next? Only so many TVs need Fire Sticks lodged in their HDMI sockets, and Amazon realises this; which is why it launched its own line of Fire OS-powered TVs in the States six months ago.
And, after a successful trial period there, Amazon has decided to expand to the UK and Germany, with an all-new 2-Series Fire TV as well as the established 4-Series, and its flagship model, the Omni QLED Series.
We spent some hands-on time with the Omni QLED at Amazon's event, and while we will need to do more thorough testing for our full review, we have some early thoughts.
Price
Amazon's entire new Fire TV range leans towards the affordable end of the vast TV pricing spectrum, with the Omni QLED being the highest-end model in the current range. Even as the flagship model, the Omni QLED starts at just £550/$450 and €600 in Germany for the 43-inch model. Alongside that 43-inch model, the Omni QLED also comes in 50-, 55- and 65-inch variants which cost the following:
50-inch: £650/$530
55-inch: £750/$600
65-inch: £1000/$800
There is also a 75-inch model that isn't coming to the UK, which retails for $1100 in the States. Amazon is running a promotion currently however, with introductory pricing knocking around 30 per cent off the price of each model, so if you are absolutely sold on this new TV already, then pre-ordering could save you a fair chunk of change.
Design
The Amazon Fire TV Omni QLED doesn't feature the craftmanship or ultra-modern designs of the latest LG or Sony sets, but it's far from an ugly TV. With its silver plastic construction and pair of colour-matched feet at either end, the Omni QLED keeps things simple and clean. It features moderately slim bezels around the screen and a small housing for the far-field microphones and ambient light sensor on the bottom bezel.
The TV is fairly standard looking and not particularly visually striking, but considering the price and extensive feature set, we certainly don't mind function over form.
Features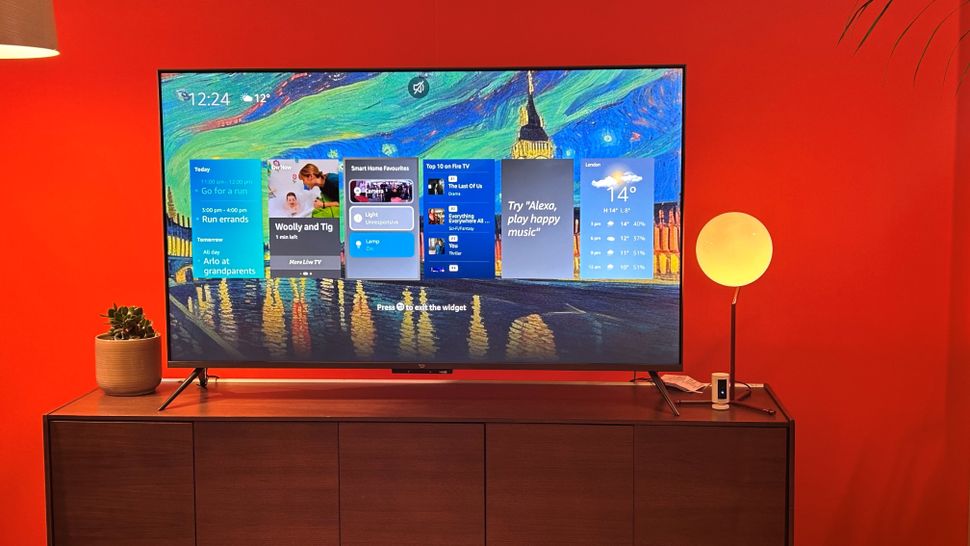 It's probably no surprise that a first-party TV from Amazon is absolutely feature-packed, as the integrated Fire OS operating system already brings a host of features when it is stuffed into a Fire TV Stick. Here the Stick is integrated internally, which leaves the three HDMI 2.0 ports and single HDMI 2.1 eARC socket unobstructed.
You still get all the benefits of the Fire OS system though, including an abundance of apps with the usual suspects of Netflix, Prime Video, Apple TV, YouTube, Spotify and Tidal all present and correct. Amazon's Alexa voice assistant is also heavily baked into the system's software and hardware alike, as you can navigate the entire operating system using voice commands via the included Alexa Voice Remote or the far-field microphones on the TV itself.
Amazon is also keen on using its Fire OS software to make the Omni QLED useful even when you aren't using it. A new feature called "Ambient Experience" featured heavily during the hands-on demo. This is a sort of glorified interactive screensaver paired with a sensor that detects when you are in the TV's presence. Amazon includes a plethora of different screensaver image options to cycle through, as well as widgets for reminders, smart home controls and personalised content suggestions.
Amazon also briefly demonstrated an AI-driven screensaver creation tool, in which you can ask Alexa to create a totally made-up image; the assistant will whip up a visualisation using AI generation. It is gimmicky and absolutely a sign of the AI-focused times we currently live in, but it was impressive nonetheless.
Moving on to the picture features, the TV uses a 4K QLED panel, something that just a few years ago was reserved for premium TVs. The addition of quantum dots should boost brightness and colour saturation, although we don't have any official word on nit counts quite yet. The Omni QLED also supports an impressive amount of HDR formats including HDR10+ (and its adaptive variant thanks to the light sensor), Dolby Vision IQ and HLG.
With one exception, the Omni QLED also features full-array local dimming with up to 80 zones: the 43-inch model uses direct LED backlighting, with the full array reserved for the 50-, 55-, and 65-inch models.
Gaming on the Omni QLED won't really appeal to hardcore enthusiasts thanks to the aforementioned single HDMI 2.1 socket, however, that doesn't really matter as the TV maxes out at 60Hz anyways. This means that you can still hook up a PS5 or Xbox Series X for some 4K/60 gameplay, but you won't be able to take advantage of the full range of next-generation features such as 120Hz. And we are as yet unsure if the TV supports ALLM or VRR either - we have reached out to Amazon to clarify this.
However, all is not lost when it comes to gaming features on the Omni QLED; Amazon has announced that its online game streaming service, Luna, is making its way to the UK and will be supported on the Omni QLED. This should allow casual gamers a cheaper and clutter-free alternative to the bulky and expensive consoles available today.
Picture
Hands-on time with the Omni QLED was both limited and fairly restricted, meaning we haven't yet been able to put the TV through our usual testing process. However, we saw some of the UI, Ambient Experience, short film clips and even some gaming on this TV via Luna game streaming.
It should come as no great surprise when we say that this TV certainly didn't blow us away with its picture when making its initial impression. It seemed punchy and bright enough during a demo of the Ambient Experience, with stills of impressive geographic locations looking sharp enough at a glance, and shots with foliage, snow and waterfalls all conveying a hint of drama and dynamism. However, there were some noticeable jumps and decreases in brightness as the lighting conditions in the room changed due to the adaptive brightness setting, which we hope gets smoothed out in a future software update or can be resolved in the TV's settings.
Of course, we don't expect flagship-level performance from an Amazon Fire TV – this set is clearly more geared towards casual streaming and as a smart home hub. Countering this, an abundance of 4K QLED sets coming from the likes of TLC and Hisense do offer impressive images for the price and target audience, so we'd hope the Omni is competitive in our test rooms. Once we put a review sample of the Omni QLED under further scrutiny we can draw more a more informed conclusion – so stay tuned for our full review.
Sound
The conditions of the hands-on event made gauging the Omni QLED's sound performance practically impossible. Amazon has, however, included some hints to the TV's audio capabilities in the product specifications. All models appear to be using a dual 12W speaker system that supports Dolby Digital Plus. There is also pass-through for Dolby-encoded audio, presumably intended for Dolby Atmos soundbars, via the included eARC connection.
From the brief moments we did get to hear the Omni's built-in speakers, they seemed to get the job done with ample volume and vocal clarity, especially when Alexa was speaking. The likelihood is that you will want to attach a budget soundbar to this TV to enhance the audio performance, as the speakers didn't seem to carry much weight or dynamics upon first impression. We will need to conduct further testing in order to pass final judgement on the Omni's sound performance.
Early verdict
Overall, it's the software that is the real star of the show when it comes to this TV, with the tried and true Fire OS doing most of the heavy lifting. This TV is certainly geared more towards being a lifestyle product, and a hub for those who care more about deep smart home integration than top-notch AV performance. You can even think of the Omni QLED as a super-sized Echo Show in some ways, with its built in mics, Alexa integration and widget-based information screens.
Amazon's Fire TV Omni QLED is a features-first TV that clearly has a specific demographic in mind. An easy all-in-one streaming and smart home hub with all the apps and services you need at a your fingertips, the Omni's main priorities are smarts and convenience, and Amazon isn't shying away from that.
If the Omni QLED performs well in our full review, it could be a serious rival to some of the recent Roku and Google TV sets we have reviewed recently. However, it's safe to say it won't set on the world on fire with next-generation features or cutting-edge display technology.
MORE:
Explore the full Amazon Fire TV 2023 lineup
Check out our picks for the best TVs