The Amazon Prime Day sale is on its second and final day, and there are TV deals galore, most notably on LG's C2 and G2 OLEDs. But what if you want to go against the grain and buy an OLED TV that isn't made by LG – and isn't being sold by Amazon, for that matter? Well, this deal is for you.
The Panasonic TX-55LZ1000B is almost identical to the TX-55LZ980B, which we proclaimed to be the best 55-inch TV of last year, and it's now available for just £999 at John Lewis.
There is actually one key difference between the LZ980B and the LZ1000B – the latter has one of Panasonic's fancier, brighter Master OLED panels. That means it should be even better than the LZ980B to which we gave an Award.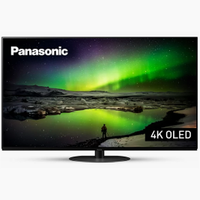 Panasonic TX-55LZ1000B OLED TV £1549 £999 at John Lewis
We haven't tested the LZ1000B but it's very closely related to the LZ980B that we rate so highly. In fact, the LZ1000B should be even better, as it adds one of Panasonic's brighter Master OLED panels (and a swivel stand) to the LZ980's otherwise essentially identical spec sheet. This looks like a seriously great TV at a seriously great price. Read our full Panasonic LZ980B review.
So what do we like so much about the TX-55LZ980B? Its greatest strength is its Hollywood-tuned picture performance. Panasonic TVs are renowned for the accuracy of the images they produce, and the LZ980B continues that trend. You never question its delivery, from colours to sharpness and motion, and you know that what you're seeing is very similar indeed to what the director wanted you to see.
We also like that it supports all HDR formats, including HDR10+ and Dolby Vision, and while it has just two HDMI 2.1 sockets (LG's top OLEDs have four), it does support all of the latest gaming features, including 4K/120Hz, VRR and ALLM. Dolby Vision gaming is supported, too, albeit only up to 60Hz.
The operating system, while less flashy than most, is very simple to use and features all of the major streaming apps, including Disney+, Netflix, Prime Video and Apple TV+. The TV sounds pretty good, too, although we would – as ever – recommend that you also budget for a soundbar if you can. There are loads of great soundbar deals around right now.
But what about the TV this deal is actually for, the TX-55LZ1000B? Well, we've analysed the specs and spoken to Panasonic, and the LZ1000B is, by all accounts, the LZ980B with a swivel stand and Master OLED panel. The swivel stand might be useful to some, but it's the Master OLED panel that's most exciting, as it means the LZ1000B should go brighter than the LZ980B that we've tested and love.
All in all, this seems like an absolutely cracking deal. It means this Panasonic OLED is even cheaper than the 55-inch LG C2.
MORE:
These are all of the best TV deals available right now
Read the full Panasonic TX-55LZ980B review
And check out our list of the very best TVs