Do you need a fantastic Bluetooth speaker that doesn't cost an arm and a leg? You're in luck, because JBL's Charge 4 is on sale for just $105 at Amazon.
When we reviewed the Charge 4, we gave it five-stars in our review, complimenting its rugged design, USB port for charging, and overall excellent sound quality. If you need a great speaker, make sure to check this out.
JBL Charge 4 Amazon deal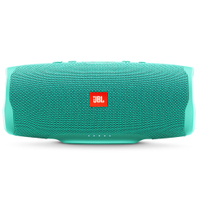 JBL Charge 4 was $150, now $105 at Amazon (save $45)
This five-star Bluetooth speaker from JBL manages to offer up a solid rugged design on top of impressive sound quality. At a meaty 30% off, this speaker is also an excellent deal, too.
JBL has been making high-quality Bluetooth speakers for quite some time, and when it comes to JBL's Charge 4, the situation is no different. This speaker sports a solid, water-resistant design, like many JBL products, and doesn't skimp on audio quality either, meaning it'll be tough to find a better value.
With the Charge 4, you're getting Bluetooth 4.2, up to 20hrs of battery life on a single charge, IPX7 water resistance, JBL Connect+ support, a 3.5mm input, and USB output, too. That 3.5mm input is especially nice, as many newer wireless speakers can opt to not bother, missing out on some nice versatility.
When it comes to sound quality, there's an emphasis put on delivering coherence, separation, and giving the midrange room to shine, making for an overall classy and refined presentation. We noticed an impressive consistence with the substance and texture of sound on the Charge 4, enjoying our listening.
All told, this is a well-built, great-sounding Bluetooth speaker you won't have to worry much about damaging out in the world. Down to just $105, it's also a good value for money, so we'd suggest taking a look at this Amazon deal if you're in the market for a new portable Bluetooth speaker.
MORE:
Read our full review of JBL's Charge 4 Bluetooth speaker
As well as our list of the best Bluetooth speaker deals
And check out our list of the best Bluetooth speakers