Mark Levinson's high-end No. 5909 headphones didn't just blow us away with a stunning five-star performance, they also established what truly high-end wireless headphones could sound like, offering as close to a solid wired performance as we've heard so far.
Last week we found a nifty £100 off deal on Amazon on these headphones for the red finish only, but one of our eagle-eyed readers helpfully pointed us to a much better deal on Doug Brady HiFi, with discounts on all three finishes for the headphones.
Yes, these are very expensive headphones with a whopping great £999 RRP, which makes this deal at Doug Brady HiFi all the more enticing. It offers an even bigger saving, with all three finishes (radiant red, ice pewter, black pearl) available for £849 right now.
That's a £150 saving! We think that's a pretty juicy deal, even if that still means these premium headphones cost over £800. But hey, a deal is a deal, right?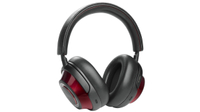 Mark Levinson No.5909 was £999 now £849 at Doug Brady (save £150)
The best wireless headphones we've ever heard – and the one that kickstarted this new premium class of cans – are available at a great discount across all finishes. They're still a pricey pair, but saving £150 off the original price is a great deal in our books.
While other premium wireless ANC headphones have appeared in the last year – Focal Bathys, Bowers & Wilkins Px8 – the Mark Levinson No. 5909 are still the class leaders in this high-end category.
These headphones offer a jump-up in outright sound quality that more than justifies the near-£1000 price tag and far outstrips its rivals. The basic on-ear controls are our only quibble in a product that's well thought-out, from the incredibly comfortable fit and the custom ANC levels in the app, to the inclusion of higher-quality codecs. Even the active noise-cancelling is decent here, but the sound quality is where it excels. Sparkling clarity, impressive detail retrieval, wonderfully subtle dynamics and a way of organising even the most complex musical arrangements that sounds exciting, authentic and so composed. It truly is an exceptional pair of wireless headphones.
So if you're after a seriously high-end pair of headphones that sound great and offer all the conveniences of noise-cancelling and Bluetooth streaming, these are worth considering for sure. And with £150 off the high-end price, it could be even more tempting to buy now.
MORE:
Read our Mark Levinson No. 5909 review
These are the best audiophile headphones you can buy
Headphones in the office isn't rude – you're just using them wrong