If you're looking to give your laptop audio the sonic boost it most certainly needs but don't want to pay a pretty penny to do it, you're in luck: our favourite budget desktop DAC is not only discounted by 20 per cent but also comes with a free USB digital noise-remover worth £59.
The iFi Zen DAC V2 and iSilencer+ combo is now just £159 at Sevenoaks. Considering the original RRP of the DAC alone was £199, you are saving £40 and getting a free product in the process. So this really is some deal for anyone looking to up their digital audio game.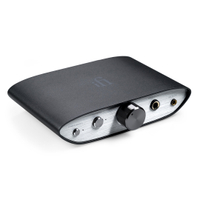 iFi Zen DAC V2 + iFi iSilencer+ £259 £159 at Sevenoaks (save £100)
A desktop delight, the iFi Zen DAC V2 will significantly upgrade your laptop/computer audio to feed headphones or speakers, while the iSilencer+ freebie could come in extra handy for devices with USB outputs. You can find this £159 Zen DAC V2 price elsewhere at Scan and Future Shop, but it doesn't come with the iSilencer+.
The iFi Zen DAC V2 has won a What Hi-Fi? Award two years on the trot (or three years if you consider the original model won in 2020) and is our go-to recommendation for anyone looking for a desktop DAC to boost their laptop or computer's sound quality.
The iFi can simply hook up to your device via its USB Type B input, while headphones can be connected via its two balanced 4.4mm and 6.3mm outputs – or even a pair of speakers through its RCA outputs. The iFi can handle PCM files up to 384kHz and DSD256, and can even fully decode MQA – handy for Tidal HiFi Plus subscribers who have access to the (MQA-powered) hi-res Tidal Masters.
Most importantly, the desktop DAC offers a significant upgrade to a computer's audio quality, delivering music with much more clarity, detail and dynamic expression than what we hear simply through our Macbook Pro's 3.5mm output. And for not much money either – especially with this 20 per cent discount.
As for the iSilencer+ freebie, we are less familiar with its effectiveness in practice, having not reviewed it, but the company's claims on paper suggest it could be a useful device for anyone using devices with USB outputs. The idea is that by removing the electrical noise that distorts the audio signal at the source, and by reducing the occurrence of jitter (a form of digital distortion), the iSilencer+ can improve the quality of sound that's passed to your next component in the chain.
While the iSilencer+ comes in three versions – USB-A to USB-A, USB-C to USB-A and USB-C to USB-C – the image accompanying the Sevenoaks product listing suggests that the USB-A to USB-A variant is included.
MORE:
Got a bigger budget or want a portable DAC? Check out our best DACS 2023
Read our full iFi Zen DAC V2 review
7 reasons why a DAC could be your music purchase of the year