If you're looking for a huge, budget TV, we've got you covered. Thanks to an early Prime Day deal, Toshiba's 65-inch C350 4K TV is now on sale at Best Buy for just $300, with $200 off its original price.
We haven't reviewed the C350, but this is Toshiba's mid-range budget TV that offers up some compelling specs, like 4K support, HDR, and a variety of audio technologies. At just $330 for a 65-inch model, this C350 Best Buy deal is worth a look if you're in the market for a new TV.
Toshiba 65-inch C350 4K TV deal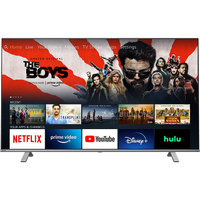 Toshiba, like Hisense and TCL, is one of the top budget brands when it comes to televisions. At MSRP, Toshiba's 43-inch C350 goes for $330, and while sales aren't usually too hard to find, getting yourself a 65-inch C350 for the same price is a pretty solid deal, especially for a modern smart television.
The C350 comes with the features you'd expect from a TV in 2023: 4K support, HDR by way of Dolby Vision and HDR10, a bunch of audio technologies that include Dolby Audio and Dolby Digital, and Amazon's Fire TV OS that will let you stream content from all your favorite services.
On the gaming side of things, with 4K/60Hz and HDR, that's just about enough to handle next-gen gaming on a PS5 or Xbox Series X. While hardcore gamers will want more dedicated features, this can get the job done if you're only looking to boot up and play a game of FIFA every once in a while.
While the C350 may be a relatively basic set, it's still a modern 4K HDR smart TV that can handle everyday streaming and gaming. With a 65-inch model going for just $330 with this early Prime Day deal, it's worth considering.
MORE:
Take a look at our guide to Toshiba's 2023 TVs
As well as our list of the best cheap TVs you can buy
And our list of all the best TV deals live now