When Samsung's S95C passed through our testing rooms earlier this year, we called it "astonishingly capable" and "one of the most technically capable TVs there's ever been" – but we didn't think its performance quite lived up to the sky-high price tag. Well, thanks to this new Cyber Monday discount, it's starting to look like a much, much better deal.
The 65-inch S95C originally went on sale for £3599, and while it hasn't demanded such a high price since the summer, the £1958 Amazon price it is available for right now is the lowest price it's ever been – and beats the Black Friday one of £1999.
The 55-inch S95C for £1449 is also £50 lower than we spied in previous days.
If a read of our Samsung S95C review confirms your interest in this super Cyber Monday deal, we'd get in there quick: at the time of writing only 11 are in stock.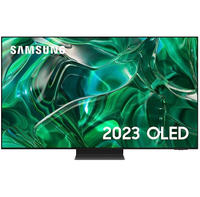 While its QD-OLED panel is capable of delivering glorious brightness, contrast and detail (albeit after some tweaking in the menus), there's not quite as much subtlety to the picture as you'd expect from a TV that started the year with such a high price tag. Still, the S95C is capable of knocking your socks off with its hugely compelling picture – one that's bright, vibrant and super-sharp, not to mention high in contrast.
We love its design, too. It has a consistent thickness of just 1.1cm, which makes it feel sturdy and allows you to mount it pretty much flush with the wall. That's helped by plugging all your sources into the separate One Connect box, which then hooks up to the TV by a single slimline cable. You can either hide this away somewhere, or attach it to the back of the stand.
The S95C felt "right on the cusp of true greatness" when we reviewed it at full price back in May, and while the rival, Award-winning Sony A80L is a touch more affordable (the 55-inch costs £1389; the 65-inch is £1849) and balances dynamism and subtlety in a way that the Samsung just can't, there's still plenty to be impressed by here.
MORE:
See our longer list of the best Cyber Monday TV deals live today
I've found 17 superb Cyber Monday deals on What Hi-Fi? Award 2023 winners
LG G3 and Panasonic MZ2000 prices fall – but only one Cyber Monday TV deal is worth it