LG's flagship 4K OLED for 2023 is currently subject to some serious savings on Amazon, in what we assume to be some sort of pseudo-Prime Big Deal Days offer. While the deal isn't officially listed as a Prime Day deal, it's certainly worthy of that title, as you can currently save nearly £1000 on the 55-inch model of the LG G3 on Amazon.
While we haven't reviewed this exact model, we have looked at its larger 65-inch counterpart, and we're confident that any differences in picture and sound performance will be negligible. Therefore, we can wholeheartedly back this incredible deal but don't miss out, as it's set to end at midnight tonight.
It's also important to mention straight away that part of the savings here rely on a five per cent off discount code that you must apply on the product listing page on Amazon. Make sure you click the box with the orange "voucher" label to get the full savings.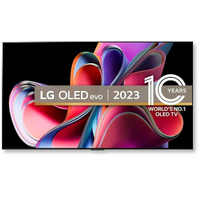 LG G3 OLED TV was £2600 now £1604 at Amazon (save £995)
We've tested the bigger version of this TV and can thoroughly voice its stunning brightness, balanced and detailed picture and excellent gaming specifications. At just shy of a grand off the asking price, this a top-tier Prime Day deal; just remember to tick the 5% off voucher box.
Read our full LG OLED65G3 review
LG's flagship OLED TV introduced us to Multi Lens Array (MLA), a new technology designed to tackle the issue of low OLED brightness head-on. Succeeding in its job, the OLED dazzled us at 65 inches with its bright, natural and balanced picture. We have no doubt that the 55-inch is also a top-notch performer in the picture department. It sports a 4K resolution, as well as HDR support in the HDR10, HLG and Dolby Vision formats.
Sound wasn't a particular highlight of the G3 that we tested, and we assume this to be the case on the 55-inch model unfortunately. Thankfully, with these savings, you should have some spare change for a Dolby Atmos soundbar, which this TV will support via its HDMI eARC connector.
Gaming specs are excellent on the LG G3 too, with four HDMI 2.1 connectors all supporting 4K/120Hz gaming, as well as VRR and ALLM for the PS5 and Xbox Series X. LG's Game Optimiser feature is also a standout for competitive players that want to monitor performance and tweak settings quickly and easily for the best gaming performance.
At nearly £1000 off the original asking price, this LG G3 OLED deal seems too good to miss, especially if you're tempted to upgrade.
MORE:
Read our full LG G3 OLED TV review
Find the best Prime Big Deal Days offers
As well as the 7 best Prime Day OLED TV deals