It's fair to say the Rode NTH-100 headphones have been one of the surprise packages in recent memory. Not only did they perform well enough to secure a glowing five-star review from yours truly, but they also managed to walk away with a gong at the recent What Hi-Fi? Awards.
We tested them at their full asking price of £150, but as we head into Cyber Monday, they're down to an incredibly low £69 at Amazon.
This means you're getting a whopping £81 or 54% discount. Whichever way you look at it, that's one heck of a deal and quite possibly one that won't be beaten over the whole of Cyber Monday.
We've spent much of this year marvelling at the brilliance of the Rode NTH-100, mainly because we can't believe just how exceptional these versatile, well-made and sweet-sounding wired headphones actually are. At this price, you're looking at a prime candidate for the headphones deal of the year.
Best Rode NTH-100 headphones deal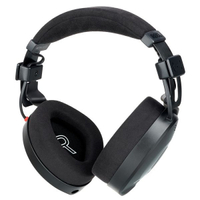 Rode NTH-100 was £150 now £69 at Amazon (save £81)
This is by far the lowest-ever price we've seen for the Award-winning Rode NTH-100, the first headphones ever produced by the Australian audio brand. Given their dynamic, engaging sound, pleasing build and stylish exterior, we pray they're by no means the last.
What Hi-Fi? Awards winner 2023.
If a friend were to ask us "Which have been the best-value pair of audiophile headphones from this year?", we'd struggle to give any answer other than the Rode NTH-100. This may be the Australian brand's first foray into headphones (Rode is more known for making microphones), but boy is it an impressive debut.
Comfortable, classy and with a sophisticated, eloquent sound, we've been truly blown away by the NTH-100's sonic chops. If this is as good as Rode can manage straight out of the gate, imagine how good things will be in a few years' time.
As we wrote in our review, "headphones are (usually) for one of two things: for casual entertainment, or for critical, businesslike purposes like monitoring or mixing."
Finding a pair that can do both is very much the Holy headphone Grail, yet the NTH-100 manages it with style. Neutral, natural and with enough musicality and oomph to really get your tracks firing, they really are the best of both worlds, especially when they reveal that gorgeous sonic midrange.
If you want a versatile, well-made and deeply satisfying pair of wired headphones for home listening, we really can't think of any better at this level than the Rode NTH-100. Want a pair of 2023 Award-winners at their lowest ever price? Head over to Amazon and pick up a steal.
MORE:
The best Cyber Monday deals 2023: TVs, headphones, soundbars and more
Read our full Rode NTH-100 review
Here are the best wired headphones around
Our pick of the best hi-fi and audio deals you can find