The superb JBL Flip 6 is easily one of our favourite portable players, as you'll know from our list of the best Bluetooth speakers. The burrito-sized beauty didn't quite manage a What Hi-Fi? Award this year, but it's still a five-star portable that demonstrates just how adept JBL is at making durable, immensely likeable and surprisingly sophisticated Bluetooth speakers that deliver no matter where you go.
Black Friday is here, and thanks to the mega savings event, you'll find the JBL Flip 6 matching its lowest price ever of just £90 at Amazon UK. The best deal possible is on the black colourway, but there are varying discounts across the wide range of funky shades provided by the American audio manufacturer.
What's so exciting about a Flip 6 discount? Well, we tested the rugged, cylindrical-shaped speaker at £130 late last year and, while things have fluctuated a little, it's rare that we see the Flip 6 drop so low. 30 per cent is a sizeable discount, especially on a five-star speaker that sports some serious pedigree.
Best JBL Flip 6 Bluetooth speaker deal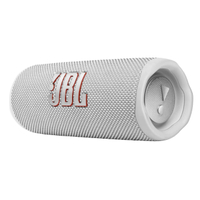 JBL Flip 6 was £130 now £90 at Amazon (save £40)
This is a seriously good deal on a fantastic, five-star speaker. The Flip 6 offers a signature JBL sound that's enjoyable, balanced and dynamic anywhere you go, and looks pretty superb doing it. Thanks to a fine build quality and an IP67 rating, it'll keep playing until the cows, or you, come home.
Five stars.
Read our JBL Flip 6 review
JBL's track record in the speaker market, especially its recent run of quality Bluetooth speakers, is seriously impressive, and there's a good reason why the awesome Flip line is now in its sixth generation - it's easily the best in its class. Now that it's just dropped to match its lowest-ever price, we can't think of a better time to snap one up for yourself.
The Flip 6 is waterproof and dustproof, sports a rugged, attractive design and even comes in a host of different colours, although they're not all equally discounted at the moment. The battery lasts for a very respectable 12 hours, while that slim, cylindrical design lets you stick the Flip 6 inside a rucksack or backpack without being weighed down by its bulkiness. The very nifty PartyBoost feature, meanwhile, means it can be synced with up to 100 other JBL speakers (though only certain models) to create the ultimate outdoor party or domestic rave.
As we said in our review: "the sonic upgrades in terms of clarity and breadth across the frequencies are easy to spot...for this money, the excellent Flip 6 still gets a hearty recommendation from us". Check it out over at Amazon UK.
Whether you plan to put it through its paces in the harshest of environments, or just want an outdoor speaker that sounds great and looks sharp, there's never been a better time to pick up a five-star Flip 6.
MORE:
Read our JBL Flip 6 review
No, it's not Black Friday today – but here are the 21 best deals already live
Best Bluetooth speakers: portable speakers for every budget
Go straight to our Black Friday hub for the best deals