The Amazon Prime Big Deal Days are now over but some excellent deals are still available. The best of the bunch has to be this deal on the 48-inch LG C2, which you can pick up for just £899 at Richer Sounds by using code RSTV100.
That makes it £100 cheaper than the smaller, 42-inch version of the newer C3, which is currently £999 at John Lewis. Considering how similar the two TVs are in terms of performance and features, it's a no-brainer to go for the cheaper bigger model while you still can.
You might be tempted to wait for Black Friday in the hope of an even bigger deal, but we would be surprised if C2 stock lasts that long. Will the 48-inch C3 get down to this price on Black Friday? It's not impossible but we don't think it's likely. The 48-inch C2 only got down to £999 during Black Friday last year and we think that's probably as low as its successor will get this year.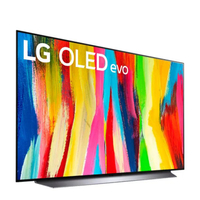 LG OLED48C2 £1399 £899 at Richer Sounds (save £500)
You might be tempted to buy the 42-inch C3 but this 48-inch C2 is cheaper, bigger and performs very similarly. In performance terms, it's excellent, combining perfect OLED blacks and contrast with excellent detail, sharpness and colour balance. It's also got flawless gaming specs, including four HDMI 2.1 sockets that support 4K/120Hz, VRR, ALLM and Dolby Vision gaming. Sound could be better, but otherwise, this is an amazing TV at an amazing price.
Read our LG C2 review
Every year, during sales events such as Amazon Prime Deal Days and Black Friday, avid movie lovers and gamers looking for a new TV start eyeing up prices of the latest C-series OLED from LG. They do so for very good reason: LG's OLEDs are the most feature-packed out there, and its C-series models are usually the perfect intersection of performance, features and price.
The latest C3 models are really no different, in that they give you a really balanced picture performance with perfect, inky blacks and vibrant-but-balanced colours, an intuitive, app-packed operating system, and every gaming feature you could ever hope for.
But there's a catch.
The C3 is only a minor upgrade on the C2 it replaces, and despite that, LG launched it at a higher price than the C2 launched at last year.
The C3 has now been discounted a fair bit, but you won't find it available at any size for less than £999, and that is what makes this deal on the 48-inch C2 so special.
For picture performance, it's almost as good, largely because it features the same OLED panel technology. It's got all of the same gaming features, too, including 4K/120Hz, VRR and ALLM across all four of its HDMI 2.1 sockets. It also supports Dolby Vision gaming (right up to 4K/120Hz) and has an HGiG mode that makes it easy to get more consistent and accurate HDR across many games.
The sound is pretty poor, but so is the C3's, and we recommend a soundbar to go with either model. With this deal, you can hopefully stretch to one of those, too. Check out our rundown of the best budget soundbars for inspiration.
MORE:
Here's the comparison: LG C3 vs C2
These are all of the best TVs you can buy right now
And these are the best TV deals you'll find anywhere on the internet