The five-star WiiM Pro Plus music streamer has dropped in price again. We last saw a price cut during Amazon Prime Day and for Black Friday, once again we've seen this great-value hi-fi product become even more affordable.
You can grab the What Hi-Fi? Award-winning WiiM Pro Plus music streamer for a pretty remarkable £175.20 at Amazon. We saw it drop to £169 at Sevenoaks and Peter Tyson yesterday, but those prices have now returned to the £219 RRP, so this is the next best deal – and a pretty darn good one if you ask us, saving you £45.
WiiM may not be the biggest name in the world of hi-fi, but based on our experience using and testing it earlier this year, we'd recommend any hi-fi fan on a budget looking to dabble in the world of streaming jump on the deal while stocks last.
Best WiiM Pro Plus Black Friday deal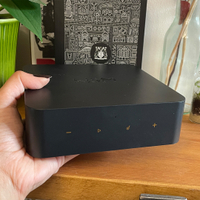 WiiM Pro Plus was £219 now £175.20 at Amazon (save £45)
It may not be from a big name, but the WiiM Pro Plus is THE best affordable streamer to pass through our listening room in quite some time. It was a steal at full price but with £45 off? It almost feels too good to be true.
What Hi-Fi? Award winner 2023
In many ways, the superb-value WiiM Pro Plus offers similar functionality to the also-five-star Cambridge Audio MXN10, which is similarly compact but costs nearly twice the price. That makes it rather remarkable value, as it's hard to convince ourselves that it's half as good.
For the money, the streamer lets you quickly and easily add streaming skills to most home setups, with the WiiM offering a robust set of connectivity options. These include dual-band wi-fi and Bluetooth 5.1 (with SBC and AAC codec compatibility). There's also built-in Chromecast and Apple AirPlay 2 support. An intuitive app makes it quick and easy to stream tracks via Spotify Connect, Tidal Connect, Qobuz, Deezer, Amazon Music, Pandora, TuneIn, and plenty more.
But how does it sound, we hear you ask? Based on our testing pretty good considering the cost, with our reviewers reporting it delivers great sound for the money. As we said then: "the WiiM Pro Plus is hard to lay a glove on at the price. It sounds poised and accomplished, it has a surprisingly well-executed control app, and it's ready to form the basis of a multi-room system too".
We're not exactly spoilt for choice when it comes to the budget end of the hi-fi market, but the WiiM rises above its competitors with a performance that belies its price. Per our review: "there can often be If you want to do better than this, it's going to cost you quite a lot more money." Head over to Amazon to check it out.
MORE:
Resurrect your retro hi-fi with this cracking Black Friday Bluesound Node deal
16 best Black Friday tech deals under £100 live now
I've covered every UK Black Friday – and these are the 17 best tech deals so far
Check out our picks of the best hi-fi deals