If you're in the market for a cheap TV, you might have come across RCA. Originally known as Radio Corporation of America, RCA has been a US electronics staple for over 100 years. It's moved with the times, and now offers range of 4K TVs in various sizes – often for outrageously low prices at Walmart.
But with so many budget TVs to choose from (RCA competes with the likes of Sceptre, TCL and Hisense) it can be tough to know where to start your search. You may also be a little wary of budget brands. After all, can $200 flatscreen really offer value for money? What features do RCA TVs have? And are there better options elsewhere?
To help you find the RCA TV that's best for you, we've previewed some of the most popular models below – and highlighted the best bargains and discounts. With a bit of luck, you'll be able to score a bonus saving on an already cheap TV.
RCA makes both smart and non-smart TVs. The smart models run Roku TV or LG's WebOS. Both are user-friendly platforms that provide access to streaming services such as Netflix, Amazon, Hulu, HBO, CBS and Sling TV. Prices start at $218 for 40-inch RCA Roku TV, or $398 for a 50-inch RCA WebOS TV.
The company has also upped its game in terms of picture quality, launching a couple of Quantum Dot (QLED) sets. The cheapest is a 50-inch RCA 4K QLED TV, which is just $349 $279 at Walmart – thought at time of writing it's out of stock.
Read on for our pick of the best RCA TV deals...
RCA 4K TVs from $300
If you're not fussed about Roku, or in fact any smart platform embedded in your 4K TV, RCA's $328 55in 4K Ultra HD TV (RTU5540) is about as inexpensive as big-screen 4K models get.
We've not tested this particular model but it's proved a big hit with Walmart buyers, who rated it just shy of 4/5 stars. Of the nearly 1400 reviews of this TV, over 63 per cent are four or five stars. That would suggest a decent TV.
We can also tell you that the RTU5540 offers a respectable feature-set, including four HDMI ports. Plug in a budget streaming stick – such as the Amazon Fire TV Stick Lite – and this model would get smarter in seconds.
About the only downside seems to be the sound, which left some reviewers disappointed. But that can be fixed with a soundbar.
But while RCA is known for big, cheap TVs, it makes some neat models that occupy the other end of the spectrum. Its portable 24-inch HD TV (RT2471-AC) is perfect for RVs, workshops and guest bedrooms and, at $98, is one of Walmart's best-selling TVs. (It was previously also available from Amazon.)
Of course, all of the RCA mentioned above are free of smarts, which is reflected in their rock-bottom prices. If you want an all-in-one solution, we'd suggest spending a bit extra on one of RCA's Roku-powered smart TVs...
RCA TVs with Roku
Fully sold on having the streaming service hidden inside your TV? Well, you're in the right place: RCA offers a whole host of 4K TVs with Roku TV integrated. Here are some of the most popular options...
If you're looking for a mid-size smart TV at a low price, the 43-inch RTRU4327-US could be just the ticket. It offers 4K UHD resolution for a very attractive price of $288.
Roku TV delivers seamless access to most major streaming services, including Netflix, Disney+, Apple TV, Hulu, HBO Go/Max, Vudu, Sling TV and many others. Roku TV is one of the best smart TV platforms in the business and we've always found it to be fast and user-friendly. It also lets you cast content from your smartphone to the TV using the free Roku iOS/Android app.
The TV itself has three HDMI sockets, so there's room enough for a games console or two. That said, the refresh rate is only 60Hz (meaning the picture refreshes 60 times per second) so images could be subject to more motion blurring during fast action scenes compared to a TV with, say, a 120Hz refresh rate.
Still, it's an awful lot of TV for the money.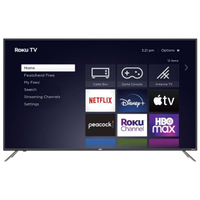 RCA 43-inch 4K Roku smart TV $288 at Walmart
This budget smart TV is big enough for the whole family, yet not too big for a bedroom. For less than $300, you get a 4K flatscreen with the user-friendly Roku TV platform, basic voice search and access to a heaving buffet of streaming movies and TV shows. Yes please.
If you've a little more cash in your pocket, consider RCA's premium QLED models. While pricier than RCA's standard TVs, they are still eminently affordable for QLED sets (QLED rivals the OLED tech that is more commonly used in high-end TVs).
At time of writing, its QLED TVs are out of stock, but if you can find them, you'll be in for a bargain. The 55-inch 4K Roku Smart QLED (RTRQ5522-US) was priced at $500 $331, which, by any measure, is a spectacularly-low price for a QLED TV.
We've not laid eyes on this particular set but QLED technology promises ultra-vivid colors and plenty of contrast, so you should get a more cinematic experience than from one of RCA's cheaper LED TV. This model has plenty of smarts too, including support for Google Assistant and voice search.
The 55-inch is joined by the 65-inch version (RTRQ6522-US), which offers the same spec (Roku TV, three HMDI ports and 60Hz refresh rate) packed into a bigger frame. It's also currently out of stock at Walmart, but usually retails for $1234.
RCA WebOS smart TVs
RCA also makes a range of TVs running LG's WebOS platform, since LG started licensing the technology earlier in 2021. Like Roku, this is a smart TV interface that brings all the usual streaming apps to the fore in one, easy-to-use menu. As you would expect from RCA, they're still very affordable.
The 50in model will set you back $398, the 55in $408, the 58in $428 and the 65in $498.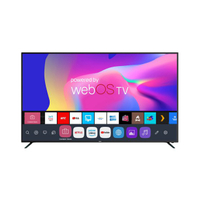 RCA RWOSU5047 50in 4K WebOS TV $398 at Walmart
Under 400 bucks for a 50in TV is a great deal to begin with, and that's before you factor in WebOS. Throw in HDR, voice controls, 3 HDMI sockets and 2 USBs, and you've got quite a set on your hands.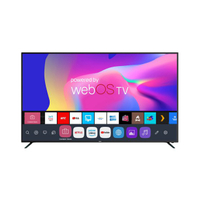 RCA RWOSU6547 65in 4K WebOS TV $498 at Walmart
Stepping up to the 65in model won't cost you much more. You get all the same technologies and connections – all that's different is the screen size.
RCA vs rival budget TV brands
So, how do RCA's smart TV stack up against other, wallet-friendly rivals? Normally, RCA TVs compare favourably on price. But with a slew of season sales triggering a price war, there are some pretty remarkable budget TV bargains flying around at the minute.
Walmart has dropped the price of the 65-inch TCL 4K Roku TV (65S421) to only $628 $498.
Prefer Android TV? You can pick up the 40in Hisense 40H5500F for $299 $229 at Amazon.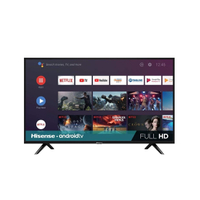 Hisense 40H5500F 40-inch HD Android TV $299 $229 at Amazon
If you're on the hunt for an Android eco-system enabled TV, here's a $70 saving on a Hisense TV. It features built-in Google Assistant voice smarts and advanced features like Chromecast for wirelessly sharing content from your phone.
If you or someone in your household owns a PS5 or Xbox Series X, or plans on regularly using your 4K TV for gaming, we'd recommend spending a bit extra on a TV with a 120Hz refresh rate. To find one, check out our comprehensive list of the best gaming TVs for every budget.
Of course, you could opt for one of Amazon's own TVs. Brand new for 2021, these offer decent specs at a knockdown price.
The cheaper model is the Amazon Fire TV 4-Series, which packs 4K picture quality, HDR, and seamless access to all the major streaming services. The 43in model starts at $369.
The Fire TV Omni Series is a little more high-specced. It features hands-free Alexa, so you can just speak to control it (with the 4-Series, you have to press the button on the remote to be heard). The 65in and 75in models also support Dolby Vision HDR for a more immersive viewing experience.
The 43in starts at $409, going up to $1099 for the 75in.
Verdict
RCA doesn't offer the widest range of sizes and features, but there are some real gems in its line-up. Its TVs, which are almost exclusively sold through Walmart, seem to go down well with buyers. And with the introduction of QLED panels, Roku TV and WebOS smarts, RCA is starting to move beyond just dirt-cheap TVs.
If it's Roku you want, and you don't want the hassle of connecting and buying, say, a separate Roku Streaking Stick+, RCA delivers among the very cheapest options out there.
On paper, RCA is a cost-effective solution for a regular Walmart shopper who's after a no-frills, easy-to-navigate 4K TV and perhaps some integrated Roku smarts too. With seasonal deals galore, RCA's latest budget TVs are hard to ignore.
MORE:
Find out: Should you buy a Hisense TV?
Save as your spend: today's best cheap TV deals
Browse the best 4K OLED TV deals at Walmart, Best Buy and Amazon