With an expanding library of 4K movies available on disc and prices falling fast, building a comprehensive home cinema library has never been more straightforward and tempting. Whether you're looking to get started or hunting for an upgrade, there's no better time to pick up a new Blu-ray player. The very best picture and audio experience for movies still come from a disc and these nifty machines deliver class-leading surround sound and top-quality 4K HDR images.
Below you'll find both 4K Blu-ray players and Full HD BD players too from all the big manufacturers including Sony, LG, Panasonic and Pioneer. Prices range from under $100 all the way up to $1,000.
What justifies the difference? As ever, it's all about quality. Brilliant budget players do exist, but the higher up you go, the more you'll get in the way of video and, particularly, audio brilliance. Make sure you're shopping for a Blu-ray player that matches the rest of your set-up. If you have a high-end AV receiver and speaker package, then a top disc player will help get the most out of your movies.
One of the big features you need to be on the look-out for is HDR support. Not all of these players support both Dolby Vision and HDR10+. Even if your set-up doesn't involve both at the moment, it may be worth thinking ahead to your next upgrade.
Finally, watch-out for audio codecs – can it do Dolby Atmos and DTS:X – and does it have the right kind of outputs that you need?
This is the place to come for all to get the best deals. These are the cheapest Blu-ray player prices that we've found.
Best Prime Day blu-ray player deals
Blu-ray player deals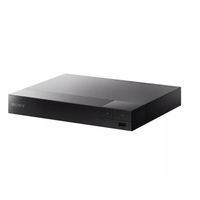 (opens in new tab)
Sony BDP-S3700 Blu-ray player $118 $84 at B&H (save $34) (opens in new tab)
This cheap as chips Blu-ray player might only be a Full HD model but it's also an excellent way to boost picture quality for a very small outlay.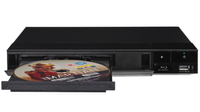 (opens in new tab)
Sony BDP-S6700 4K Blu-ray player $178 $118 at Crutchfield (save $60) (opens in new tab)
The BDP-S6700 scored a coveted five-star rating in our tests. Budget by price but not by nature, the 4K upscaling performance belies its low price tag. Built-in Wi-Fi provides access to Netflix, Amazon Prime Video and Spotify.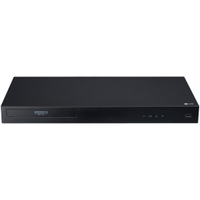 (opens in new tab)
LG UBK90 4K HDR Blu-ray player $300 $223 at Amazon (save $77) (opens in new tab)
This player does it all when it comes to discs, playing 4K Blu-rays and supporting many flavours of HDR, including Dolby Vision. Twin HDMI outputs allow you to split picture and sound. It also comes with smart apps for on-demand streaming.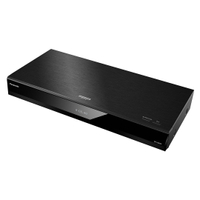 (opens in new tab)
Panasonic DP-UB820 4K Blu-ray player $500 $422 at Walmart (save $78) (opens in new tab)
Panasonic's top of the range 2018 player has got everything you need. HDR-wise you're covered with Dolby Vision, HDR10+ and HLG. It's also a great choice for those with some serious surround sound as it supports 7.1-channel audio.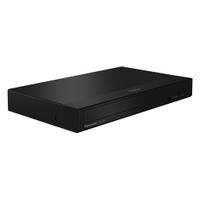 (opens in new tab)
Panasonic DP-UB150EB-K 4K BD Player $200 $180 at Best Buy (save $20) (opens in new tab) A budget 4K disc spinner with HDR10+ format support is hard to find - but clearly not impossible! This Pana player is one of the most affordable ways to playback your 4K Blu-rays with the comfort of knowing that you're doing so in very decent quality.
MORE:
Whetted your appetite? Here are the very best Blu-ray and 4K Blu-ray players.
How about a whole home cinema set-up? Check out the best home theater deals and AV deals.
And make sure you know how to set up your projector and get the best picture.