Best budget soundbars and soundbases Buying Guide: Welcome to What Hi-Fi?'s round-up of the best budget soundbars and soundbases you can buy in 2019.
Relying on your TV's built-in speakers is a bit like using the headphones that come bundled with your phone: sure, they might seem fine at first, but once you sample an upgrade you'll never go back.
That's where soundbars and soundbases come in. These add far better, and louder, sound to your TV, but unlike dedicated speaker systems, they don't take over your lounge. Instead, they sit under discreetly your set, quietly getting on with providing great sound without making a fuss.
So what should you look for when buying one? First of all, you'll need to decide whether you want a soundbar or a soundbase. They're very similar devices, but a soundbase is designed to double as a base unit for your TV – the telly stands on it. So if you've wall-mounted your set, you'll want a soundbar instead.
Bluetooth is a handy feature, as it lets the soundbar/soundbase wirelessly play tunes stored on your phone. Some support other wireless technologies like Apple AirPlay too. And a few work with smart assistants like Amazon Alexa and Google Assistant.
You should also look for a decent remote control, ample connections for your set-up and of course that all-important sound quality. But rest assured, all of the soundbars below sound sweet.
If you're buying a soundbase, you should also check it can support your TV's weight.
So, let's take a look at (and listen to) the best budget models around right now.
MORE: Best soundbar and soundbase deals
Costing just £60, this is one of the best soundbars around for anyone on a budget. Build quality is impressive, as are the connections and the addition of Bluetooth for wireless playback from a phone or tablet. It's simple to set up, and it sounds fantastic – there are four sound modes to choose from, each suited to a different genre of content. It also makes dialogue a lot easier to decipher, which is worth £60 of anyone's money.
Read the full review: JVC TH-W513B
This is Sonos's smaller, cheaper soundbar, but it's no less impressive a device. It supports the Amazon Alexa, Google Assistant and Apple Siri personal assistants, so you're spoiled for choice when it comes to voice controls.
It also plays all sorts of streaming services, including Spotify, Tidal, Apple Music, Amazon, Deezer and Google Play Music. And it works with other Sonos speakers, creating a multi-room system. Of course, you'll probably want to connect it to your TV, where it will bring a sound quality that's far superior to built-in speakers. Highly recommended.
Read the full review: Sonos Beam
This is a soundbase rather than a soundbar, so the TV stands on top of it. Sound quality is top notch, with impressive vocal expression and a fantastic degree of spatial separation. It's so good, we would happily Bluetooth tunes to it and use it as a music speaker. It handles TVs up to 25kg, which should cover most 65in sets, and you can fine-tune the sound using the switches around the back.
Read the full review: Q Acoustics M2
This Yamaha does a fine job of emulating a surround sound system, and deserves pride of place in most home cinema set-ups. Its soundfield is gloriously enveloping, and there are no fewer than seven sound modes to choose from, so you're bound to find one that suits your room and whatever you're watching.
You also get a dedicated subwoofer for extra bass. Add in some beautifully layered detail, and you've got a fine-sounding, great-performing soundbar.
Read the full review: Yamaha YAS-2017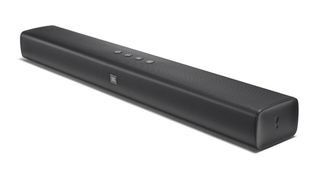 Like the Yamaha, this affordable soundbar is designed to emulate the sound from a surround sound system, and it does so admirably. Bass is rich and punchy, and there's a decent amount of detail in the midrange too. It doesn't quite have it in the music stakes though – this is very much a TV sound enhancer, rather than a living room hi-fi speaker. But at this price, that's not really a complaint.
Read the full review: JBL Bar Studio
A rich, meaty sound with deep bass is the order of the day with this soundbase. But it's not all oomph – it also boasts a surprising level of agility and subtlety that raises it above its brasher rivals. It's well built too, with the sleek glass top adding a touch of class. And it supports TVs weighing up to 40kg. If yours is heavier, give yourself a pat on the back.
Read the full review: Canton DM 55
MORE: Soundbase reviews