Best Subwoofers Buying Guide: Welcome to What Hi-Fi?'s round-up of the best subwoofers you can buy in 2023.
Who doesn't like bass? Whether you have a stereo system or a home cinema system, there's a lot to be said for bringing a subwoofer to the party.
It's not just all-action movies and dancefloor classics that rely on bass to sound their best. Low frequencies can add tension and drama to more subtle scenes and songs. And a dedicated bass speaker is often the best way to do it.
We've tested every subwoofer on our list here, as part of an AV surround sound package and we've reviewed them playing both film soundtracks and stereo music to see how they fare.
Read on for our pick of the best subwoofers for stereo and surround sound systems, and check out the best speaker packages you can buy if you're looking to create the best home cinema system too.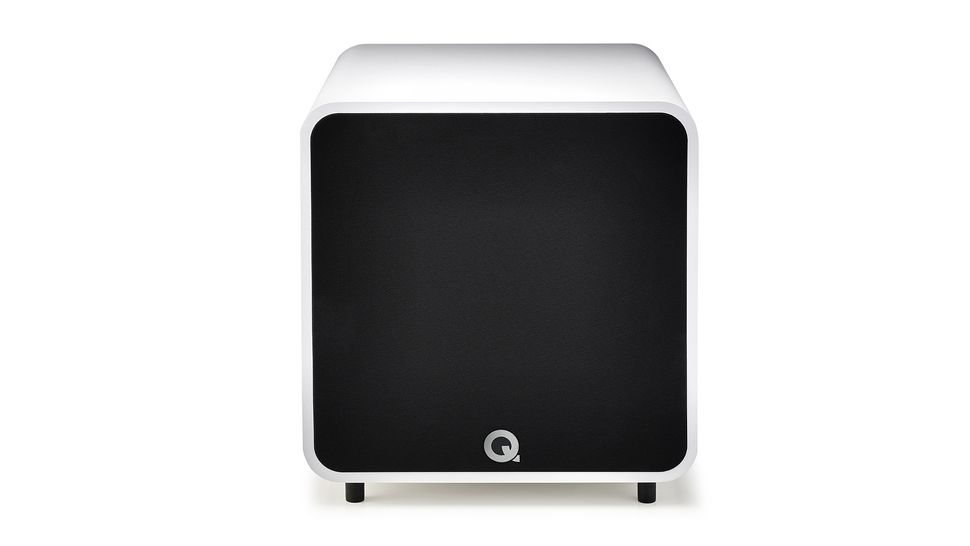 The QB12 smashes through the action like a steam train, hitting you right in the stomach and taking your whole body along with it. It isn't just brute force, though: it's precise, detailed and really rather dynamic.
There are three things to consider before you get your wallet out to buy a QB12 subwoofer: space, your budget and your neighbours. Because if you're in the market for a plus-sized Q Acoustics surround speaker package, or aiming to upgrade the low-end response in your current home cinema set-up, those are the only things standing in your way.
Read the full review: Q Acoustics QB12
This B&W sub's diminutive form disguises a formidably powerful and terrifically dynamic design, its 200W amplifier controlling the excursions of its 25cm Kevlar/paper drive unit in impressive style.
There's depth, drive and authority to belie its size, with a brilliant blend of power and musicality. It can deliver bass with subtlety and speed, making it a genuine all-rounder when it comes to delivering solid bass as part of a hi-fi or home cinema system.
Read the full review: B&W ASW610
If you want to add some bass on a budget, the new Sonos Sub Mini is worth considering. Smaller than the full-sized Sonos Sub (below), it offers snappy delivery and a discreet build at a price that's... well, not actually all that cheap, it turns out.
The Sub Mini has a quick, responsive sound that sets it apart from the loose, bland vagueness of many other soundbar subs. And indeed, throughout our testing, the Sub Mini always maintains prudent control, and we don't hear any unwanted rattles or buzzes.
However, despite its speed, there's not much shape or texture to the sound the Sub Mini produces, leavening it a little one-dimensional, particularly with music, such as Fiona Apple's Under The Table, where the upright bass is stripped of much of its tonality and, rather than being an equal part of the ensemble, becomes more of a monotone support.
With Blu-ray films like Dune, the Sub Mini has a more positive impact where it makes handy work of the low, ominous drones that abound in soundtracks and helps underline big sonic moments. While the Sub Mini kicks out an impressive amount of volume for its size, the amount of SPL seems to vary quite a bit across its range, meaning that it's more prominent with certain frequencies than others.
We imagine this is Sonos' take on "budget" device. It fits neatly into existing Sonos systems, but we imagine it's also a rather niche product that won't be for everyone. For smaller spaces, however, it could well fit the bill.
Read the full review: Sonos Sub Mini
The addition of a sub to the wireless multi-room specialist's range showed the company cared about sound, not least home cinema sound, and perhaps recognised the slight weakness of its small-but-effective One and Play:5 systems.
It's large and fairly minimal but we're impressed by what it can do. Similar sonic characteristics ensure the Sonos Sub integrates well with the company's other wireless speakers, and the extra weight, power and scale is obvious. With music, bass lines are controlled nicely, albeit a little on the fat side. Flick the Sub on and off, and the differences in dynamics are apparent.
Read the full review: Sonos Sub
How we test subwoofers
Why you can trust What Hi-Fi? Our expert team reviews products in dedicated test rooms, to help you make the best choice for your budget. Find out more about how we test.
Here at What Hi-Fi? we review hundreds of products every year, from TVs to speakers, headphones to hi-fi systems. So how do we come to our review verdicts? And why can you trust them? Allow us to explain.
The What Hi-Fi? team has more than 100 years collective experience of reviewing, testing and writing about consumer electronics – and that includes subwoofers. We have state-of-the-art testing facilities in London, Reading and Bath, where our team of expert reviewers do all our in-house testing. This gives us complete control over the testing process, ensuring consistency across all products. We always ensure we spend plenty of time with each subwoofer, setting them up correctly, testing them with the right speakers, as part of a surround speaker package, in different positions and with different music and films.
All new subwoofers are tested in comparison with rival subwoofers at the same price (and often cheaper and more expensive alternatives, too), and all review verdicts are agreed upon by the team as a whole rather than a single reviewer, helping to ensure consistency and avoid individual subjectivity. That's why our reviews are trusted by retailers and manufacturers, as well as consumers, the world over.
From all of our reviews, we choose the top subwoofers to feature in this Best Buy. That's why if you take the plunge and buy one of the products recommended here, or on any other Best Buy page, you can rest assured you're getting a What Hi-Fi?-approved product.
You can read more about how we test and review products on What Hi-Fi? here.
MORE: